People are important to me. I like the people I'm working with.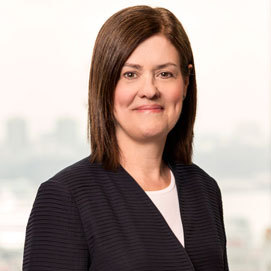 Darcy Katris
Partner
Attorney Darcy Katris had more than 20 years of experience when she arrived at Hodgson Russ three years ago. Now, as the go-to partner for estates and trusts issues in the firm's New York City office, not only is her practice expanding, she also has become the face of the firm in the New York metro area for estates and trusts.
How have you grown during your time with Hodgson Russ?
I've been at Hodgson Russ for three years, and in that time, my ability to develop business has grown. We have an excellent Marketing Department here, and working with them has really helped me to grow in business development and marketing.
What are some of the accomplishments you are most proud of during your time with the firm?
I have been listed in the New York Metro Super Lawyers in 2012, 2013 and 2014, and I was the first lawyer at the firm asked to speak at WESFACCA (Westchester, New York and Southern Connecticut) Chapter of the Association of Corporate Counsel. Also, I was made a member-at-large of the executive committee of the Trusts and Estates Law Section of the New York State Bar Association, and was a speaker at the annual meeting of the Section in January 2014. I was the keynote speaker at my alma mater, Iona College's induction ceremony for the national chemistry honor society in 2013.
How would you describe the culture of the firm?
There is a very supportive environment here and it is a place where people work together, not compete against each other.
What's important to you in choosing your place of work?
People are important to me. I like the people I'm working with.
What is a quote you live by?
"Being happy doesn't mean that everything is perfect. It means you have decided to look beyond the imperfections." I always look on the brighter side , and I don't let things get me down.