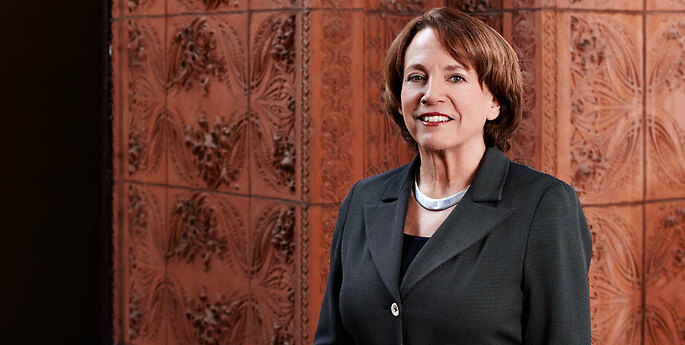 Anita Costello Greer
Partner
Areas of Practice
Education
A.B., with highest honors, The College of William and Mary
M.A., Bryn Mawr College
Ph.D., Bryn Mawr College
J.D., magna cum laude, SUNY Buffalo Law School
As a partner in the Employee Benefits Practice, Anita concentrates her practice in the areas of executive compensation, nonqualified deferred compensation, 409A tax compliance, equity-based plans, and cross-border issues. She assists all types of employers, ranging from small, closely held corporations and nonprofit organizations to large, publicly traded multinational companies. Where appropriate, she also advises executives or their employment counsel on the tax consequences of their benefits and compensation, including those arising under employment and severance agreements such as 409A tax compliance.
Anita has extensive experience advising employers on their executive compensation matters, whether negotiating and drafting executive employment agreements or designing incentive programs and nonqualified deferred compensation plans that provide appropriate incentives and supplemental retirement benefits for executives and directors. Her work involves all types of plans and agreements providing change in control payments, severance, fringe benefits, nonqualified deferred compensation, equity compensation, bonuses and long-term incentive plans. She designs, and advises on the operation of, equity-based plans and agreements that award stock options, restricted stock, phantom stock, restricted stock units, long-term incentive plans, and all types of performance-based equity awards.
In the tax-exempt arena, she assists nonprofit organizations with their special compensation and benefits needs, including 403(b) and 457 plans. In addition to providing guidance on compliance and tax issues related to these arrangements, Anita also provides guidance on 409A correction procedures and on tax reporting and withholding.
Anita is the author of numerous articles on deferred compensation and other employee benefits and is a co-author of Taxation of Distributions From Qualified Plans, the seminal work in its field. She has also lectured extensively on tax and compliance issues related to executive compensation and employee benefits in both the United States and Canada.
Honors
John N. Bennett Achievement Award, SUNY Buffalo Law School
Former member, Buffalo Law Review
Presentations
New York, NY

,

December 12, 2012

Toronto, ON

,

May 10, 2012

Toronto, ON

,

October 29, 2009

Corrections of Reporting & Withholding: Employee Benefits  

Buffalo, NY

,

October 15, 2009

Buffalo, NY

,

March 4, 2009

409A Strategies for the Final Transition Year

National Employment Lawyers Association/NY Seminar: Executive Compensation and 409A

New York, NY

,

May 4, 2007

409A Deferred Compensation: Will You Know It When You See It?  

New York, NY

,

November 6, 2006
Publications
Hodgson Russ Newsletter

,

November 30, 2016

T.D 9785

Hodgson Russ Newsletter

,

October 31, 2016

T.D 9783

Hodgson Russ Newsletter

,

October 31, 2016

Hodgson Russ Newsletter

,

October 31, 2016

Hodgson Russ Newsletter

,

October 31, 2016

Hodgson Russ Newsletter

,

October 31, 2016

Hodgson Russ Newsletter

,

October 31, 2016

Longo v. Trojan Horse Ltd. (E.D. N.C. 2016)

Hodgson Russ Newsletter

,

October 31, 2016

Hodgson Russ Newsletter

,

October 31, 2016

O'Shea v. UPS Retirement Plan (1st Cir., 2016)

Hodgson Russ Newsletter

,

October 31, 2016

Hodgson Russ Newsletter

,

September 30, 2016

C.C.A. 2016-34-021 (July 11, 2016)

Hodgson Russ Newsletter

,

September 30, 2016

Hodgson Russ Newsletter

,

September 30, 2016

IRS Revenue Procedure 2016-47

Hodgson Russ Newsletter

,

September 30, 2016

Luciano v. TIAA-CREF (July 2016)

Hodgson Russ Newsletter

,

September 30, 2016

Hodgson Russ Newsletter

,

September 30, 2016

Stevens Eng'rs & Constructors, Inc. v. Iron Workers Local 17 Pension Fund (N.D. Ohio, 2016)

Hodgson Russ Newsletter

,

September 30, 2016

Hodgson Russ Newsletter

,

August 31, 2016

Hodgson Russ Newsletter

,

August 31, 2016

Hodgson Russ Newsletter

,

August 31, 2016

Hodgson Russ Newsletter

,

August 31, 2016

Hodgson Russ Newsletter

,

August 31, 2016

Hodgson Russ Newsletter

,

August 31, 2016

Hodgson Russ Newsletter

,

August 31, 2016

Hodgson Russ Newsletter

,

August 31, 2016

Hodgson Russ Newsletter

,

August 31, 2016

Hodgson Russ Newsletter

,

August 31, 2016

Hodgson Russ Newsletter

,

July 28, 2016

Hodgson Russ Newsletter

,

June 29, 2016

Hodgson Russ Newsletter

,

May 25, 2016

Hodgson Russ Newsletter

,

April 29, 2016

Hodgson Russ Newsletter

,

March 30, 2016

Hodgson Russ Newsletter

,

February 29, 2016

Hodgson Russ Newsletter

,

January 29, 2016

Hodgson Russ Newsletter

,

December 29, 2015

Hodgson Russ Newsletter

,

November 30, 2015

Hodgson Russ Newsletter

,

October 29, 2015

Hodgson Russ Newsletter

,

September 30, 2015

Hodgson Russ Newsletter

,

August 31, 2015

Hodgson Russ Newsletter

,

July 30, 2015

Hodgson Russ Newsletter

,

June 29, 2015

Hodgson Russ Newsletter

,

May 21, 2015

Hodgson Russ Newsletter

,

April 29, 2015

Hodgson Russ Newsletter

,

March 2015

Hodgson Russ Newsletter

,

February 2015

Hodgson Russ Newsletter

,

January 2015

Hodgson Russ Newsletter

,

December 30, 2014

Hodgson Russ Newsletter

,

November 24, 2014

Hodgson Russ Newsletter

,

October 31, 2014

Hodgson Russ Newsletter

,

September 29, 2014

Hodgson Russ Newsletter

,

August 27, 2014

Hodgson Russ Newsletter

,

July 30, 2014

Hodgson Russ Newsletter

,

May 30, 2014

Hodgson Russ Newsletter

,

April 30, 2014

Hodgson Russ Newsletter

,

March 31, 2014

Hodgson Russ Newsletter

,

February 28, 2014

JD Supra

,

February 24, 2014

Hodgson Russ Newsletter

,

January 31, 2014

Taxation of Distributions From Qualified Plans 2013/2014 

Thomson Reuters/Tax & Accounting

,

2013

Employee Benefits for "Citizen Soldiers": USERRA and Beyond

Journal of Pension Benefits

,

Winter 2010

Benefits Alert – Deferred Compensation Under 409A: Highlights from Proposed Regulations

Benefits Alert: New rules Governing deferred Compensation

Nonqualified Deferred Compensation - New Rules for Plans With U.S. Participants

Taxation of Executive Compensation and Retirement

,

2005

Domestic Partner Benefits in the Workplace

Journal of Pension Benefits

,

Autumn 2002

Qualified Transportation Fringe Benefits: New Wrinkles in an Old Program

Journal of Pension Benefits

,

Winter 2000

Employer Provided Educational Assistance: A Timely Benefit

Journal of Pension Benefits

,

Autumn 1999
Professional Associations
Journal of Pension Benefits editorial board
Community & Pro Bono
Hallwalls Contemporary Arts Center Presidents Council
Past president, Hallwalls Contemporary Arts Center board of directors