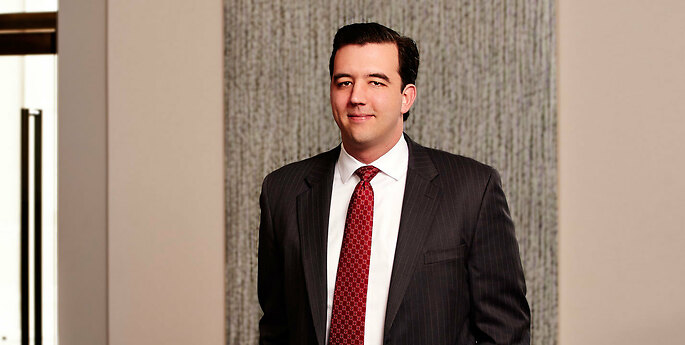 Craig T. Lutterbein
Senior Associate
Areas of Practice
Education
B.A., Vassar College
J.D., dean's list honors, St. John's University School of Law
LL.M., St. John's University School of Law
Craig focuses his practice on bankruptcy, creditors' rights, and commercial litigation. He has represented debtors, secured and unsecured creditors, and other parties in U.S. Bankruptcy Courts, including the U.S. Bankruptcy Courts for the Southern and Western Districts of New York, and New York State courts.
Prior to joining Hodgson Russ, he was an extern for Judge Burton R. Lifland of the U.S. Bankruptcy Court for the Southern District of New York.
Honors
Craig was named the Robert M. Zinman Bankruptcy Scholar for the LL.M. in Bankruptcy Program at St. John's University School of Law for the 2010-11 academic year. During his time as a law student, also at St. John's, Craig was the associate managing editor of the American Bankruptcy Institute Law Review and a member of the Polestino Trial Advocacy Institute External Mock Trial Team.
Craig has represented a wide range of clients, from large financial institutions and publicly traded corporations to small companies and individuals (often former or current officers and directors of debtors in bankruptcy) in both bankruptcy proceedings and state court litigation. Craig's particularly noteworthy representations include:
Representing a large aircraft parts manufacturer in Chapter 11 proceedings of an aircraft manufacturer
Representing a group of plaintiffs injured in an airplane crash in the Chapter 11 proceeding of the responsible airline
Defending a former officer and principal of a failed technology company against avoidance actions brought by the company's Chapter 7 trustee
Representing a regional bank in a foreclosure action and sale of restaurant equipment owned by its failed borrower
Representing the owners of several parcels of real property in an accelerated section 363 sale and Chapter 11 plan confirmation
News
Press Release

,

January 11, 2016

Buffalo Law Journal

,

October 15, 2014
Publications
Journal of Corporate Renewal

,

October 2016

Survival Guide for the New Lawyer: What They Didn't Teach You in Law School

American Bankruptcy Institute

,

2014

The Lis Pendens: The Savior of Defective Mortgages?

A Close Look at Creditor Roadblocks in Bankruptcy

Understanding The Various Laws Governing Foreclosure

Admissible and Persuasive Valuations of Debtors-in-Possession

New York Law Journal

,

May 20, 2013

New York Law Journal

,

March 4, 2013

In Re Vitro: Non-Debtor Third Party Release Manifestly Contrary to United States Law

Ontario Bar Association Insolvency Section Newsletter

,

December 18, 2012

RADLAX: U.S. Supreme Court Holds Credit Bidding Required in Free and Clear Sale under Plan of Reorganization

Ontario Bar Association Insolvency Section Newsletter

,

October 3, 2012

The Municipal Debt Adjustment Under Chapter 9 of the Bankruptcy Code

Talk of the Towns, a publication of the Association of Towns of the State of New York

,

March/April 2012

Stern v. Marshall: The U.S. Supreme Court Pitches a Game Changer

Ontario Bar Association Insolvency Section Newsletter

,

February 6, 2012

UCC Perfection Good Enough to Protect Interests in Partially Completed Aircraft

American Bankruptcy Institute Journal

,

February 2012

NYC-OTB's Implications for Chapter 9 Debtor Eligibility and 'For Cause' Dismissals

American Bankruptcy Institute Journal

,

September 2011

'Fraud and Deceit Abound' but do the Bankruptcy Courts Really Believe Everyone Is Crooked?: The Bayou Decision and the Narrowing of 'Good Faith'

American Bankruptcy Institute Law Review

,

2010
Professional Associations
American Bankruptcy Institute
Turnaround Management Association

New York State Bar Association

Bar Association of Erie County

Buffalo Junior Chamber of Commerce (Jaycees)
Community & Pro Bono
Member and past board member, Buffalo Junior Chamber of Commerce