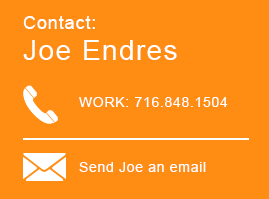 About This Blog
Sales tax is one of the most interesting, and challenging, taxes. It's interesting because it involves clients in every possible industry. Every active business has potential sales tax exposure, no exceptions! And unfortunately sales tax compliance is particularly difficult for two, specific reasons. First, the tax is perhaps the most fact-dependent – seemingly inconsequential changes in the underlying facts can transform a nontaxable sale into a taxable one. Second, these rules are constantly changing. It's tough enough to keep up with these changes in just one state. But many vendors, especially those selling over the internet, have to keep abreast of these changes in multiple states. So it's easy to fall behind on sales tax compliance.
With this blog, we hope to keep you up to date on impactful changes in the sales tax compliance, especially in New York State. We'll review legislative and administrative changes in the sales tax; we'll discuss new sales tax case law; and we'll highlight the enforcement initiatives and tactics we're seeing while defending businesses in sales tax audits. We hope you find this content as interesting as we do. Please contact us with any questions.
Stay Connected
Showing 16 posts from 2020.
After weeks of being absent from TiNY (in part due to Chris Doyle's encroachment on my territory), I'm back in a big way. The Division of Tax Appeals issued a whopper of a sales tax determination – 55 pages! It addresses one of the most perplexing issues in all of New York sales tax – the proper characterization of a technology product – is it a nontaxable service, taxable information, or taxable software? Let's dive in.
The New York State Tax Department released new guidance last week in TSB-M-20(2)S addressing potential avenues for relief for those assessed as responsible persons for sales tax. This new TSB-M largely mirrors amendments to Tax Law § 1133(a) that were enacted as part of the budget legislation for fiscal 2018-2019 which we covered here and here. That legislation established statutory relief for certain limited partners and LLC members who were assessed and held jointly and severally liable for sales tax assessments solely by virtue of their interest in a partnership or LLC. To qualify for relief, eligible limited partners and LLC members must principally show that: (i) they were not under a duty to act for the LLC or partnership in complying with the requirements of the sales tax; and (ii) their ownership interest and the percentage of their distributive share of the profits and losses of the LLC or partnership are each less than 50%.
The NYS Department of Taxation and Finance issued a new advisory opinion today concluding that a contractor installing a new floor for a tenant at JFK Airport can purchase glue tax free because the glue becomes an "integral component part" of real property owned by an exempt entity. JFK Airport is owned by the Port Authority of New York and New Jersey.
In a blog post published earlier this year, we noted the fact that the number of sales tax advisory opinions published by the New York State Tax Department had diminished precipitously over the past few years, to the point that, in 2019, the Department published only one advisory opinion. Just four years earlier, it had published 53. Because sales tax is such a fact-specific tax (a subtle change in underlying facts can cause a transaction to go from being nontaxable to taxable[1]), and because the stakes are so high (possible personal liability for those running the business), we pleaded with the Department to return to its previous level of activity and to start churning out advisory opinions. We indicated that the "[t]the students are here. We're waiting for the master to (re)appear."
The upcoming legislative session is coming into focus with the recent issuance of the Governor's Executive Budget (you can see our review here). Below is our review of the sales and use tax legislation that has been introduced so far this year along with the corresponding bill numbers. Two broad themes emerge: (1) New York is looking to increase revenue by taxing luxury and high end items, and (2) numerous local sales taxes have been extended.
I'm not exactly sure where the aphorism in the title of this post comes from, but its message is clear: when you're ready to know something, you'll seek out a way to learn it. Well, I've been ready to learn everything there is to know about New York sales tax for a long time. And in years past, the New York State Tax Department has been a wonderful master. It has provided me with numerous ways to learn the complex rules governing New York sales tax. This information includes sales tax Publications, Bulletins, Memorandums, Guidances, Notices, form instructions, and Advisory Opinions.