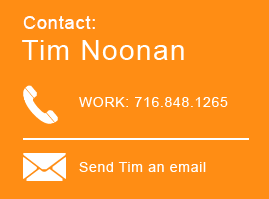 Stay Connected
Timothy P. Noonan
Partner, Tax Residency Practice Leader
tnoonan@hodgsonruss.com
716.848.1265
Tim focuses his practice in the state and local tax area. His work primarily involves New York State and New York City tax litigation and controversy. Over the past 20 years, he …
Showing 93 posts by Timothy P. Noonan.
UPDATED AUGUST 25, 2020
Due to the COVID-19 pandemic, millions of people have been telecommuting for weeks either from their home state or somewhere else that they decided to shelter in place. Even as some states begin to open their economies back up in the coming weeks, it doesn't change the fact that companies have been allowing employee to telecommute for a significant amount of time. Allowing employees to telecommute from states in which they do not normally work can create a host of issues for employers, but the two big tax issues relate to nexus and income tax.
Last year we published a full-length article in State Tax Notes that discussed the importance of cell phone records in residency audits and did a deeper dive on some of the issues we've seen come up in reviewing various cell phone records in these audits. Here is a link to that article: https://www.hodgsonruss.com/assets/htmldocuments/2019stn16-4.pdf
Last week we published an alert regarding the upcoming June 15 New York estimated tax deadline, noting that taxpayers still needed to pay their New York State and City second quarter estimated payments for 2020 because the New York State Tax Department had made no pronouncements extending the due date to July 15, as the IRS had done. The Department's silence on the issue left many tax practitioners and taxpayers confused about what to pay and when to pay it.
The current pandemic has changed the working landscape for commuters everywhere and their employers. This is especially true in New York City, which became the epicenter for the crisis and poster child for the telecommuting work force. Now more than ever, individuals who used to travel into the City for work are logging in remotely from home, delivering their services miles away from their Manhattan offices. This has created interesting personal income tax questions, and as we will discuss below, potential saving opportunities for professional service companies subject to the NYC Unincorporated Business Tax (UBT).
The COVID-19 crisis continues to throw off a variety of tax questions and issues that 60 days ago likely would have been unimaginable. In an article we published this month in Tax Notes State, we talked about different types of New York residency and income allocation issues that could arise as a result of shutdown or travel-related restrictions put in place by state governments. A couple of those issues involved some of the strict day counting requirements that arise under New York's residency rules. For example, the statutory residency test limit certain taxpayers to spending 183 days in New York. Also, the 548-day rule, which is a special safe harbor available to protect certain taxpayers from New York residency taxation, requires that a taxpayer spend 450 days in a foreign country over the course of a 548-day period and also limits the taxpayer's presence in New York to 90 days. In both cases, we know of taxpayers who will fail these tests in 2020 because of travel-related restrictions.
As taxpayers begin adjusting to these strange times, it seems the NYS Tax Department is trying to do the same. The Department just issued guidance in Notice N-20-3 which temporarily allows taxpayers and their appointed representatives to use digital signatures on various tax forms. This comes on the heels of last week's Executor Order 202.15 from New York's Governor Andrew Cuomo, which authorized the Department to "accept digital signatures in lieu of handwritten signatures on documents related to the determination or collection of tax liability" until May 9, 2020, but then punted to the Department to hammer out the logistics and issue appropriate guidance.
The "workaround train" keeps rolling! A New Jersey bill to give small businesses and partnerships a way to diminish the impact of the federal cap on state and local tax deductions (the SALT cap) was signed into law on January 13, 2020 by Governor Phil Murphy (D). The bill (S-3246/A-4807) gives S corporations, limited liability corporations and other business partnerships the option of paying state income tax directly at the entity level, as a business tax rather than at the partner level, as personal income tax. The bill is effective for tax years beginning on or after January 1, 2020 and creates a business alternative income tax (BAIT). As we've outlined in the past, the play here arises because while the Tax Cuts and Jobs Act (TCJA) capped federal deductions for state and local tax at $10,000 for individuals, it set no limit on deductions for state and local taxes paid by businesses.
Employees nationwide are working to finish year-end business before the holidays and House Democrats are no exception. The U.S. House of Representatives voted 218 to 206 on December 19 to pass H.R. 5377 (the "bill") which temporarily repeals the SALT deduction cap for 2020 and 2021.
A week or so ago, New York Governor Andrew M. Cuomo and New York Attorney General Letitia James announced that New York, Connecticut, Maryland and New Jersey filed a notice of appeal in the United States Court of Appeals for the Second Circuit to continue litigation against the federal government for its unlawful and unprecedented cap on the deduction for state and local taxes, known as SALT. The SALT deduction was capped at $10,000 as part of President Trump's Tax Cuts and Jobs Act of 2017 (TCJA). This appeal challenges a September 30, 2019 ruling by Judge J. Paul Oetken of the U.S. District Court for the Southern District of New York stating that the $10,000 SALT deduction cap is not unconstitutionally coercive. Judge Oetken held that the states had not plausibly alleged that the cap meaningfully constrains their decision-making processes. We covered the ruling here. He denied the states' motion for summary judgment in their original suit, State of New York et al v. Mnuchin. The four states argued that the SALT cap is a politically motivated bid to effectively raise property taxes in predominately Democratic states.
Just an observation from the cheap seats about a recent notice issued by the Minnesota Department of Revenue (DOR) (Revenue Notice No. 19-05, referred to as Notice 19-05). This notice clarifies that neither the DOR nor the courts can consider the location of the individual's attorney, CPA, financial adviser, or the place of business of a financial institution where the individual opened or maintained an account for purposes of establishing whether an individual is domiciled in the state.