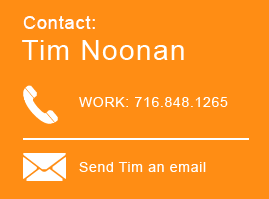 Stay Connected
Tax Department Extends Some Filing Deadlines Due to Nor'easter
Governor Andrew Cuomo declared a State Disaster Emergency for counties affected by the March 2018 Nor'easters that began early this month. If you hadn't heard the term before, a nor'easter is a large cyclone usually accompanied by heavy rain or snow that can cause hurricane-force winds, blizzard conditions, and coastal flooding. To us folks in Buffalo, we also call this "Tuesday."
As a result, on Wednesday, March 14, 2018, the Acting Commissioner of Taxation and Finance announced the postponement of several filing and payment deadlines for taxpayers directly affected by the storms. The postponed deadlines apply to taxpayers in the counties of Dutchess, Putnam, Rockland, Sullivan, and Westchester. You can find the Tax Department's announcement here: https://www.tax.ny.gov/pdf/notices/n18_2.pdf. Most filing deadlines have been postponed to March 20, 2018, but check the details of the Notice to be sure, since some deadlines (including payments of tax through the PrompTax system) are not extended.
Taxpayers directly affected by the nor'easters who are eligible for this relief in the designated areas include: victims who live in or have a principal place of business in the areas, workers assisting in relief activities, taxpayers whose records necessary to meet regular deadlines aren't available because of the storms, taxpayers who can't meet regular deadlines because of disruptions in the transportation/delivery of documents by mail or disruptions in communications services resulting from the storms, and taxpayers whose tax practitioners couldn't complete work to meet regular deadlines on behalf of their clients.
Taxpayers eligible for this relief have until March 20, 2018 to file and pay any tax due. Those taxpayers do NOT need to apply for a waiver or an extension to obtain this relief. Eligible returns and payments properly filed or made under these rules will not be subject to any late filing, late payment, or underpayment penalties, or interest for the period from March 15, 2018 through March 19, 2018. If a taxpayer receives a penalty notice, the taxpayer can request the Tax Department abate any interest or penalties.
Post a comment: