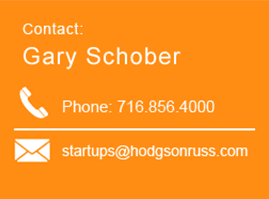 About This Blog
Subscribers to Startup Talk receive pertinent information from leading attorneys on important startup issues. This blog provides updates on recent legal trends, helpful commentary, and critical news useful to entrepreneurs and successful startup companies.
Stay Connected
Services
LEGAL SERVICES FOR STARTUPS
Hodgson Russ's multidisciplinary Startups & Emerging Companies team of attorneys regularly advises startups at every stage of their lifecycle and on the full spectrum of their legal issues. Drawing on the efficiency of our multidisciplinary practice groups and on our experience with diverse industries, we provide practical and economically sensible advice to companies in early phases of development.

We offer startups a suite of legal services designed specifically to help you prepare for launch while overcoming the challenges of limited resources, time, and funding.