Being able to make positive, lasting change . . . makes it easy to get up in the morning and come to work.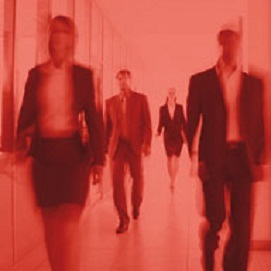 Kristy Berner
Alumna
As general counsel for First Niagara Bank, Kristy Berner wears many hats: legal counsel, multi-million dollar budget manager, bank corporate secretary. But an "unofficial" role is one she especially relishes. As an agent of change, she has the opportunity to impact her company and her community in a significant way.
Kristy served as a an attorney at Hodgson Russ focusing on mergers, acquisitions, and securities between 2002 and 2010.
How did your time at Hodgson Russ help prepare you for the next phases of your life?
One of the great things about being an attorney at Hodgson Russ is that you are exposed to a lot of different work. Over the years I had an opportunity to do everything from forming new companies for small mom-and-pop operations to public company debt offerings. That kind of breadth of work gives you a good sense of the various regulations and laws in play and gives you the confidence to figure it out. Another benefit is the contacts I took with me. When faced with difficult issues and pressing deadlines, sometimes the most cost- and time-efficient thing to do is call someone who knows the answer already. After joining First Niagara, I made a lot of calls over the years to a wide variety of attorneys at Hodgson to get "quick and dirty" answers and advice.
What inspires you?
Being able to make positive, lasting change in a large organization is exciting, and it makes it easy to get up in the morning and come to work. For me, passion is key; passion is necessary. For anyone who has risen in the chain, there is an underlying passion there. For general counsel, federal judges, and partners, there has to be a love of the law. We're all lifelong nerds. Philosophical arguments are part of our DNA. But that's the great thing about the law. There is no end to it. It has so many spokes and tentacles and is so dynamic that I frequently feel like I have just scratched the surface of what there is to know. I have so much more learning and growing to do in my position as general counsel, I expect it may take me the rest of my career to accomplish it.
What is next on the horizon for you?
I'm currently in the process of implementing a completely new, enterprise-wide records retention system at the bank, a program that will revolutionize the way the bank files, stores, and disposes of paperwork, critical for an organization required to produce documentation for government investigations, litigation discovery, and other reasons. The program will be applied across all of the bank's business units. We are also developing a program to prevent possible financial scams against the elderly. We are educating bank personnel about this at-risk population and initiating community outreach to alert senior citizens along with their caregivers and families as to what precautions to take and what red flags to watch out for. This is a win-win for everybody. It is good for the community and for our customers, and it makes our regulators happy. And it may be the start of new relationships for the bank as well.