The goal is to hire people to be here for the long term and to cultivate the future leaders of the firm.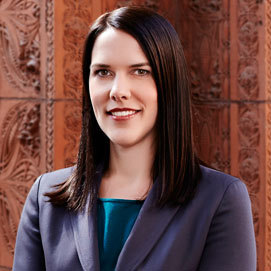 Catherine Eberl
Partner
While interviewing for a position at Hodgson Russ, what most resonated with Buffalo native Catherine Eberl was the firm's commitment to the city and the community. Now she has built her practice in part on helping charitable organizations to fulfill their missions. She continues to be impressed, she says, by the commitments of the firm and her colleagues to all of the communities the firm serves.
What is your role at the firm?
I represent high-net-worth individuals in estate planning, including clients who are Canadian or who have cross-border interests. I also practice in the Surrogate's Court, which is the court that handles estate and trust administration. In that regard, my practice also involves some trusts and estates litigation. I also represent charities on various matters.
What are some of the accomplishments you are most proud of during your time with the firm?
I really appreciate working with an entire family on their personal estate planning and business succession planning. It's great to get to know them, to work with all members of the family, and to counsel them on many issues.
I also enjoy representing charities — the people and the organizations who dedicate themselves to doing good work in Buffalo. It is personally fulfilling to work to help them fulfill their missions. Also, I really enjoy mentoring and working with new associates. When I started, there were people who took me under their wing, and I like to pay it forward.
What's important to you in choosing your place of work?
When I was interviewing and looking to return to Buffalo, what stood out for me about Hodgson Russ was the firm's commitment to Buffalo. I liked how the firm invested in the community. I'm now in a position where I am interviewing new candidates. I look for in hiring what I looked for in applying: people who will work hard and are dedicated to the mission of the firm and serving clients – but people who also are interesting individuals. We spend a lot of time in the office, so it's nice to be able to enjoy the company of your colleagues. I like that our people are dedicated, diverse, and interesting, not just a collection of cookie-cutter, one-dimensional individuals.
How would you describe the culture of the firm?
There is a lot of pride in being a Hodgson Russ attorney. Some of our attorneys have been here for 30, 40, or 50 years. That senior group is justifiably proud of what they have built and are committed to passing the legacy down. The culture is not to hire, burn out, and replace. The goal is to hire people to be here for the long term and to cultivate the future leaders of the firm.