The firm's confidence in me gave me confidence in myself.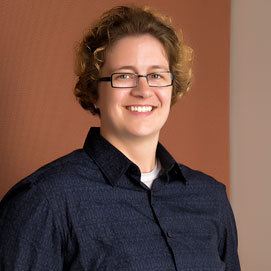 Krystal Champagne
Accounting
After a past position at Hodgson Russ as an office assistant and stints working at theater companies, Krystal Champagne returned to the firm, this time as a legal services biller in the Accounting Department. Working at Hodgson Russ in this capacity required a career detour, a leap of faith, and a generous helping of self-confidence. Fortunately, Krystal discovered all that and more in her new position at Hodgson Russ.
What are some of the accomplishments you are most proud of during your time with the firm?
I think I'm a prime example of how the firm gave me the confidence to step into a role I never imagined I could do, to learn it, to enjoy it, and to perform it well. Actually, I was terrified when they offered me the job in the Accounting Department because it was so far out of my comfort zone. As time went on, I discovered I was good at it, and now I'm even considering going back to school for accounting. The firm's confidence in me gave me confidence in myself. Because of their training and encouragement, I can perform multiple roles in a law firm, and that makes me very proud. I will always love the theater, and I am still very active in that environment, but I've found I love accounting too.
What's important to you in choosing your place of work?
The most important thing to me is the opportunity for growth and the ability to learn new skills. That's the great thing about being here. The firm tries to hire from within, so if a position opens up, they tell you right away. They never discourage you from considering a position, even if it is in an entirely different department. You can try your hand at anything. Also, I like feeling secure in my job, knowing both my department and the firm are stable financially. It's something I've never had to worry about here. Most of all, the people in the firm, and especially in my department, are fantastic. I've found that this is a place where I don't dread coming to work. Everyone is driven and focused, but they know how to have fun, even while doing the most boring, mundane tasks.
How would you describe the culture of the firm?
That's easy – the word is "welcoming." That's what Hodgson Russ means to me. I have met some of my closest friends while working here. Yes, it can be stressful at times, but you have a huge support system. There is the feeling that we are all in this together, and we're here to help each other. Really, it's an "all hands on deck" atmosphere. Those of us with a lighter load help out the others. It's a "homey" kind of feeling, something that makes you feel you belong here. They have a way of making you feel as if you are an important part of the firm. Also, anything you want to learn, they are there to answer questions, to help you succeed and grow.