One of the best things about Hodgson Russ for an IT professional is the firm's investment in cutting-edge technology.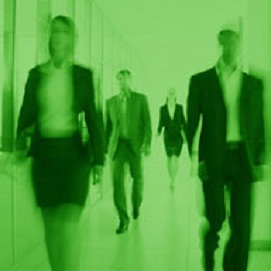 Mike Euscher
Alumnus
When Mike Euscher, network administrator, joined Hodgson Russ's Information Technology Department, it was his first job at a law firm. From the outside looking in, he expected a rigid, somewhat conservative, corporate environment. Now entering his third year at Hodgson Russ, Mike's experience has proven to be quite different than what he imagined―in a very good way.
How have you grown during your time at Hodgson Russ?
One of the best things about Hodgson Russ for an IT professional is that the firm has invested in cutting-edge technology. This helps me keep up, to be exposed to the latest and greatest. Technology changes so quickly, you can quickly fall behind. That's not the case here. The firm's infrastructure has allowed me to flourish and become more diverse in my field. I am able to "wear many different hats" working here. I am responsible for managing Microsoft products, such as Microsoft Exchange, Systems Center Operations Manager, VMware View, Cisco routers and firewalls, Cisco UCS Blade Servers. On my own time, while working at Hodgson Russ, I have become a Cisco Certified Network Associate. Firm management was very flexible in letting me leave early once a week while I was attending a course in the evening, and they were very supportive of my studies for the exam. And then, once I had opened the door, they gave me hands-on experience and allowed me to work on projects to help me with my certification.
What are some of the accomplishments you are most proud of during your time with the firm?
I am most proud of my contribution to the firm's compliance initiative. I put auditing and reporting systems in place as well as implemented hard drive and removable device encryption in conjunction with a new desktop image to support the encryption solution to help satisfy compliance requirements and make our data more secure. This was a major undertaking for the firm because we had to make and install a new desktop image for all our computers and reinstall windows on all the computers in the firm. We did this in an accelerated timeframe, condensing a tremendous amount of work into a few months.
What's important to you in choosing your place of work?
As an IT professional, it has to be the opportunity for exposure to newer and cutting-edge technologies. Because technology grows at an exponential rate, it helps to be exposed to newer technologies to stay fresh. In addition to exposure, I would say having a lot of active projects helps as well. I don't want to be stuck in a monotonous situation with limited growth and learning opportunities. I have a family, so work-life balance and flexibility are also important.