Habitat for Humanity Buffalo
Hodgson Russ is an official "Full House Sponsor" for Habitat for Humanity Buffalo. Habitat Buffalo builds and rehabs 10 to 15 houses per year. Approximately two-thirds of all Habitat Buffalo homes are rehabbed houses, and one-third of homes are new-builds. At this level of sponsorship, our donation will directly go to pay for the materials, construction and other costs related to building a new home from the ground up for a low income family.
On March 27, 2018, the Habitat for Humanity construction crews broke ground at the site where our sponsorship home will be built with, and for, a family deserving a "hand up".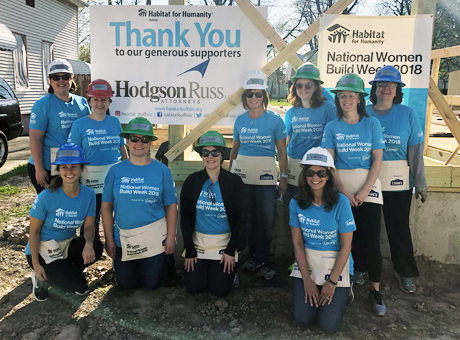 On May 8, 2018, a group of Hodgson Russ attorneys and clients proudly participated in the Habitat for Humanity Women Build Week event. National Women Build Week is held the week leading up to Mother's Day, with Lowe's generously donating nearly $2 million dollars and volunteer support. Hosting the event during this week reinforces the message that every woman can make a difference through learning and using construction skills. The Hodgson Russ Women Build Team was the first to work on the Firm's sponsored home.
In July, a team of our attorneys worked on the house which included installing drywall inside.