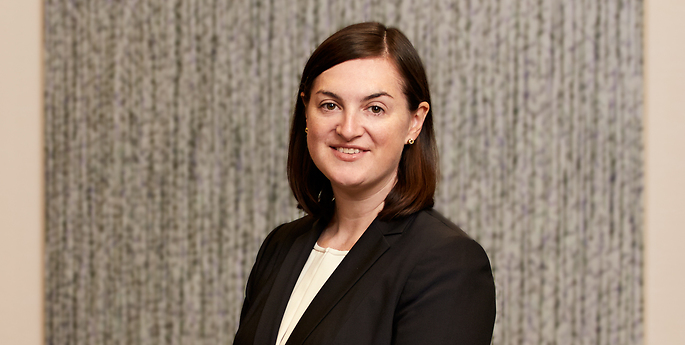 Emily A. Dinsmore
Senior Associate
Practices & Industries
Education
Cornell University, B.S.
University at Buffalo School of Law, J.D., Summa Cum Laude
Emily represents counties, cities, towns, villages, school districts, fire districts, utility districts, and underwriters as bond counsel or special counsel on a range of general obligation, revenue bond, and lease/purchase and asset-backed financings. She is also heavily involved in the planning of school and municipal projects and works closely with municipal advisors, architects and engineers, bond insurers, verification agents, escrow agents, and other market professionals.
Prior to joining the firm, Emily participated in the Hodgson Russ summer associate program. She also served as a judicial intern for Hon. Richard J. Arcara in the U.S. District Court for the Western District of New York and worked as a paralegal at an intellectual property law firm in Williamsville, New York. Before law school, Emily was an elementary and high school teacher in Phoenix, Arizona, through Teach for America, a national service organization.
Honors
Order of the Coif
Listed, Upstate New York Super Lawyers Rising Stars, (Government Finance) 2017 - 2021
Former editor in chief, Buffalo Law Review
Former editor, Buffalo Journal of Gender, Law, and Social Policy
Dale S. Margulis Award (awarded to the member of the SUNY Buffalo Law School graduating class who made the greatest contribution to the school and its community), 2014
Carlos C. Alden Award (awarded for greatest contribution to the Buffalo Law Review), 2014
American Law Institute Continuing Legal Education Scholarship and Leadership Award, 2014
Center for Computer-Assisted Legal Instruction Award for Academic Excellence in the following classes: Legislative Process, 2012; Natural Resources, 2013; Advanced Legal Writing and Research, 2013
Advanced legal writing and research fellow, University at Buffalo School of Law
Press Releases
Hodgson Russ Press Release

,

August 20, 2021

Hodgson Russ Press Release

,

September 8, 2020

Hodgson Russ Press Release

,

January 17, 2020

Press Release

,

August 12, 2019

Press Release

,

August 20, 2018

Press Release

,

September 6, 2017

Press Release

,

May 19, 2015
Publications
Hodgson Russ Municipal Alert

,

October 29, 2021

Hodgson Russ Education Alert

,

September 2, 2021

Hodgson Russ Education Alert

,

August 6, 2021

Hodgson Russ Education and Media & First Amendment Alert

,

June 23, 2021

Hodgson Russ Education Alert

,

March 8, 2021

Hodgson Russ Education Alert

,

February 22, 2021

Hodgson Russ Education Alert

,

February 17, 2021

Hodgson Russ Education Alert 

,

December 1, 2020

Hodgson Russ Bond Counsel Alert

,

August 31, 2020

Hodgson Russ Municipal and Education Alert

,

August 7, 2020

Hodgson Russ Municipal Alert

,

June 22, 2020

Hodgson Russ Education Alert

,

June 8, 2020

Hodgson Russ Education Alert

,

June 5, 2020

Hodgson Russ Education Alert

,

May 13, 2020

Hodgson Russ Municipal Alert

,

May 5, 2020

Hodgson Russ Education Alert

,

May 2, 2020

Hodgson Russ Bond Counsel Alert

,

April 27, 2020

Hodgson Russ Municipal Alert

,

April 14, 2020

Hodgson Russ Municipal Alert

,

April 10, 2020

Hodgson Russ Education, Municipal & Public Finance Alert

,

April 8, 2020

Hodgson Russ Public Finance Alert

,

April 1, 2020

Hodgson Russ Education Alert

,

March 31, 2020

Hodgson Russ Education Alert

,

March 30, 2020

Hodgson Russ Municipal Alert

,

March 30, 2020

Hodgson Russ Real Estate Leasing Alert

,

March 23, 2020

Hodgson Russ Municipal Alert

,

March 17, 2020

Hodgson Russ Municipal Alert

,

March 16, 2020

Hodgson Russ Municipal Alert

,

January 6, 2020

Hodgson Russ Municipal and Education Alert

,

October 21, 2019

Hodgson Russ Education Alert

,

June 14, 2019

Hodgson Russ Municipal Law Alert

,

May 22, 2019

Municipal Law Alert

,

February 27, 2019

Bond Counsel Alert

,

February 22, 2019

Municipal Law Alert

,

July 26, 2018
Presentations & Events
Millennium Hotel, 2040 Walden Avenue, Buffalo NY 14225

,

January 17, 2020

Millennium Hotel, 2040 Walden Avenue, Cheektowaga, NY 14225

,

May 16, 2019

Millennium Hotel Buffalo

,

January 18, 2019

Millennium Hotel, 2040 Walden Avenue, Cheektowaga, NY 14225

,

May 17, 2018

Hodgson Russ, 140 Pearl St, Buffalo, NY 14202

,

April 24, 2018

Millennium Hotel Buffalo, 2040 Walden Ave, Buffalo, NY

,

January 12, 2018

Preparing for IRS and SEC Scrutiny: Procedures and Training

Buffalo, NY

,

May 11, 2017

Cheektowaga, NY

,

May 17, 2016

Millennium Hotel Buffalo, 2040 Walden Ave, Buffalo, NY

,

January 15, 2016

Preparing for IRS and SEC Scrutiny: Procedures and Training

Buffalo, NY

,

December 2, 2015

Millennium Hotel Buffalo, 2040 Walden Ave, Buffalo, NY

,

January 16, 2015

Preparing for IRS and SEC Scrutiny: Procedures and Training

Amherst, NY

,

December 30, 2014
Professional Associations
National Association of Bond Lawyers
Government Finance Officers Association
New York State Association of School Business Officials
Association of Towns of the State of New York
Bar Association of Erie County
Women's Bar Association of the State of New York – Western New York Chapter
Community & Pro Bono
Volunteer: Cornell Alumni Admissions Ambassador Network
Volunteer: Say Yes to Education Legal Clinic