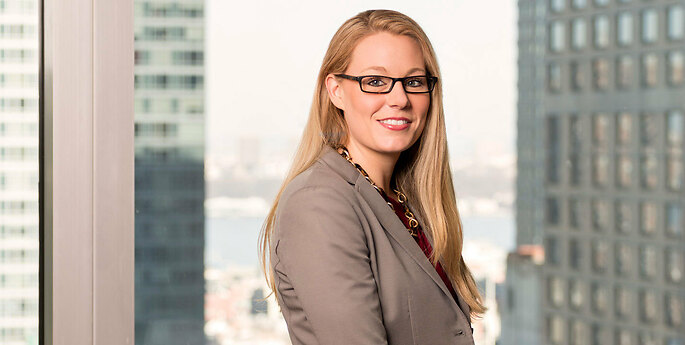 Practices & Industries
Admissions
New York
New Jersey
U.S. District Court, Southern District of New York
U.S. District Court, Eastern District of New York
Education
University of Michigan, B.A.
St. John's University School of Law, J.D.
Erin represents corporate and individual clients in a wide range of commercial litigation, in both federal and state court and in arbitrations, mediations, and regulatory matters. Her practice includes representation of financial institutions, stock transfer agents, accounting firms, and a range of employers in complex disputes, investigations, litigations, examinations, and administrative and enforcement proceedings.
Erin regularly defends accounting firms against allegations of malpractice in their auditing engagements and has advised auditors on best practices and drafting engagement letters.
Erin also regularly represents and advises transfer agents on issues relevant to their business, including responding to issuer and shareholder requests in compliance with securities laws; defending claims in judicial proceedings; and representing transfer agents in connection with investigations and examinations by the Securities and Exchange Commission (SEC). She also has extensive experience handling litigation related to Article 8 of the Uniform Commercial Code.
Honors
Former senior articles editor, St. John's Law Review
Press Releases
Hodgson Russ Press Release

,

January 17, 2020

Press Release

,

January 11, 2016
Publications
Hodgson Russ Home Care and Healthcare Alert

,

May 16, 2023

Hodgson Russ Real Estate Alert

,

April 4, 2023

Hodgson Russ Home Care Alert

,

December 20, 2022

Hodgson Russ Home Care Alert

,

August 19, 2022

Hodgson Russ Product Liability & Complex Tort Alert

,

May 10, 2022

Hodgson Russ Home Care Alert

,

May 5, 2022

Hodgson Russ Product Liability Litigation & Legislation Quarterly Update

,

May 2022

STA Voices: Thoughts for the Transfer Agent Industry

,

April 14, 2022

Hodgson Russ Product Liability Litigation & Legislation Quarterly Update

,

January/February 2022

Hodgson Russ Securities/Directors & Officers Litigation Alert

,

December 18, 2020

Hodgson Russ Business Litigation Alert

,

June 23, 2020

Hodgson Russ Business Litigation and Bankruptcy & Restructuring Alert

,

June 22, 2020

Hodgson Russ Class Action Litigation Alert

,

May 29, 2020

Hodgson Russ Business Litigation Alert

,

May 22, 2020

Hodgson Russ OSHA and Business Litigation Alert

,

May 13, 2020

Hodgson Russ Business Litigation Alert

,

April 22, 2020

Hodgson Russ Business Litigation and Securities Regulation & Corporate Compliance Alert

,

April 22, 2020

Hodgson Russ Business Litigation Alert

,

April 15, 2020

Hodgson Russ Home Care Alert

,

April 9, 2020

Hodgson Russ Business Litigation Alert

,

April 9, 2020

Hodgson Russ Healthcare Alert

,

April 6, 2020

Hodgson Russ Home Care Alert

,

April 4, 2020

Hodgson Russ Home Care Alert

,

May 7, 2019

Hodgson Russ Home Care Alert

,

May 7, 2019

Hodgson Russ Home Care Alert

,

May 7, 2019

Hodgson Russ Home Care Alert

,

May 7, 2019

Hodgson Russ Home Care Alert

,

May 7, 2019

Hodgson Russ Home Care Alert

,

May 7, 2019
Presentations & Events
Naples, Florida

,

October 22, 2019

Understanding New York State Tax Issues of 2019

The Harvard Club 35 W. 44th Street, New York, NY

,

June 12 - August 7, 2019

Understanding New York State Tax Issues of 2017

The Harvard Club 35 W. 44th Street New York, NY

,

June 7 to August 2, 2017

The Offices of Hodgson Russ LLP, 1540 Broadway, 24th Floor, New York, NY

,

September 17, 2015
Professional Associations
National Association of Women Lawyers Programming Committee
Community & Pro Bono
PowerPlay NYC Young Professionals Committee