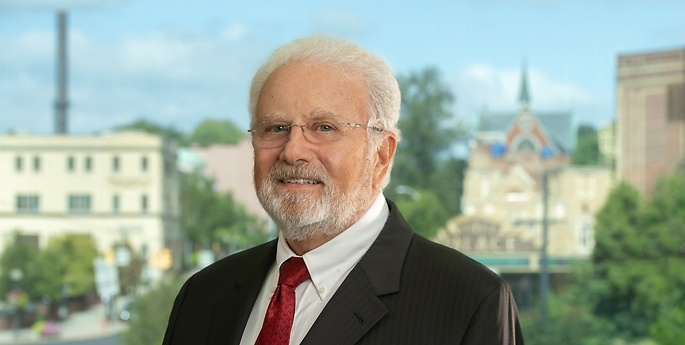 Laurence I. Fox
Of Counsel
Practices & Industries
Admissions
New York
U.S. District Court, Northern District of New York
U.S. District Court, Southern District of New York
U.S. District Court, Eastern District of New York
U.S. District Court, Western District of New York
Education
Union College, B.A.
Albany Law School, J.D.
Larry devotes a substantial portion of his practice to construction law, representing heavy highway, building, utility, environmental and trade contractors, public and private owners (such as municipalities and authorities), developers, engineers and architects. He regularly assists his clients with contract drafting and negotiation, contract administration, bidding issues, surety matters, disputes, claims, administrative reviews, settlements, arbitrations, trials and appeals. Larry's litigation experience includes the preparation of pleadings, discovery, the preparation and trial of claims and lawsuits, as well as mediations and arbitrations involving multi-million claims.
Throughout his career, Larry has resolved disputes involving the construction of highways, bridges, landfills, buildings, airports, underground site development projects, water and sewer plants and transportation projects.
Prior to joining Hodgson Russ, Larry was of counsel at the law firm of McNamee Lochner.
Press Releases
Hodgson Russ Press Release

,

September 3, 2019
Publications
Hodgson Russ Business Litigation Alert

,

June 23, 2020

Hodgson Russ Business Litigation and Bankruptcy & Restructuring Alert

,

June 22, 2020

Hodgson Russ Business Litigation Alert

,

May 22, 2020

Hodgson Russ Renewable Energy and Construction Alert

,

May 15, 2020

Hodgson Russ OSHA and Business Litigation Alert

,

May 13, 2020

Hodgson Russ Business Litigation Alert

,

April 22, 2020

Hodgson Russ Business Litigation and Securities Regulation & Corporate Compliance Alert

,

April 22, 2020

Hodgson Russ Business Litigation Alert

,

April 15, 2020

Hodgson Russ Business Litigation Alert

,

April 9, 2020

Hodgson Russ Construction Alert

,

April 9, 2020

Hodgson Russ Construction Alert

,

March 27, 2020
Professional Associations
American Arbitration Association: Member, Panel of Neutrals
New York State Bar Association
American Bar Association
Saratoga County Bar Association
New York State Chapter of the Associated General Contractors of America
New York State General Building Contractors
New York State Construction Materials Association