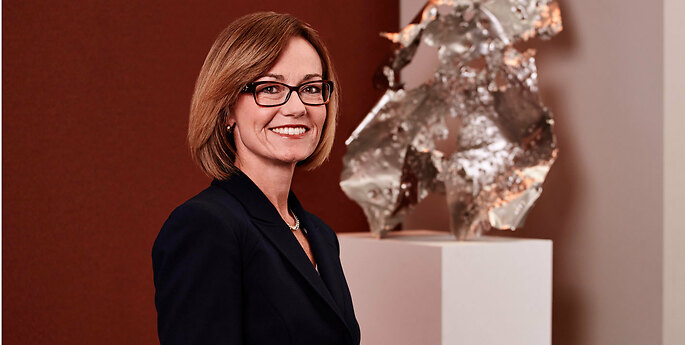 Margot L. Watt
Partner, Immigration Practice Leader
Practices & Industries
Education
Georgetown University, B.S., Summa Cum Laude
University at Buffalo School of Law, J.D., Magna Cum Laude
Margot, who has been a member of Hodgson Russ's Immigration Practice for more than 20 years, has functioned as its leader since 2010. Over the years, the Immigration Practice has grown in size and stature, and has been awarded the prestigious National Tier 1 ranking by Best Lawyers/U.S. News and World Report.
Margot has extensive experience counseling multinational and other businesses on immigration matters for both nonimmigrant (L-1s, H-1Bs, O-1s, TNs, J-1s and F-1s) and immigrant (PERM, Outstanding Researchers, Multinational Managers & Executives, Persons of Extraordinary Ability) workers. Margot also has experience counseling foreign physicians on J-1 visa waiver applications, including Conrad Waivers as well as H-1Bs, National Interest Waiver petitions, O-1 petitions, and program electronic review management (PERM) labor certification cases.
Margot exclusively practices U.S. law and is admitted to practice in New York.
Honors
Former publications editor, Buffalo Law Review
In the News
U.S. Quotas Hinder Employment Visas

Buffalo Law Journal

,

October 11, 2012
Publications
Hodgson Russ Immigration Alert

,

June 23, 2020

Hodgson Russ Immigration Alert

,

April 23, 2020

Hodgson Russ Home Care Alert

,

April 9, 2020

Hodgson Russ Healthcare Alert

,

April 6, 2020

Hodgson Russ Home Care Alert

,

April 4, 2020

Hodgson Russ Home Care Alert

,

May 7, 2019

Hodgson Russ Home Care Alert

,

May 7, 2019

Hodgson Russ Home Care Alert

,

May 7, 2019

Hodgson Russ Home Care Alert

,

May 7, 2019

Hodgson Russ Home Care Alert

,

May 7, 2019

Hodgson Russ Home Care Alert

,

May 7, 2019

Home Care Alert

,

April 1, 2019

Hodgson Russ Home Care Alert

,

March 29, 2019

Hodgson Russ Home Care Alert

,

March 26, 2019

Hodgson Russ Home Care Alert

,

March 12, 2019

Hodgson Russ Home Care Alert

,

March 8, 2019

Home Care Alert

,

February 28, 2019

Home Care Alert

,

February 19, 2019

Home Care Alert

,

January 29, 2019

Home Care Alert

,

January 23, 2019

Home Care Alert

,

January 16, 2019

Home Care Alert

,

January 9, 2019

Home Care Alert

,

December 26, 2018

Home Care Alert

,

December 18, 2018

Home Care Alert

,

December 18, 2018

Home Care Alert

,

December 11, 2018

Home Care Alert

,

November 5, 2018

Home Care Alert

,

October 25, 2018

Home Care Alert

,

October 23, 2018

Home Care Alert

,

October 8, 2018

Home Care Alert

,

October 8, 2018

Home Care Alert

,

September 27, 2018

Home Care Alert

,

September 26, 2018

Home Care Alert

,

September 21, 2018

Home Care Alert

,

August 24, 2018

Home Care Alert

,

August 8, 2018

Home Care Alert

,

August 6, 2018

Home Care Alert

,

July 27, 2018

Home Care Alert

,

July 27, 2018

Home Care Alert

,

July 19, 2018

Home Care Alert

,

July 12, 2018

Home Care Alert

,

June 29, 2018

Home Care Alert

,

May 31, 2018

Home Care Alert

,

May 29, 2018

Home Care Alert

,

May 22, 2018

Home Care Alert

,

May 14, 2018

Home Care Alert

,

May 10, 2018

Home Care Alert

,

April 2, 2018

Home Care Alert

,

March 7, 2018

Home Care Alert

,

January 23, 2018

Home Care Alert

,

January 22, 2018

Home Care Alert

,

December 19, 2017

Home Care Alert

,

December 19, 2017

Home Care Alert

,

December 14, 2017

Home Care Alert

,

December 13, 2017

Immigration Alert

,

July 26, 2017

Immigration Alert

,

June 27, 2017

Immigration Alert

,

February 1, 2017

Smarter Way to Cross Blog Archives

,

May 30, 2014

Immigration Alert

,

May 1, 2013

Immigration Alert

,

February 7, 2011

Immigration Alert

,

November 22, 2010

Immigration Alert

,

November 22, 2010

Immigration Alert

,

December 21, 2009
Presentations & Events
United States Law Firm Group Immigration Practitioners Seminar: Overview of Immigration Practice
Professional Associations
American Immigration Lawyers Association
Bar Association of Erie County