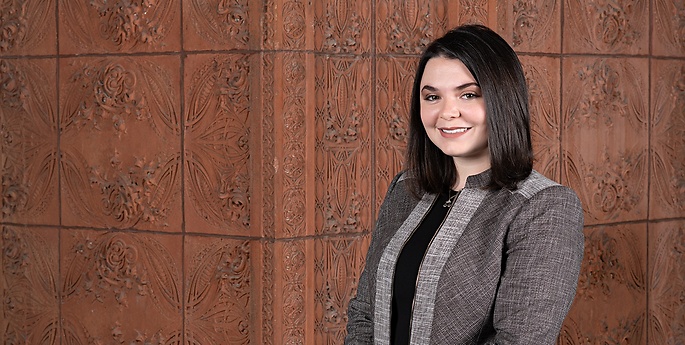 Melissa J. Kathan
Associate
Practices & Industries
Education
University at Buffalo, B.A., Summa Cum Laude
University at Buffalo School of Law, J.D.
Melissa is an Associate in the Labor and Employment practice where she represents management on all aspects of labor and employment law.
Her practice includes federal and state employment discrimination, wage and hour issues, workplace policies, discipline and discharge, union avoidance, and unemployment insurance issues. She has assisted clients in cases involving the New York State Department of Labor, the New York State Division of Human Rights, the Equal Employment Opportunity Commission, the National Labor Relations Board, and the Public Employment Relations Board.
Melissa also counsels school districts on a range of legal challenges such as special education litigation, student disciplinary matters, labor and employment relations matters, and the development and implementation of school district policies.
Prior to joining Hodgson Russ, Melissa completed internships with the U.S. Court of Appeals, Second Circuit (for the Hon. Richard C. Wesley), SAG-AFTRA and the Erie County District Attorney's Office. She was also a law clerk with the U.S. Attorney's Office for the Western District of New York.
Honors
Student Commencement Speaker at the University at Buffalo School of Law 2019 Commencement
Phi Beta Kappa
Former Associate, Buffalo Law Review
Participant, University at Buffalo School of Law New York City Finance & Law Program
Kent Faculty Research Scholar
Former Vice President for the Student Assembly of the State University of New York
Former Member of the University at Buffalo Council
Provost Scholar
Press Releases
Hodgson Russ Press Release

,

January 17, 2020
Publications
Labor and Employment Alert

,

July 19, 2021

Hodgson Russ Education and Media & First Amendment Alert

,

June 23, 2021

Hodgson Russ Labor & Employment Alert

,

June 15, 2021

Hodgson Russ Food & Beverage Alert

,

May 21, 2021

Hodgson Russ Labor and Employment Alert

,

May 13, 2021

Hodgson Russ Food and Beverage Alert

,

May 10, 2021

Hodgson Russ Food and Beverage Alert

,

April 30, 2021

Hodgson Russ Food and Beverage Alert

,

April 19, 2021

Hodgson Russ Labor and Employment Alert

,

April 5, 2021

Hodgson Russ Labor and Employment Alert

,

March 15, 2021

Hodgson Russ Food & Beverage Alert

,

March 9, 2021

Hodgson Russ Education Alert

,

March 8, 2021

Hodgson Russ Food & Beverage Alert

,

February 25, 2021

Hodgson Russ Education Alert

,

February 22, 2021

Hodgson Russ Education Alert

,

February 17, 2021

Hodgson Russ Food & Beverage Alert

,

February 17, 2021

Hodgson Russ Labor & Employment Alert

,

January 25, 2021

Hodgson Russ Labor & Employment Alert

,

December 18, 2020

Hodgson Russ Labor & Employment Alert

,

December 3, 2020

Hodgson Russ Education Alert 

,

December 1, 2020

Hodgson Russ Labor & Employment Alert

,

November 2, 2020

Hodgson Russ Labor & Employment Alert

,

October 23, 2020

Hodgson Russ Labor & Employment Alert

,

October 22, 2020

Hodgson Russ Labor and Employment Alert 

,

October 21, 2020

Hodgson Russ Food & Beverage Alert

,

September 23, 2020

Hodgson Russ Labor & Employment Alert

,

September 14, 2020

Hodgson Russ Food & Beverage Alert

,

August 31, 2020

Hodgson Russ Special Education Alert

,

August 7, 2020

Hodgson Russ Municipal and Education Alert

,

August 7, 2020

Hodgson Russ Labor & Employment Alert

,

August 6, 2020

Hodgson Russ Labor & Employment Alert

,

July 23, 2020

Hodgson Russ Labor & Employment Alert

,

July 7, 2020

Hodgson Russ Labor & Employment Alert

,

June 29, 2020

Hodgson Russ Labor & Employment Alert

,

June 29, 2020

Hodgson Russ Labor & Employment Alert

,

June 23, 2020

Hodgson Russ Municipal Alert

,

June 22, 2020

Hodgson Russ Labor & Employment Alert

,

June 18, 2020

Hodgson Russ Labor & Employment Alert

,

June 16, 2020

Hodgson Russ Education Alert

,

June 8, 2020

Hodgson Russ Special Education Alert

,

June 6, 2020

Hodgson Russ Education Alert

,

June 5, 2020

Hodgson Russ Labor & Employment Alert

,

May 20, 2020

Hodgson Russ Education Alert

,

May 13, 2020

Hodgson Russ Municipal Alert

,

May 5, 2020

Hodgson Russ Education Alert

,

May 2, 2020

Hodgson Russ Labor & Employment Alert

,

April 28, 2020

Hodgson Russ Labor & Employment Alert

,

April 16, 2020

Hodgson Russ Municipal Alert

,

April 14, 2020

Hodgson Russ Labor & Employment Alert

,

April 14, 2020

Hodgson Russ Municipal Alert

,

April 10, 2020

Hodgson Russ Education, Municipal & Public Finance Alert

,

April 8, 2020

Hodgson Russ Food & Beverage Alert

,

April 7, 2020

Hodgson Russ Labor & Employment Alert

,

April 7, 2020

Hodgson Russ Labor & Employment Practice Alert

,

April 6, 2020

Hodgson Russ Food & Beverage Practice Alert

,

April 3, 2020

Hodgson Russ Labor & Employment and OSHA Alert

,

April 2, 2020

Hodgson Russ Public Finance Alert

,

April 1, 2020

Hodgson Russ Education Alert

,

March 31, 2020

Hodgson Russ Education Alert

,

March 30, 2020

Hodgson Russ Municipal Alert

,

March 30, 2020

Hodgson Russ Labor & Employment Alert

,

March 29, 2020

Hodgson Russ Labor & Employment Alert

,

March 26, 2020

Hodgson Russ Labor & Employment Alert

,

March 25, 2020

Hodgson Russ Tax and Labor & Employment Alert

,

March 24, 2020

Hodgson Russ Education Alert

,

March 23, 2020

Hodgson Russ Labor & Employment Alert

,

March 22, 2020

Hodgson Russ Labor & Employment Alert

,

March 20, 2020

Hodgson Russ Labor & Employment Alert

,

March 20, 2020

Hodgson Russ Labor & Employment Alert

,

March 19, 2020

Hodgson Russ Labor & Employment Alert

,

March 19, 2020

Hodgson Russ Labor & Employment Alert

,

March 18, 2020

Hodgson Russ Education Practice Alert

,

March 17, 2020

Hodgson Russ Municipal Alert

,

March 17, 2020

Hodgson Russ Food & Beverage Alert

,

March 16, 2020

Hodgson Russ Municipal Alert

,

March 16, 2020

Hodgson Russ Labor & Employment Alert

,

March 6, 2020

Hodgson Russ Labor & Employment Alert

,

February 3, 2020
Presentations & Events
Millennium Hotel, 2040 Walden Avenue, Buffalo NY 14225

,

January 17, 2020

Buffalo Niagara Marriott, Amherst, NY

,

November 14, 2019
Community & Pro Bono
Former Student Attorney for the University at Buffalo School of Law Health Justice Clinic at Roswell Park Comprehensive Cancer Center