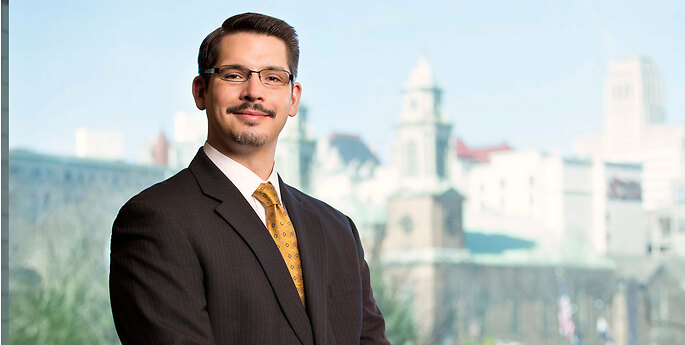 Michael T. Logan
Senior Associate
Practices & Industries
Education
State University College at Buffalo, B.A., summa cum laude
Niagara University, M.S.
University at Buffalo, M.B.A., with distinction
University at Buffalo School of Law, J.D., magna cum laude
Michael focuses his practice on various forms of financings for municipalities, school districts, municipal authorities, for-profit corporations, and nonprofit corporations. His financing work includes general obligation debt, sewer and water revenue bond issues, and industrial development agency financings.
Michael has performed or supported the role of issuer's counsel and bond counsel on a variety of industrial development agency and public authority projects. Examples of such industrial development projects include commercial, manufacturing, nonprofit, and recreational projects. Examples of such public authority projects include parking, water and sewer systems, and airport projects. In connection with municipal and school district finance, Michael has performed or supported the role of bond counsel and underwriter's counsel.
Since joining Hodgson Russ, Michael has been involved in the development and structuring of a number of capital projects with emphasis on creating a regional approach to the financing structure and on connecting public and private entities (i.e., private/public partnerships) to provide a regional public/private solution. Each situation has required an understanding of benefits and limitations of public finance under New York State law and the federal tax law, together with an awareness of what the private sector and private capital markets can provide.
Honors
Listed, Upstate New York Super Lawyers Rising Stars, (Government Finance) 2018 - 2020
Leadership Tech Valley, Class of 2020
Order of the Coif
Former articles editor, Buffalo Law Review
Frederic L. Ballard Jr. Memorial Scholar – National Association of Bond Lawyers
Western New York Prosperity Fellow
Phi Alpha Theta National History Honor Society
Kappa Delta Pi International Education Honor Society
In the News
Press Releases
Hodgson Russ Press Release

,

September 8, 2020

Press Release

,

August 12, 2019

Press Release

,

August 20, 2018

Press Release

,

January 2, 2018
Publications
Hodgson Russ Renewable Energy Alert

,

April 19, 2021

Hodgson Russ Renewable Energy Alert

,

April 7, 2021

Hodgson Russ Renewable Energy Alert

,

April 6, 2021

Hodgson Russ Environmental and Renewable Energy Alert

,

March 24, 2021

Hodgson Russ Education Alert

,

March 8, 2021

Hodgson Russ Renewable Energy Alert

,

March 4, 2021

Hodgson Russ Education Alert

,

February 22, 2021

Hodgson Russ Education Alert

,

February 17, 2021

Hodgson Russ Renewable Energy Alert

,

January 13, 2021

Hodgson Russ Renewable Energy Alert

,

January 6, 2021

Hodgson Russ Renewable Energy Alert

,

December 17, 2020

Hodgson Russ Renewable Energy Alert

,

December 1, 2020

Hodgson Russ Education Alert 

,

December 1, 2020

Hodgson Russ Renewable Energy Alert

,

November 23, 2020

Hodgson Russ Renewable Energy Alert

,

October 28, 2020

Hodgson Russ Renewable Energy Alert

,

October 23, 2020

Hodgson Russ Renewable Energy Alert

,

October 21, 2020

Hodgson Russ Renewable Energy Alert

,

October 19, 2020

Hodgson Russ Renewable Energy Alert

,

October 16, 2020

Hodgson Russ Renewable Energy Alert

,

September 22, 2020

Hodgson Russ Renewable Energy Alert

,

September 17, 2020

Hodgson Russ Renewable Energy Alert

,

September 10, 2020

Hodgson Russ Bond Counsel Alert

,

August 31, 2020

Tax Notes State

,

August 17, 2020

Hodgson Russ Municipal and Education Alert

,

August 7, 2020

Hodgson Russ Renewable Energy Alert

,

August 6, 2020

Hodgson Russ College & University Alert

,

July 31, 2020

Hodgson Russ Renewable Energy Alert

,

July 24, 2020

Hodgson Russ Renewable Energy Alert

,

July 20, 2020

Hodgson Russ Brownfield Redevelopment Alert

,

June 29, 2020

Hodgson Russ Municipal Alert

,

June 22, 2020

Hodgson Russ Renewable Energy Alert

,

June 19, 2020

Hodgson Russ Renewable Energy Alert

,

June 12, 2020

Hodgson Russ Renewable Energy Alert

,

June 9, 2020

Hodgson Russ Public Authority Alert

,

June 9, 2020

Hodgson Russ Education Alert

,

June 8, 2020

Hodgson Russ Education Alert

,

June 5, 2020

Hodgson Russ Renewable Energy Alert

,

June 3, 2020

Hodgson Russ Renewable Energy Alert

,

June 2, 2020

Hodgson Russ Renewable Energy Alert

,

May 26, 2020

Hodgson Russ Renewable Energy Alert

,

May 20, 2020

Hodgson Russ Education Alert

,

May 13, 2020

Hodgson Russ Municipal Alert

,

May 5, 2020

Hodgson Russ Education Alert

,

May 2, 2020

Hodgson Russ Bond Counsel Alert

,

April 27, 2020

Hodgson Russ Municipal Alert

,

April 14, 2020

Hodgson Russ Municipal Alert

,

April 10, 2020

Hodgson Russ Education, Municipal & Public Finance Alert

,

April 8, 2020

Hodgson Russ Public Authority Alert

,

April 3, 2020

Hodgson Russ Public Finance Alert

,

April 1, 2020

Hodgson Russ Education Alert

,

March 31, 2020

Hodgson Russ Education Alert

,

March 30, 2020

Hodgson Russ Municipal Alert

,

March 30, 2020

Hodgson Russ Municipal Alert

,

March 17, 2020

Hodgson Russ Municipal Alert

,

March 16, 2020

Hodgson Russ Municipal Alert

,

January 6, 2020

Hodgson Russ Municipal and Education Alert

,

October 21, 2019

Hodgson Russ Education Alert

,

June 14, 2019

Hodgson Russ Municipal Law Alert

,

May 22, 2019

Hodgson Russ Public Authority Alert

,

March 18, 2019

Hodgson Russ Public Authority Alert

,

March 14, 2019

Bond Counsel Alert

,

February 22, 2019

Public Authority Guidebook: A Compendium of Governing Law and Commentary that Every New York Authority Board Member Should Know

Hodgson Russ Publication

,

July 2014

Hodgson Russ Alert

,

February 12, 2014

JD Supra

,

January 29, 2014

Hodgson Russ Alert

,

January 29, 2014

JD Supra

,

January 29, 2014
Presentations & Events
Troy, New York

,

December 11, 2019

Albany, NY

,

March 1, 2019

Schuylerville, New York

,

September 13, 2018

Hodgson Russ, 140 Pearl St, Buffalo, NY 14202

,

April 24, 2018

Preparing for IRS and SEC Scrutiny: Procedures and Training

Hilton Garden Inn, 30 Clifton Country Road, Clifton Park, NY

,

September 27, 2016

Municipal Law Seminar: IRS and Securities

Clifton Park, NY

,

June 9, 2015

Saratoga Springs, NY

,

May 7, 2015
Professional Associations
National Association of Bond Lawyers
New York Bar Association Municipal Law Section
New York State Government Finance Officers Association
New York State Association of School Business Officials
New York State Economic Development Council
Hodgson Russ Committee on Attorney Recruiting, Development & Diversity
Community & Pro Bono
President, Western New York Prosperity Fellowship Alumni Association Board of Directors
Secretary, Woodland Hill Montessori School Board of Trustees, Rensselaer County, New York
Member, Leadership Tech Valley Steering Committee, Capital Region Chamber, New York