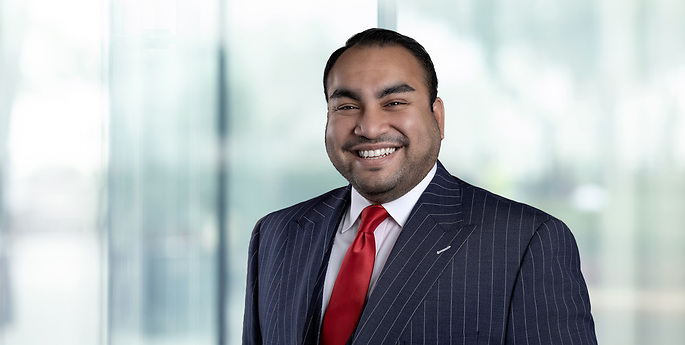 Mohammed A. Alam
Associate
Practices & Industries
Admissions
New York
District of Columbia
U.S. Court of Appeals, Second Circuit
U.S. District Court for the Eastern District of New York
U.S. District Court for the Southern District of New York
U.S. District Court for the Western District of New York
Education
The City University of New York - Colin Powell School, B.A., magna cum laude
University at Buffalo School of Law, J.D.
Mohammed A. Alam is a member of the firm's Business Litigation Practice. He represents companies and corporations as both plaintiffs and defendants on various matters including commercial disputes and contract litigation. He also has experience in cannabis and hemp law as well as voting rights and election law.
Among Mohammed's clients are construction and development companies, banks, other financial institutions, utility providers, and both commercial landlords and commercial tenants. He also represents educational institutions, government entities and municipalities, as well as their officials, on a variety of litigation and regulatory matters in both state and federal court.
Understanding that no client or case is the same, Mohammed works to craft the best pathway toward a favorable outcome. He is known for his ability to anticipate potential changes in cases and pivot directions while always maintaining his clients' desired bottom line. In order to do this, Mohammed studies and researches a client's business in order to become proficient on the inner-workings of the organization. Through his research, Mohammed is able to envision the larger picture of a case allowing him to find the best solution for a client.
Mohammed strives to make his clients feel as comfortable as possible throughout a case. He works to present pertinent information to clients in a comprehensive manner thoughtfully and clearly outlining the direction a case may take as well as any potential setbacks a client may face.
Prior to joining Hodgson Russ, Mohammed pursued a variety of experiences including with the General Counsel of Deutsche Bank, the State Counsel Division at the New York Attorney General's Office, and within the Enforcement Department of the Financial Industry Regulatory Authority (FINRA). He also has an extensive political and governmental background working with the White House, U.S. House of Representatives, U.S. Senate, and the New York City Council. In addition, he has been involved in many campaigns ranging from presidential to local races.
Honors
Listed, Upstate New York Super Lawyers Rising Stars (General Litigation) 2023
City & State Albany 40 Under 40, 2023
Phi Beta Kappa Society
Pi Sigma Alpha Society
Skadden Arps Honors Scholar in Legal Studies, City College of New York
David Kochery Award, University at Buffalo School of Law
Certificate in Criminal Law Concentration, University at Buffalo School of Law
New York City Program in Finance and Law, University at Buffalo School of Law
In the News
Publications
Hodgson Russ Cannabis & Hemp Alert

,

March 29, 2023

Hodgson Russ Municipal Alert

,

November 28, 2022

Hodgson Russ Cannabis & Hemp Alert

,

October 19, 2022

Hodgson Russ Cannabis and Hemp Alert 

,

July 7, 2022

Hodgson Russ Business Litigation Alert

,

May 25, 2022

Hodgson Russ Municipal Alert

,

May 16, 2022

Hodgson Russ Product Liability & Complex Tort Alert

,

May 10, 2022

Hodgson Russ Renewable Energy & Municipal Alert

,

May 3, 2022

Hodgson Russ Product Liability Litigation & Legislation Quarterly Update

,

May 2022

Hodgson Russ Municipal and Education Alert

,

April 19, 2022

New York Law Journal

,

February 14, 2022

Hodgson Russ Product Liability Litigation & Legislation Quarterly Update

,

January/February 2022

Hodgson Russ Cannabis & Hemp Alert

,

February 2, 2022

Hodgson Russ Cannabis & Hemp and Labor & Employment Alert

,

November 4, 2021

Hodgson Russ Municipal Alert

,

October 29, 2021

Hodgson Russ Cannabis & Hemp Alert

,

October 26, 2021

Hodgson Russ Cannabis & Hemp Alert

,

September 2, 2021
Professional Associations
Erie County Bar Association
New York City Bar Association
Muslim Bar Association of New York
South Asian Bar Association of New York
New York Democratic Lawyers Council
Community & Pro Bono
Treasurer, University at Buffalo Law Alumni Association and Graduates of the Last Decade ("GOLD") Group
Member, State Affairs and Government Ethics Committee, New York City Bar Association
Member, Membership Committee, Erie County Bar Association
Board of Directors, University at Buffalo School of Law Graduates of the Last Decade (GOLD) Group
Board Member, Volunteer Lawyers Project Rising Champions for Justice
Treasurer, Young Democrats of America
Youth Council Member, Democratic National Committee
Next Generation Leader, American Constitution Society
Board Member, Political Science Alumni Association at City College of New York
Carnegie New Leader, Carnegie Council for Ethics in International Affairs
President Emeritus, Manhattan Young Democrats
Former Treasurer, University at Buffalo School of Law Student Bar Association
Former Clerk, Buffalo Public Interest Law Journal