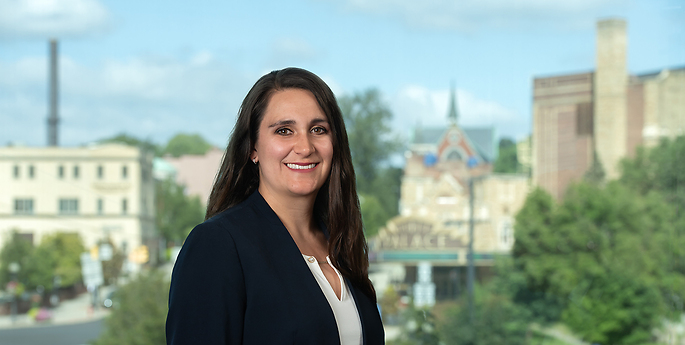 Practices & Industries
Education
University of California, Santa Cruz, B.S.
Pace University - Elisabeth Haub School of Law, J.D., cum laude
Raquel advises clients on various aspects of legal requirements under environmental, regulatory, energy, and land use and zoning laws. She is experienced in administrative and regulatory compliance matters, particularly as they pertain to energy project siting and development. Raquel also works on several types of litigation involving commercial, civil, and environmental matters.
Prior to joining Hodgson Russ, Raquel served as an Excelsior Fellow at the New York State Department of Public Service. There, she was involved in utility rate proceedings, addressing requirements associated with disclosures and compliance under the New York State Freedom of Information Law (FOIL), and other state regulatory compliance considerations.
Raquel interned at the Pace Energy and Climate Center and Region 2 of the United States Environmental Protection Agency while attending law school.
Honors
J.D. with Advanced Environmental Certificate
Former Articles Editor, Pace Environmental Law Review
Professor William R. Ginsberg Memorial Essay Contest, second place for Microgrids: Legal and Regulatory Hurdles for a More Resilient Energy Infrastructure
In the News
Buffalo Business First

,

October 29, 2021
Publications
Hodgson Russ Renewable Energy and Real Estate Alert 

,

June 21, 2022

Hodgson Russ Product Liability & Complex Tort Alert

,

May 10, 2022

Hodgson Russ Renewable Energy & Municipal Alert

,

May 3, 2022

Hodgson Russ Product Liability Litigation & Legislation Quarterly Update

,

May 2022

Hodgson Russ Renewable Energy and Municipal Alert

,

April 29, 2022

Hodgson Russ Environmental Alert

,

March 22, 2022

Hodgson Russ Product Liability Litigation & Legislation Quarterly Update

,

January/February 2022

Hodgson Russ Renewable Energy Alert

,

February 3, 2022

Hodgson Russ Cannabis & Hemp Alert

,

February 2, 2022

Hodgson Russ Renewable Energy Alert

,

January 19, 2022

Hodgson Russ Renewable Energy Alert

,

November 30, 2021

Hodgson Russ SALT and Renewable Energy Alert

,

November 15, 2021

Hodgson Russ Renewable Energy Alert

,

November 9, 2021

Hodgson Russ Environmental Alert

,

November 5, 2021

Hodgson Russ Cannabis & Hemp and Labor & Employment Alert

,

November 4, 2021

Hodgson Russ Environmental Alert

,

November 2, 2021

Buffalo Business First

,

October 29, 2021

Hodgson Russ Cannabis & Hemp Alert

,

October 26, 2021

Hodgson Russ Land Use & Economic Development Alert

,

October 22, 2021

Hodgson Russ Environmental Alert

,

October 20, 2021

Hodgson Russ Renewable Energy Alert

,

September 14, 2021

Hodgson Russ Renewable Energy Alert

,

September 8, 2021

Hodgson Russ Cannabis & Hemp Alert

,

September 2, 2021

Hodgson Russ Renewable Energy Alert

,

August 3, 2021

Hodgson Russ Renewable Energy Alert

,

August 2, 2021

Pace Environmental Law Review

,

September 1, 2018
Professional Associations
New York State Bar Association