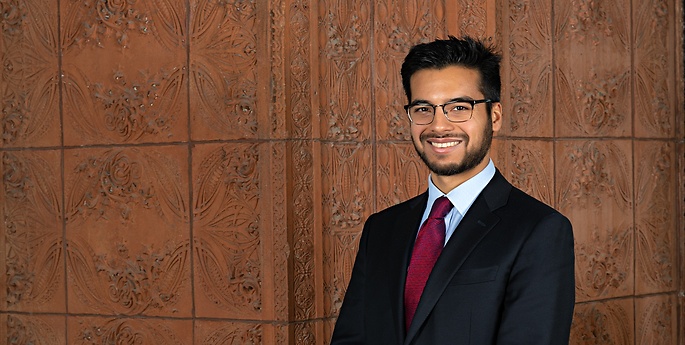 Raymond J. Fadel
Associate
Practices & Industries
Admissions
New York
U. S. District Court, Southern District of New York
U.S. District Court, Eastern District of New York
Clerkships
Judge Richard Seeborg, U.S. District Court, Northern District of California
Education
Harvard College, B.A.
New York University School of Law, J.D., Cum Laude
Ray focuses his practice on business litigation. He has experience with several aspects of complex commercial litigation in both federal and state court in New York and California. Ray also has a specialty in Federal Indian Law and is well-versed in federal court procedure.
Ray has extensive experience working for the federal judiciary. He interned for Judge Raymond J. Lohier, Jr. of the U.S. Court of Appeals for the Second Circuit in the fall of 2016. Ray was a clerk for Judge Richard Seeborg of the U.S. District Court for the Northern District of California from 2018 to 2019.
Honors
AnBryce Scholar
Former Executive Editor: New York University Law Review
Press Releases
Hodgson Russ Press Release

,

December 20, 2019
Publications
Hodgson Russ OSHA and Healthcare Alert

,

March 28, 2022

Hodgson Russ OSHA and Labor & Employment Alert

,

February 18, 2022

Hodgson Russ OSHA and Labor & Employment Alert

,

January 14, 2022

Hodgson Russ OSHA and Labor & Employment Alert

,

January 12, 2022

Hodgson Russ OSHA and Labor & Employment Alert

,

December 23, 2021

Hodgson Russ OSHA and Labor & Employment Alert

,

December 20, 2021

Hodgson Russ OSHA Alert

,

November 17, 2021

Hodgson Russ OSHA Alert

,

November 8, 2021

Hodgson Russ OSHA Alert

,

November 5, 2021

Hodgson Russ OSHA Alert

,

September 21, 2021

Hodgson Russ OSHA Alert

,

September 10, 2021

Hodgson Russ OSHA Alert

,

July 1, 2021

Hodgson Russ OSHA Alert

,

June 15, 2021

Hodgson Russ OSHA Alert

,

April 27, 2021

Hodgson Russ OSHA Alert

,

March 17, 2021

Hodgson Russ OSHA Alert

,

August 17, 2020

BLR's New York Employment Law Letter

,

July 1, 2020

Hodgson Russ Business Litigation Alert

,

June 23, 2020

Hodgson Russ Business Litigation and Bankruptcy & Restructuring Alert

,

June 22, 2020

Hodgson Russ OSHA Alert

,

June 15, 2020

Hodgson Russ OSHA Alert

,

June 1, 2020

Hodgson Russ Business Litigation Alert

,

May 22, 2020

Hodgson Russ OSHA and Business Litigation Alert

,

May 13, 2020

Hodgson Russ Business Litigation Alert

,

April 22, 2020

Hodgson Russ Business Litigation and Securities Regulation & Corporate Compliance Alert

,

April 22, 2020

Hodgson Russ Business Litigation Alert

,

April 15, 2020

Hodgson Russ Business Litigation Alert

,

April 9, 2020
Professional Associations
New York State Bar Association