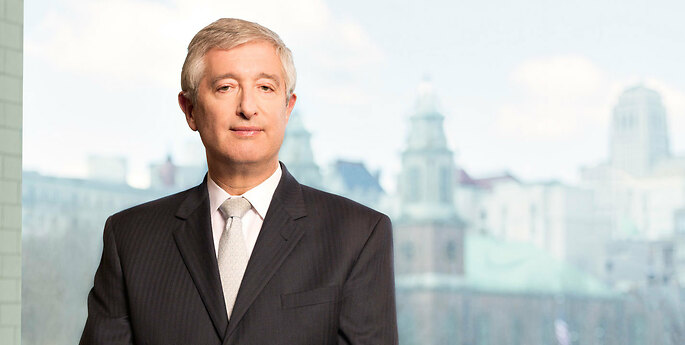 Richard L. Weisz
Senior Counsel
Practices & Industries
Admissions
New York
U.S. District Court, Northern District of New York
U.S. District Court, Southern District of New York
U.S. District Court, Eastern District of New York
U.S. District Court, Western District of New York
U.S. Court of Appeals, Second Circuit
U.S. Supreme Court
U.S. Tax Court
Education
Rensselaer Polytechnic Institute, B.S.
Albany Law School of Union University, J.D.
Dick has represented debtors, creditors, and creditors' committees in Chapter 11 business reorganization proceedings. He has represented several professionals in workouts and Chapter 11 bankruptcy matters. He has conducted trials on business valuation and corporate dissolutions, contested foreclosure proceedings, trade secret and unfair competition, administrative hearings, wrongful eviction, antitrust and breach of contract before jurors as well as non-jury cases. He has successfully argued appeals to the Second Circuit Court of Appeals and the Appellate Division of the New York State Supreme Court.
Honors
Listed, Upstate New York Super Lawyers, (Bankruptcy: Business) 2007 - 2020
Sigma Pi Sigma, National Physics Honor Society
Justinian Society, Albany Law School of Union University
In the News
Albany Business Review

,

August 21, 2019

Albany Business Review

,

March 2, 2018

Albany Business Review

,

January 10, 2018

Albany Business Review

,

January 31, 2014

Albany Business Review

,

January 29, 2014

Post Star

,

December 18, 2013

Albany Business Review

,

October 21, 2013

Albany Business Review

,

June 11, 2013
Press Releases
Hodgson Russ Press Release

,

September 8, 2020

Press Release

,

August 12, 2019

Press Release

,

August 20, 2018

Press Release

,

September 6, 2017

Press Release

,

August 31, 2016

Press Release

,

August 19, 2015

Press Release

,

August 14, 2014
Publications
Hodgson Russ Municipal and Education Alert

,

April 19, 2022

Hodgson Russ Education Alert

,

September 2, 2021

Hodgson Russ Education Alert

,

August 6, 2021

Hodgson Russ Education and Media & First Amendment Alert

,

June 23, 2021

Hodgson Russ Education Alert

,

March 8, 2021

Hodgson Russ Education Alert

,

February 22, 2021

Hodgson Russ Education Alert

,

February 17, 2021

Hodgson Russ Education Alert 

,

December 1, 2020

Hodgson Russ Bankruptcy, Restructuring & Commercial Litigation Alert

,

November 11, 2020

Hodgson Russ Bankruptcy, Restructuring & Commercial Litigation Alert

,

October 23, 2020

Hodgson Russ Municipal and Education Alert

,

August 7, 2020

Hodgson Russ Business Litigation Alert

,

June 23, 2020

Hodgson Russ Business Litigation and Bankruptcy & Restructuring Alert

,

June 22, 2020

Hodgson Russ Education Alert

,

June 8, 2020

Hodgson Russ Education Alert

,

June 5, 2020

Hodgson Russ Banking & Finance Alert

,

June 4, 2020

Hodgson Russ Banking & Finance Alert

,

May 26, 2020

Hodgson Russ Business Litigation Alert

,

May 22, 2020

Hodgson Russ Banking & Finance Alert

,

May 18, 2020

Hodgson Russ Education Alert

,

May 13, 2020

Hodgson Russ OSHA and Business Litigation Alert

,

May 13, 2020

Hodgson Russ Banking & Finance Alert

,

May 13, 2020

Hodgson Russ Education Alert

,

May 2, 2020

Hodgson Russ Banking & Finance Alert

,

April 24, 2020

Hodgson Russ Banking & Finance Alert

,

April 24, 2020

Hodgson Russ Business Litigation Alert

,

April 22, 2020

Hodgson Russ Business Litigation and Securities Regulation & Corporate Compliance Alert

,

April 22, 2020

Hodgson Russ Business Litigation Alert

,

April 15, 2020

Hodgson Russ Banking & Finance Alert

,

April 10, 2020

Hodgson Russ Business Litigation Alert

,

April 9, 2020

Hodgson Russ Bankruptcy, Restructuring & Commercial Litigation Alert

,

April 8, 2020

Hodgson Russ Banking & Finance Alert

,

April 8, 2020

Hodgson Russ Education, Municipal & Public Finance Alert

,

April 8, 2020

Hodgson Russ Education Alert

,

March 31, 2020

Hodgson Russ Banking & Finance Alert

,

March 30, 2020

Hodgson Russ Education Alert

,

March 30, 2020

Hodgson Russ Banking & Finance Alert

,

March 30, 2020

Hodgson Russ Banking & Finance Alert

,

March 24, 2020

Hodgson Russ Cross-Border Finance Alert

,

January 8, 2020

Hodgson Russ Municipal and Education Alert

,

October 21, 2019

Hodgson Russ Municipal, Real Property Tax Assessment, and Telecommunications Alert

,

September 20, 2019

Hodgson Russ Education Alert

,

June 14, 2019

Real Property Tax Assessment & Eminent Domain Alert

,

February 11, 2019

Municipal Law Alert

,

February 4, 2019

Banker Bulletin Alert

,

January 31, 2019

Gaming Alert

,

January 22, 2019

Cross-Border Finance Alert

,

November 13, 2018
Presentations & Events
Albany, NY

,

September 25, 2019

The Century House, 997 New Loudon Road, Latham, NY 12110

,

May 5, 2015

Saratoga Springs, NY

,

June 21, 2012

Lake George, NY

,

November 2011

Albany Law School Guest Lecture: Negotiations in Civil Litigation

Albany, NY

,

March 31, 2010

Buffalo, NY

,

April 10, 2009
Professional Associations
Founding member and past president, Capital District Bankruptcy Bar Association

New York State Bar Association

Albany County Bar Association
Community & Pro Bono
Past president, Guilderland Central School District Board
Past president, Congregation Ohav Shalom
Former coach, Guilderland Soccer Club
Former coach, girls' t-ball
Former coach, boys' little league