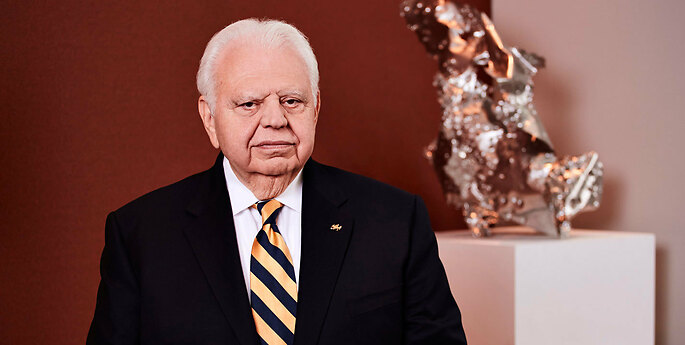 Salvatore R. Martoche
Senior Counsel, Alternative Dispute Resolution Practice Leader
Areas of Practice
Admissions
New York
U.S. Supreme Court
U.S. Court of Appeals for the Second Circuit
U.S. District Court for the Western District of New York
U.S. Tax Court
Education
B.S., Canisius College
J.D., University of North Dakota School of Law
Program for Senior Managers in Government, Harvard University John F. Kennedy School of Government
Sal, who leads the firm's Alternative Dispute Resolution (ADR) Practice, focuses his practice on alternative dispute resolution and business litigation.
Prior to joining Hodgson Russ, Sal served for approximately 13 years on the New York State Supreme Court bench. He also served as assistant secretary of the U.S. Department of Treasury under Presidents Reagan and Bush, assistant secretary of the U.S. Labor Department under President Reagan, and U.S. attorney for the Western District of New York.
Earlier in his career, Sal was in private practice for more than 20 years. He concentrated his practice on banking law, regulatory issues, and white-collar criminal defense, and was a commissioner of the New York State Commission of Investigation for 10 years. Sal also served briefly as acting director of the Office of Thrift Supervision at the height of the savings and loan crisis.
Honors
Ellis Island Medal of Honor
Alexander Hamilton Award (award of highest distinction given by the Secretary of the Treasury)
Named Buffalo News "Outstanding Citizen"
Canisius College Distinguished Alumni Award
State University College at Buffalo Criminal Justice Alumni - Outstanding Achievement
LaSalle Medal, Canisius College Outstanding Alumni
Member, Governor Hugh L. Carey's Executive Advisory Commission on the Administration of Justice
News
Buffalo Law Journal

,

May 30, 2016

Buffalo Business First

,

June 22, 2015

Buffalo Law Journal

,

September 9, 2013

CQ Weekly

,

February 25, 2013
Presentations
"Wild Bill" Donovan and the Path to O.S.S. and the C.I.A.

Personal Freedom and National Security Post 9/11
Publications
Hodgson Russ Publication

,

April 24, 2014
Professional Associations
National Association of Former United States Attorneys
American Bar Association
New York State Bar Association
Bar Association of Erie County
Community & Pro Bono
Sal is a member of the Roswell Park Cancer Institute board of directors and the Legal Aid Bureau of Buffalo board of directors. He is a former member of Western New York Broadcasting Association's board of trustees, the Buffalo and Erie County Public Library board of directors, and the Chautauqua Institution board of trustees. He also served on the board of trustees and board of directors at Canisius College and as president of its alumni association.