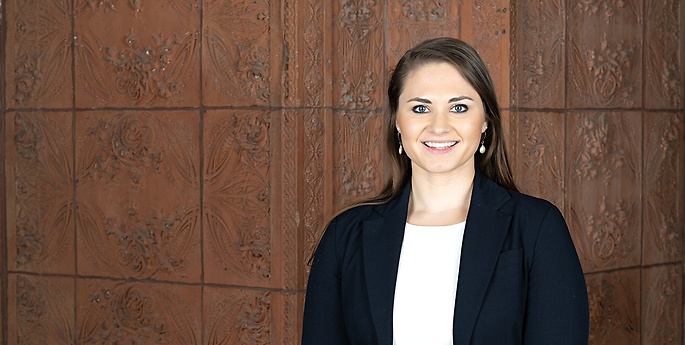 Practices & Industries
Education
Saint Michael's College, B.A., Summa Cum Laude
Pace University School of Law, J.D., Certificate of Environmental Law, Magna Cum Laude
Sarah concentrates her practice in energy and environmental law. She provides legal advice and guidance on energy-related transactions and regulatory compliance. Her experience includes drafting and negotiating agreements pertaining to the purchase and supply of power and capacity, data sharing and non-disclosure, product development, and other renewable energy development matters with solar and battery storage developers, clean technology research and development firms, consultants, and academic institutions.
Sarah also has experience participating in proceedings before the New York State Public Service Commission and the Federal Energy Regulatory Commission, most notably on dockets affecting New York's energy and capacity markets.
Prior to joining Hodgson Russ, Sarah was counsel for the New York State Energy Research and Development Authority (NYSERDA). At NYSERDA, she provided advice and counsel with respect to legal, policy, regulatory and other matters relating to the state's renewable energy initiatives, including New York's retail and bulk battery storage incentive programs, NY-Sun solar program, clean transportation and electric vehicle initiatives, heat pump programs, and the development of smart grid technologies. Sarah worked closely with the utilities and state and federal regulators.
While in law school, Sarah represented Riverkeeper as a student clinician at the Pace Environmental Litigation Clinic where she handled appellate-level pleadings before the Third Department.
Honors
Pace Environmental Law Review, Research and Writing Editor
Lois Murphy Memorial Scholarship Recipient, 2016
Pace Law School Grand Moot Court Competition Best Oralist, 2016
Award, Top 3 Finalist: Hartwick Scholar Writing Competition, Institute for Energy Law, Pace University
Press Releases
Hodgson Russ Press Release

,

December 15, 2020
Publications
Hodgson Russ Renewable Energy Alert

,

January 13, 2021

Hodgson Russ Renewable Energy Alert

,

January 6, 2021

Hodgson Russ Renewable Energy Alert

,

December 17, 2020

Hodgson Russ Renewable Energy Alert

,

December 1, 2020

Hodgson Russ Renewable Energy Alert

,

November 23, 2020

Hodgson Russ Renewable Energy Alert

,

October 28, 2020

Hodgson Russ Renewable Energy Alert

,

October 23, 2020

Hodgson Russ Renewable Energy Alert

,

October 21, 2020

Hodgson Russ Renewable Energy Alert

,

October 19, 2020

Hodgson Russ Renewable Energy Alert

,

October 16, 2020

Hodgson Russ Renewable Energy Alert

,

September 22, 2020

Hodgson Russ Renewable Energy Alert

,

September 17, 2020

Hodgson Russ Renewable Energy Alert

,

September 10, 2020

Hodgson Russ Environmental and Renewable Energy Alert

,

August 20, 2020

Hodgson Russ Environmental Alert

,

August 12, 2020

Hodgson Russ Environmental Alert

,

August 6, 2020

Hodgson Russ Renewable Energy Alert

,

August 6, 2020

Hodgson Russ Environmental Alert

,

July 28, 2020

Hodgson Russ Renewable Energy Alert

,

July 28, 2020

Hodgson Russ Renewable Energy Alert

,

July 24, 2020

Hodgson Russ Renewable Energy Alert

,

July 20, 2020

Hodgson Russ Environmental Alert

,

July 1, 2020

Hodgson Russ Brownfield Redevelopment Alert

,

June 29, 2020

Hodgson Russ Renewable Energy Alert

,

June 19, 2020

Hodgson Russ Renewable Energy Alert

,

June 12, 2020

Hodgson Russ Renewable Energy Alert

,

June 9, 2020

Hodgson Russ Renewable Energy Alert

,

June 3, 2020

Hodgson Russ Renewable Energy Alert

,

June 2, 2020

Hodgson Russ Renewable Energy Alert

,

May 26, 2020

Hodgson Russ Renewable Energy Alert

,

May 20, 2020

Hodgson Russ Renewable Energy Alert

,

May 15, 2020

Hodgson Russ Renewable Energy and Construction Alert

,

May 15, 2020

Hodgson Russ Renewable Energy Alert

,

May 6, 2020

Hodgson Russ Environmental Alert

,

April 27, 2020

Hodgson Russ Renewable Energy Alert

,

April 27, 2020

Hodgson Russ Renewable Energy Alert

,

April 23, 2020

Hodgson Russ Renewable Energy Alert

,

April 21, 2020

Hodgson Russ Renewable Energy Alert

,

April 20, 2020

Hodgson Russ Renewable Energy Alert

,

April 16, 2020

Hodgson Russ Environmental Alert

,

April 14, 2020

Hodgson Russ Renewable Energy Alert

,

April 9, 2020

Hodgson Russ Environmental Alert

,

April 6, 2020

Hodgson Russ Renewable Energy Alert

,

April 3, 2020

Hodgson Russ Renewable Energy Alert

,

April 2, 2020

Hodgson Russ Environmental and Brownfield Redevelopment Alert

,

April 1, 2020

Hodgson Russ Renewable Energy Alert

,

April 1, 2020

Hodgson Russ Renewable Energy Alert

,

March 30, 2020

Hodgson Russ Environmental Alert

,

March 27, 2020

Hodgson Russ Environmental Alert

,

March 26, 2020

Hodgson Russ Renewable Energy Alert

,

February 26, 2020

Pace Environmental Law Review

,

2016
Professional Associations
Phi Beta Kappa Society
Delta Epsilon Sigma Honor Society
Phi Sigma Alpha National Honor Society