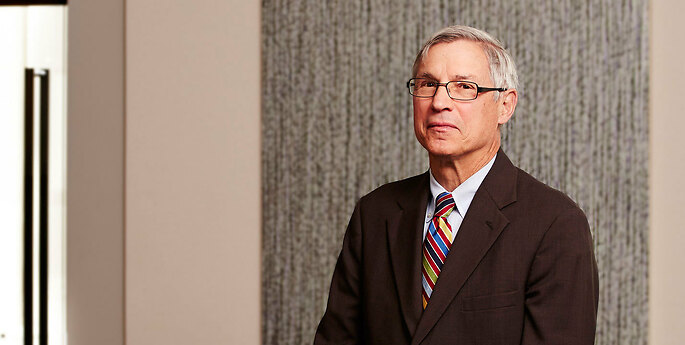 Thomas R. Hyde
Senior Counsel
Practices & Industries
Education
Princeton University, A.B.
Oxford University, B.A.
Yale University, Ph.D.
Yale Law School, J.D.
Tom concentrates his practice in tax and estate planning and administration. He is the former leader of the firm's Trusts & Estates Practice and is a member of the firm's Canada-U.S. Cross-Border and Tax-Exempt Organizations Practices. His clients include many individuals with cross-border estate and tax issues, as well as nonprofit organizations in both Canada and the United States.
In addition to his legal practice, Tom created and taught a graduate course called Legal Issues in Arts Management for the Arts Management Program at the University at Buffalo, State University of New York. In a former career, Tom taught English for 11 years at Yale and also served as associate dean of Yale College.
Tom exclusively practices U.S. law and is admitted to practice in New York.
Honors
Listed,

Best Lawyers in America

(Trusts and Estates) 2007 - 2022

Listed, Buffalo Trusts and Estates "Lawyer of the Year" in Best Lawyers in America, 2018
Listed, Upstate New York Super Lawyers, 2007 - 2009, 2013 - 2018
In the News
Buffalo Business First

,

September 17, 2010
Press Releases
Hodgson Russ Press Release

,

August 19, 2021

Hodgson Russ Press Release

,

August 20, 2020

Hodgson Russ Press Release

,

August 20, 2019

Press Release

,

August 20, 2018

Press Release

,

August 15, 2018

Press Release

,

September 6, 2017

Press Release

,

August 15, 2017

Press Release

,

August 31, 2016

Hodgson Russ Press Release

,

August 18, 2016

Press Release

,

August 19, 2015

Press Release

,

August 17, 2015

Press Release

,

August 14, 2014
Publications
Hodgson Russ Tax-Exempt Organizations Alert

,

December 15, 2021

Hodgson Russ Tax-Exempt Organizations Alert

,

November 10, 2021

Hodgson Russ Tax-Exempt Organizations Alert

,

May 14, 2021

Hodgson Russ Tax-Exempt Organizations Alert

,

May 13, 2021

Hodgson Russ Trusts & Estates Alert

,

November 11, 2020

Hodgson Russ Tax-Exempt Organizations Alert

,

November 2, 2020

Hodgson Russ Trusts & Estates Alert

,

July 21, 2020

Hodgson Russ Tax-Exempt Organizations Alert

,

April 16, 2020

Hodgson Russ Federal-International Tax Alert

,

April 10, 2020

Hodgson Russ Trusts & Estates Alert

,

April 8, 2020

Hodgson Russ Tax-Exempt Organizations Alert

,

April 3, 2020

Hodgson Russ Tax-Exempt Organizations Alert

,

March 30, 2020

Hodgson Russ Trusts & Estates Alert

,

March 25, 2020

Hodgson Russ Tax-Exempt Organizations Alert

,

February 13, 2020

Hodgson Russ Trusts & Estates Alert

,

January 14, 2020

Hodgson Russ Trusts & Estates Alert

,

January 2, 2020

Hodgson Russ Trusts & Estates Alert

,

December 27, 2019

Hodgson Russ Trusts & Estates Alert

,

November 18, 2019

Hodgson Russ Tax-Exempt Organizations Alert

,

June 19, 2019

Estates and Trusts Alert

,

December 27, 2017

Tax-Exempt Organizations Alert

,

December 1, 2016

Tax-Exempt Organizations Alert

,

July 28, 2016

Tax-Exempt Organizations Alert

,

December 15, 2015

JD Supra

,

February 24, 2014

Federal/International Tax Alert

,

January 4, 2013

Nonprofit Alert

,

October 6, 2010

Estates & Trusts Alert

,

February 3, 2010

Estates & Trusts Alert

,

March 4, 2009

Canadians Buying U.S. Real Property Should Be Aware of Estate Tax

Lawyers Weekly

,

February 25, 2005

Lawyers Weekly

,

September 24, 2004

Lawyers Weekly

,

November 22, 2002
Community & Pro Bono
Member, Buffalo AKG Art Museum
Member, Shaw Festival Foundation, Ontario
Member, Western New York Investment Fund