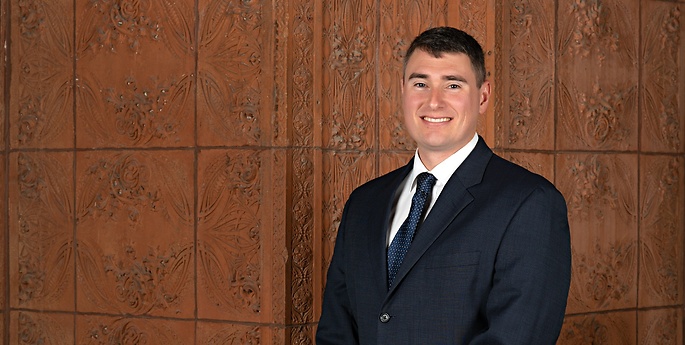 Trevor J. Johnson
Associate
Practices & Industries
Education
Cornell University, B.S.
Albany Law School, J.D., Magna Cum Laude
New York University School of Law, L.L.M. (Taxation)
Trevor is a member of the Business Tax Practice. He represents individuals, businesses and non-profits with tax-related matters and planning.
Prior to joining Hodgson Russ, Trevor worked as an associate in the corporate and business and trusts and estates practice areas. He has also previously worked as a financial advisor providing comprehensive financial planning to clients.
Before law school, Trevor served five years as an officer in the United States Marine Corps.
Honors
Joseph Rosch Prize Recipient - highest standing in Administrative Law
In the News
Yahoo! Finance

,

September 22, 2020
Press Releases
Hodgson Russ Press Release

,

December 20, 2019
Publications
Hodgson Russ Tax-Exempt Organizations Alert

,

December 15, 2021

Hodgson Russ Tax-Exempt Organizations Alert

,

November 10, 2021

Hodgson Russ Tax-Exempt Organizations Alert

,

May 14, 2021

Hodgson Russ Tax-Exempt Organizations Alert

,

May 13, 2021

Hodgson Russ Federal-International Tax Alert

,

March 18, 2021

Hodgson Russ Corporate & Business Alert

,

December 30, 2020

Hodgson Russ Federal-International Tax Alert

,

December 28, 2020

Hodgson Russ Federal-International Tax Alert

,

December 28, 2020

Hodgson Russ Federal-International Tax Alert

,

November 19, 2020

Hodgson Russ Federal-International Tax Alert

,

November 19, 2020

Hodgson Russ Trusts & Estates Alert

,

November 11, 2020

Hodgson Russ Tax-Exempt Organizations Alert

,

November 2, 2020

Hodgson Russ Trusts & Estates Alert

,

July 21, 2020

Hodgson Russ Federal-International Tax Alert

,

May 5, 2020

Hodgson Russ Federal-International Tax Alert

,

May 1, 2020

Hodgson Russ International Tax Alert

,

April 22, 2020

Hodgson Russ Tax-Exempt Organizations Alert

,

April 16, 2020

Hodgson Russ Federal-International Tax Alert

,

April 14, 2020

Hodgson Russ Federal-International Tax Alert

,

April 10, 2020

Hodgson Russ Trusts & Estates Alert

,

April 8, 2020

Hodgson Russ Tax-Exempt Organizations Alert

,

April 3, 2020

Hodgson Russ Tax-Exempt Organizations Alert

,

March 30, 2020

Hodgson Russ Federal-International Tax Alert

,

March 27, 2020

Hodgson Russ Federal-International Tax Alert

,

March 26, 2020

Hodgson Russ Trusts & Estates Alert

,

March 25, 2020

Hodgson Russ Tax and Labor & Employment Alert

,

March 24, 2020

Hodgson Russ Corporate Alert

,

March 23, 2020

Hodgson Russ Federal-International Tax Alert

,

March 19, 2020

Hodgson Russ Tax-Exempt Organizations Alert

,

February 13, 2020

Hodgson Russ Trusts & Estates Alert

,

January 14, 2020

Hodgson Russ Trusts & Estates Alert

,

January 2, 2020

Hodgson Russ Trusts & Estates Alert

,

December 27, 2019
Presentations & Events
SUNY Plattsburgh

,

December 6, 2022
Professional Associations
New York State Bar Association
Saratoga County Bar Association
Albany County Bar Association
Community & Pro Bono
Veteran's Affairs Accredited Attorney