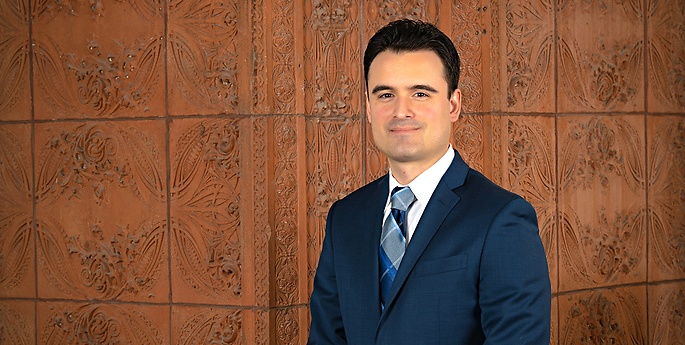 William P. Hodges
Associate
Practices & Industries
Bar Associations
New York City Bar Association
New York State Bar Association
American Bar Association
Education
University of Connecticut, B.A.
The New School, M.A.
University of Notre Dame Law School, J.D.
Will is a member of the firm's Corporate & Business Practice. He represents domestic and international clients on a variety of general corporate matters.
Prior to joining Hodgson Russ, Will was an Associate in a New York City law firm. During the course of his graduate law program, Will was a Summer Clerk for the United States District Court for the Northern District of Illinois and the United States Bankruptcy Court for the District of Puerto Rico.
Before attending law school, Will was employed as a Post Graduate Assistant at the Child Study Center at Yale University and was previously employed in the Policy Advocate Unit of UNICEF.
In the News
Yahoo! Finance

,

September 22, 2020
Press Releases
Hodgson Russ Press Release

,

December 20, 2019
Publications
Hodgson Russ Hemp and Medical Cannabis Alert

,

March 29, 2021

Hodgson Russ Hemp and Medical Cannabis Alert

,

March 23, 2021

Hodgson Russ Hemp and Medical Cannabis Alert

,

February 24, 2021

Hodgson Russ Hemp & Medical Cannabis and Agriculture Alert

,

February 10, 2021

Hodgson Russ Hemp and Medical Cannabis Alert

,

February 8, 2021

Hodgson Russ Hemp & Medical Cannabis Alert

,

January 27, 2021

Hodgson Russ Hemp & Medical Cannabis and Agriculture Alert

,

January 22, 2021

Hodgson Russ Hemp & Medical Cannabis Alert

,

January 7, 2021

Hodgson Russ Corporate & Business Alert

,

December 30, 2020

Hodgson Russ Tax-Exempt Organizations Alert

,

November 2, 2020

Hodgson Russ Hemp & Medical Cannabis Alert

,

August 26, 2020

Hodgson Russ Corporate Governance & Compliance Alert

,

June 30, 2020

Hodgson Russ Securities Regulation & Corporate Compliance Alert

,

June 5, 2020

Hodgson Russ Business Litigation and Securities Regulation & Corporate Compliance Alert

,

April 22, 2020

Hodgson Russ Tax-Exempt Organizations Alert

,

April 16, 2020

Hemp & Medical Cannabis Alert

,

April 6, 2020

Hodgson Russ Tax-Exempt Organizations Alert

,

April 3, 2020

Hodgson Russ Tax-Exempt Organizations Alert

,

March 30, 2020

Hodgson Russ Corporate Alert

,

March 23, 2020

Hodgson Russ Tax-Exempt Organizations Alert

,

February 13, 2020

Hemp & Medical Cannabis Alert

,

January 28, 2020
Professional Associations
New York City Bar Association
New York State Bar Association
American Bar Association
Community & Pro Bono
New York City Housing Court: Guardian Ad Litem