Experience Spotlight: Food & Beverage

---
Legal issues are wide-ranging for our clients in the food and beverage business – from safety regulations, bioterrorism, nutrition, to labeling, nanotech, price regulations, and product recalls, our attorneys recognize that these issues are business challenges unique to those in this evolving industry.
The attorneys in the Hodgson Russ Food & Beverage Practice provide legal advice and counsel on a full spectrum of issues facing companies that produce, distribute or sell food and beverages, and also the businesses that deal with them. We represent manufacturers, farmers, packers, warehouses, distributors, brokers, wholesalers and retailers, in structuring their organization, protecting property rights associated with their products, protecting their technologies and navigating regulatory procedures. We also assist agribusiness, importers/exporters, food and beverage organizations, trade organizations and equipment manufacturers.
Recent Food & Beverage matters handled by Hodgson Russ include: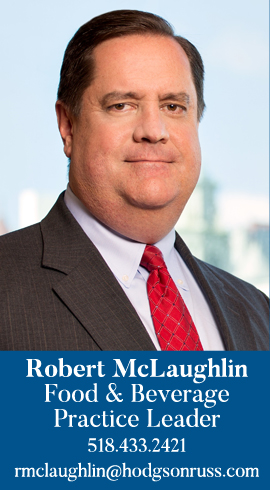 Representing National Restaurant/Food Service/Hospitality Company
Assisting and advising clients, including a national restaurant, food service and hospitality company, on a broad range of industry-related legal issues, including the preparation, review, implementation and administration of a wide variety of restaurant, catering and hospitality agreements, including Concession Agreements, Restaurant Management Agreements, Business and Industry Food Service Agreements, Catering Agreements (both master agreements for providing exclusive or preferred catering services at public and private venues such as museums, aquariums botanical gardens and concert halls, and individual event agreements with catering customers), Restaurant Leasing and General Commercial Agreements (such as agreements for on-line reservation services, advertisement services and joint promotional programs) and advising on Gift Card, voucher and other and promotional programs.
Non-compete Matters for Major Food Distributor
Litigated non-compete matters for a major food distributor that services hospitals, health care facilities, casinos, educational facilities and independent and chain restaurants.
Liquor Licensing and Acquisition of Casino & Hotel Property
Represented a global leader in hospitality and food service management on various liquor licensing and related issues. Also assisted the entity with the acquisition of a casino/hotel property.
Canadian-based Brewing Company Cross-Border Representation
Handled importation issues, brokerage agreements, distribution agreements and keg handling agreements for a Canadian-based brewing company.
Full Spectrum of Corporate Legal Services for Supermarket Chain
Assisted with general corporate matters, such as NDAs, non-competes, supply agreements and other commercial contracts, and mergers and acquisitions matters for a U.S.-based supermarket chain.