The Story of Andrew Bennett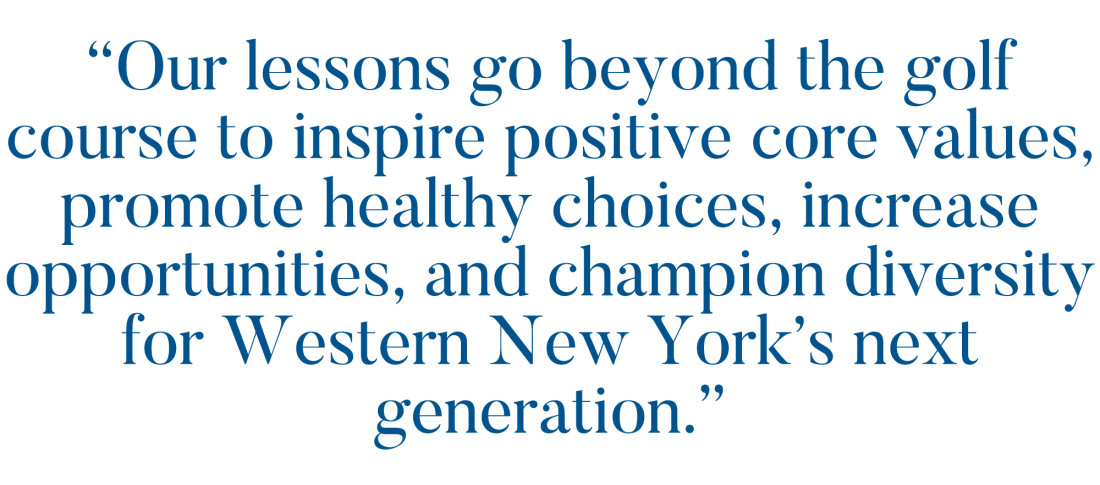 What started as a national effort to teach children golf while instilling positive values, now has deep roots in Western New York. The First Tee of Western New York (TFTWNY) is one of 180 chapters in 50 states, serving nearly ten million kids in the U.S. The local chapter began in 1999 and today works with a number of communities in and around Buffalo. This expansion has been a big focus from Executive Director Andrew Bennett who, since joining TFTWNY in 2013, has made a very intentional effort to drive organization to provide more opportunities and access to young people in need and from diverse backgrounds.
"What motivates me everyday is that there is a child out there who has never seen or heard of golf – maybe they don't even have access to sports," said Bennett. "TFTWNY could be an avenue for them to feel comfortable trying something new and perhaps even find a special niche."
From inexpensive summer programs to in-school programming, TFTWNY collaborates with eight local golf courses and ten schools across the region. Physical education teachers work with students from kindergarten through eighth grade on specific programs developed by The First Tee Home Office – the organization's national headquarters.
The organization is determined to change the way children and families in Buffalo perceive golf by introducing them to the game's fundamentals as a natural bridge to life skills such as teamwork, respect, and honesty. These characteristics fall under the organization's nine core values that are taught throughout the program. The values include honesty, integrity, sportsmanship, respect, confidence, responsibility, perseverance, courtesy, and judgment.
"Each class begins by talking about the core value of the day. Throughout the class, instructors will seamlessly touch on the value in relation to golf, as well as outside the program in places like school, home, and in peer relationships," said Bennett. "It takes time for kids to learn the values, practice them, and master them in and outside of the class."
TFTWNY's summer program also continues to expand as the nonprofit welcomes new partners. Last summer introduced a new collaboration with Erie County that enabled the organization to host classes at Grover Cleveland and Elma Meadows. This year, another exciting partnership is in development with the Buffalo Olmsted Parks Conservancy and will provide more opportunities for Buffalo's youth to learn from the The First Tee at Delaware Park. TFTWNY also values its relationship with Town of Tonawanda and the Boys and Girls Club of Buffalo – the Chapter's largest program partner.
In addition to collaborations with other organizations, TFTWNY's dedicated coaches and volunteers are key to its success. With 12 seasonal coaches and 60-75 volunteers, children receive personalized attention in classes to help their individual development and growth.
"We have a group of great people who care about the next generation," said Bennett. "Without these individuals, TFTWNY wouldn't happen."
With the addition of Buffalo neighborhoods and the new partnerships with Erie County and Olmsted Parks, TFTWNY has plans for continued growth throughout Western New York. Bennett explains that the response to new programming has been fulfilling. Participants are having fun and getting interested in golf.
"Feedback from our partners is that they want to continue learning and being around our program," said Bennett. "The response is very gratifying and presents an incredible opportunity for us to make a long-term impact on the community through the game of golf."