The Story of Brenda McDuffie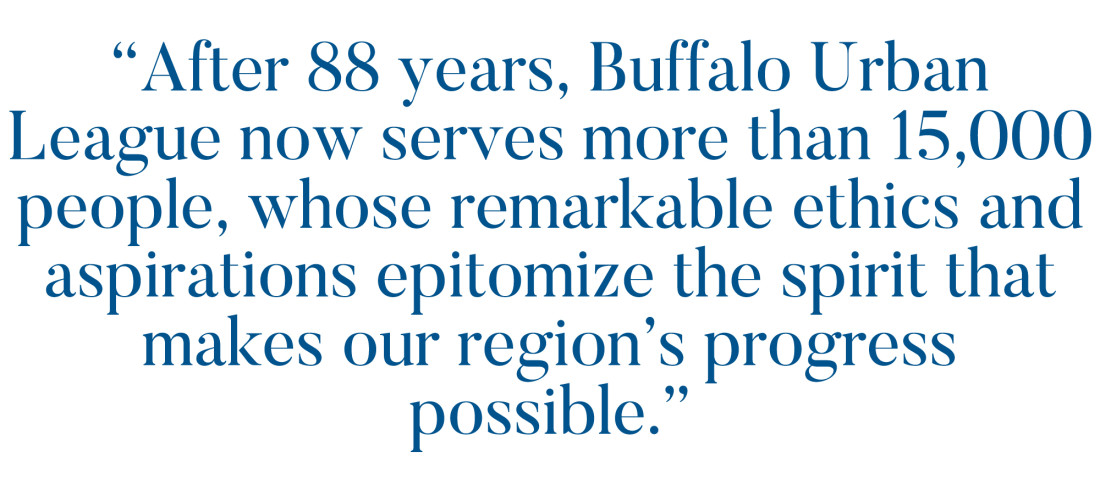 Brenda McDuffie is no stranger to influencing growth. As president and CEO of the Buffalo Urban League for 17 years, she leads the organization's mission to strengthen the community by empowering its individuals and families. Its connecting thread - effecting positive change - is embraced by all Urban League employees and embodied through their support of disadvantaged individuals throughout the Buffalo Niagara region.
For McDuffie, meaningful change starts with her morning commute. Every day represents an opportunity to walk through the office doors, join new meetings, and discuss fresh ideas. The staff is a source of great joy and pride, united by a shared sense of purpose for their work.
"Our culture is one of appreciating and valuing people and the gifts they bring," she said. "Together, we bring each other forward for the betterment of our community. It's a culture of empowering, supporting, and being hopeful for the future. We're doers and want to touch people in a way that compels them to action."
This results-driven culture has led to tremendous growth during Brenda's tenure, with the Urban League growing more than 1,000 percent. To stay on the pulse of community life, members listen closely to the people they serve in order to understand what's needed to change and improve. For McDuffie, the results of these efforts can be their own reward.
"Today, when we see [growth], it gives us an additional level of energy to make sure we're preparing all people in our community to fully take advantage," she said. "This further inspires our work. We have the ability to give people the chance to take part in what's being created around them.'"
McDuffie also sees this broader change in the individuals they serve. She shared an example of a young man who - driven to be a family role model - completed a series of training programs with the support of the Urban League. Today, for the first time in his life, he has a retirement plan and health insurance.
"This happens every day," she said. "We meet people where they are and let them know that if they take advantage of opportunities and support, they will do better for themselves and for the community."
Still, the Urban League has unfinished business. McDuffie acknowledges that, to maintain sustainable impact, they need to continue coalescing around relationships and organizations that support and value people.
As part of this effort to unite the community, the Urban League hosts an Annual Gala to celebrate the leaders, organizations and individuals whose work represents the best in making a difference for the community's most disadvantaged individuals. For McDuffie, the special part is its ability to unite people from all walks of life under a banner of fun, socializing, and celebration.
"I frequent places in the community where we still don't embrace each other," she said. "At the Gala, you may have a CEO of one of our foundation partners dancing with someone who needs public assistance. All people are gathered together, celebrating. It's just unbelievable."
Looking forward, the Urban League continues its commitment to inspire meaningful change. McDuffie has a vision to move people into integrated communities where people have access to services and feel valued. She notes that, if they can do that, they will be that much closer to realizing the region's potential.
"The great renaissance and revitalization in this community is here," she said. "We want to turn it into here' for everybody. When you have economic opportunity and prosperity, people begin to open up. There's room for everybody. For me, that's real exciting."
To learn more about Brenda and the Buffalo Urban League, visit http://www.buffalourbanleague.org.