The Story of Eva Hassett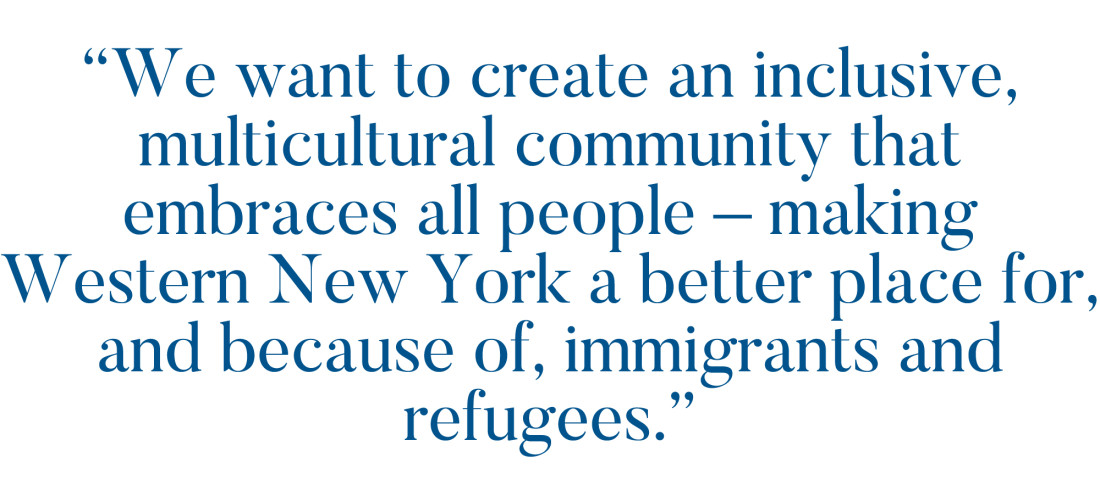 The International Institute of Buffalo has championed human rights and equality in Western New York for nearly a century. During World War I, the organization began as a program of the YWCA to help "war brides" - European women married to the region's local soldiers - adjust to life in the United States. Today, it addresses a far broader cause to welcome and support the integration of refugees and immigrants, from all walks of life, who seek a new beginning in the region. For Executive Director Eva Hassett, these principles of safety, equality, and opportunity have endured throughout the organization's existence.
"Long before the United Nations, the federal refugee resettlement program, or laws about human rights, the International Institute was doing that work," she said. "Today, the Institute has grown into a leader and innovator in all aspects of our work - DV and human trafficking survivor support, refugee and immigrant integration, language access and cultural competency training. And we're doing some things that nobody else in the state is doing."
For example, the Institute is about to launch "Welcoming Buffalo" - a program based on best practices of Welcoming America - that creates opportunities for native-born residents to connect with foreign-born immigrants by sharing stories, building relationships, and learning the positive benefits of cultural differences. Its objective is to socialize community residents to form better-integrated communities.
IIB's mission isn't without challenges. Hassett notes the need for leadership across sectors to better understand and strategize around immigrant contributions to economic and community development goals.
She outlines IIB's vision for an inclusive, multicultural region that supports all its residents and also works to empower foreign born individuals to become future leaders.
"We know it's important to be an agency that helps the foreign born, but it's also critical that refugee and immigrant communities develop their own leadership, learn how to advocate, and become part of our community's fabric," she said.
Buffalo's recently arrived refugee population includes large numbers of people from Iraq, Bhutan, and Burma. IIB trained representatives of these groups in advocacy and public speaking, while also working with them to identify areas where they felt their community faced challenges. One result of this - the Burmese Community Support Center (BCSC) - now provides support for the more than 10,000 residents from Burma now living in Buffalo. Through grant support, IIB has helped BCSC become a 501(c)(3) organization, train its board, create content to communicate with the community, and learn how to operate a nonprofit.
"When BCSC opened, it was one of my proudest moments," said Hassett. "Now, organizations that want to connect with the Burmese community don't have to come to IIB first. That's the WNY we dream of, and we're really proud of that."
IIB also organizes other efforts to connect mainstream organizations with the region's ethnic groups. The brand new WNY Immigrant and Refugee Roundtable provides an opportunity for anyone in, working for, or wanting to work with immigrant and refugee communities to join a quarterly discussion on issues impacting them most. IIB's Map for Adventurous Eaters connects the region's foodie culture with a citywide map of ethnic restaurants and grocery stores. And IIB's Buffalo Without Borders annual fundraiser brings together vendors and attendees from a wide range of WNY's different ethnicities to engage with each other and the community, sharing and celebrating culture.
As IIB approaches its centennial in 2018, Hassett feels confident in the future. Notwithstanding the organization's long history, its humanitarian ideals hold steadfast. And to her, the dedication of IIB staff and clients in paving the road for others gives great reason to take pride and look forward to what's next.
"Every single day, people who work here make IIB a safe place for people in need," she said. "For almost 100 years, IIB has been the place where people know they can come and get what they need to be successful. That makes me really proud."
To learn more about Eva and the International Institute of Buffalo, visit www.iibuff.org.