The Story of Meg Quinn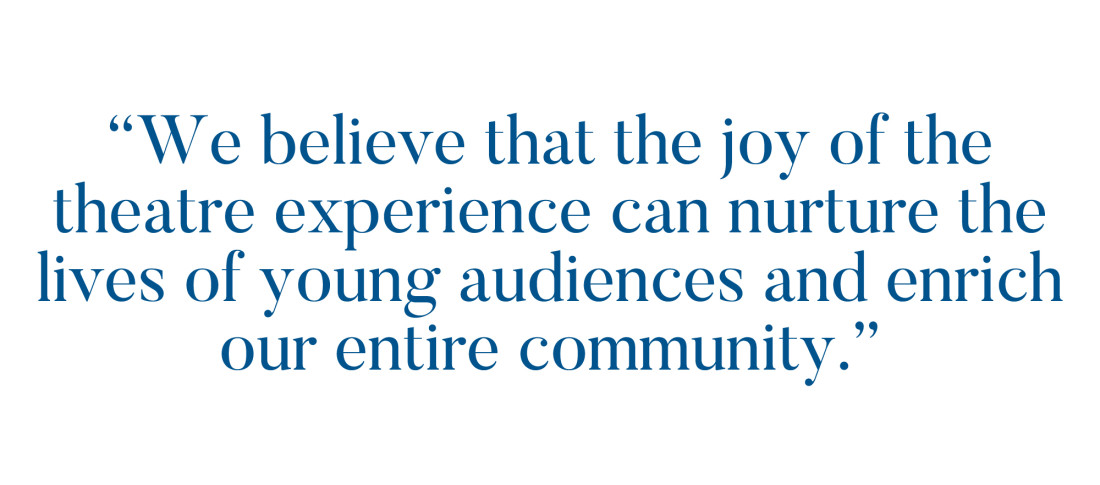 After 44 seasons, Theatre of Youth (TOY) continues to provide innovative and professional theatre for child audiences. Today, it resides in Buffalo's historic Allendale Theatre as a destination for the community's youth to engage with dramatic experiences crafted just for them. Artistic Director Meg Quinn discussed how the theatre's mission has successfully connected with schools and families in the community.
"Anyone can jump up and down to entertain kids and have fun," said Quinn. "We have always tried to take a bigger, greater responsibility for the children of our community."
This focus began in 1972, when Daemen College theatre professors Rosalind Cramer and Toni Smith Wilson attended an international conference of children theatres in Albany, NY. They were inspired by thought-provoking performances created specifically for child audiences, from theatres all over the world. Cramer and Smith Wilson brought this vision back to Buffalo and established Theatre of Youth with a group of several undergraduate students, including Quinn. TOY's programming today includes carefully selected plays that resonate across a range of age groups. Quinn notes that these plays share a common goal of having something important and authentic to say.
"Through these stories, we want to show children that some of life's difficult decisions take courage and can change the world," said Quinn. "It gives them a lot to think about. That's our purpose."
Quinn notes that selecting each season's performances is among her toughest and most important responsibilities. While TOY is committed to serving the development of Buffalo's youth, the selection process is highly collaborative across the country. Quinn communicates with artistic directors at professional children's theatres in Boston, Dallas, Kansas City, Minneapolis, Washington, D.C., and other cities to share scripts, discuss trending titles and share new information about research in creativity and child development.
TOY's intimate connection with their child audiences continues even after the final curtain. As a part of the end of every performance, they convene a "talk back" session moderated by Quinn that prompts young attendees with questions intended to stir up their natural curiosities to think, respond and reflect on the onstage narrative they just watched.
"As we prepare for plays, I always tell the actors to give this next performance your best, because you could be introducing people to something new," said Quinn. "Some children have never seen a play before, so these actors have the chance to create something memorable in their lives and make them feel like they belong."
Quinn notes that this dialogue can plant the seeds for lives full of critical thinking and creative problem solving. According to her, children may exhibit greater confidence than grown-ups to ask profound questions; they are also challenged to think about making thoughtful choices in serious situations. To illustrate this, Quinn talked about a past performance, Tuck Everlasting, where the main character must choose between drinking magic water to live forever – thus outliving close friends and loved ones – or abstaining and live a natural life. Theatre of Youth exists not only to enrich, educate and entertain young audiences, but also to challenge children to reflect on the greater themes of life.
"Kids constantly ask questions about their place in life and whether [they will succeed]," she said. "We embrace their desire to explore and get to the essence of the story. And we provide a forum for it. If you know how to explore it that way, then you've got them. That's a really powerful thing."
To learn more about Meg and Theatre of Youth, visit http://www.theatreofyouth.org.