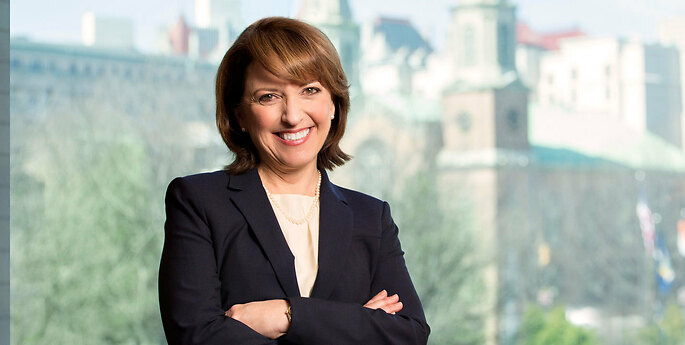 Areas of Practice
Industry Groups
Admissions
New York
U.S. Supreme Court
U.S. Court of Appeals for the Second Circuit
U.S. District Courts for the Northern, Southern, Eastern, and Western Districts of New York
Education
B.S., magna cum laude, Georgetown University
J.D., cum laude, American University, Washington College of Law
Jane helps health care providers navigate the network of health care laws and regulations so they can focus on what they do best: providing care and services to the individuals they serve. Jane represents an array of health care providers, including hospitals, nursing homes, assisted living facilities, home care agencies, social services agencies and individual practitioners. With a focus on regulatory, reimbursement and compliance issues, Jane guides providers through matters involving governmental agencies with overlapping authority, including the Centers for Medicare and Medicaid Services (CMS), New York State Department of Health (DOH) and New York State Office of the Medicaid Inspector General (OMIG) and others. Jane represents providers in Medicaid audits, investigations and appeals and counsels them in the implementation of effective compliance programs. A seasoned litigator, Jane also represents providers in federal and state litigation, including Article 78 challenges to governmental authority and administrative hearings before the Health and Human Services Departmental Appeals Board (DAB) and Provider Reimbursement Review Board (PRRB). Jane keeps tabs on regulatory initiatives aimed at transforming the delivery of health care and monitors developments in the growing field of telehealth.
Jane has been a noted presenter at conferences and seminars throughout the United States. Jane began her career as a litigation attorney at Skadden Arps in New York. She is the chair of the Long-Term Care Committee of the New York State Bar Association's Health Law Section.
Jane is recognized as one of the leading health care attorneys in New York in Chambers USA: America's Leading Lawyers for Business and is listed in Best Lawyers in America.
Honors
Listed, Best Lawyers in America (Health Care Law) 2018
Chambers USA: America's Leading Lawyers for Business, 2016-2018
Experience
Below are specific examples of some of the work Jane has performed for her clients:
Jane has assisted SNFs in their successful challenges to immediate jeopardy deficiencies relating to compliance with abuse reporting and prevention, accident prevention, infection control, and many other regulatory requirements. In these cases, Jane assists the client in evaluating survey findings, pursuing informal dispute resolution, and filing administrative appeals before the DAB (Departmental Appeals Board). Through these appeals, Jane has succeeded in convincing CMS to reduce the scope and severity of challenged deficiencies below the immediate jeopardy level in numerous cases, which has enabled the SNFs to restore their good names in the communities they serve.
Jane has worked with hospitals, nursing homes, assisted living programs, licensed home care services agencies and other Medicaid providers to challenge OMIG audits. In many cases, these challenges have led to substantial reductions in the amount of the claimed disallowances and, in some cases, the withdrawal of the audits in their entirety.
News
Albany Business Review

,

June 15, 2018

Press Release

,

May 4, 2018

Press Release

,

August 15, 2017

Press Release

,

June 12, 2017

Buffalo Law Journal & Business First

,

December 19, 2016

Buffalo Law Journal

,

July 27, 2015
Presentations
Greater New York Health Care Facilities Association, The Use of Electronic Medical Records in eDiscovery

Uniondale, New York

,

June 21, 2018

Saratoga Springs, NY

,

May 24, 2018

NY Chapter of the American College of Health Care Administrators 49th Annual Convention: What's in Your EMR?

Callicoon, NY

,

March 12, 2018

Western New York Healthcare Association: What You Don't Know CAN Hurt You

Tonawanda, NY

,

January 17, 2017

Foundation for Quality Care's 2016 Quality Improvement Series: The Ins and Outs of Confidentiality and Your Quality Data

Western New York Healthcare Association: Discharge Planning and the Role of Patient Choice in Evolving Models of Care

Batavia, NY

,

May 17, 2016

Foundation for Quality Care's 2016 Quality Improvement Series: The Ins and Outs of Confidentiality and Your Quality Data

Elmhurst, NY

,

March 9, 2016

Foundation for Quality Care's 2015 Advanced Administrator Leadership Program: Current Legal Issues Affecting Long Term Care

Elmhurst, NY

,

April 28, 2015

New York State Health Facilities Association District 10: Uncharted Territory: The Future of Assisted Living in the Continuum of Long-Term Care

Buffalo, NY

,

February 11, 2015

LeadingAge NY, 2014 Annual Social Work Conference & Exposition: Immediate Jeopardy? Now What? Successful Strategies for Protecting Your Facilities

Saratoga Springs, NY

,

November 20, 2014

New York State Health Facilities Association 12th Nurse Leadership Conference: Immediate Jeopardies- Successful Strategies and Practical Tips

Verona, NY

,

April 25, 2014

County Nursing Facilities of New York Winter Conference: Immediate Jeopardy? Now What? Successful Strategies for Protecting your Facility

Albany, NY

,

February 12, 2014

Healthcare Financial Management Association Region 2: Annual Legal & Compliance Update: Key Federal and State Initiatives Affecting Acute Care and Long-Term Care Providers in New York State

Verona, NY

,

October 10, 2013

Westchester/Southern Connecticut WESFACCA: The Sandwich Generation- Taking Care of Your Family & Your Parents

Greenwich, CT

,

July 10, 2013

New York State Center for Assisted Living: Targeting the Triple Aim- The Impact of Medicaid Reform on Assisted Living Program Providers in New York

Verona, NY

,

June 24, 2013

Adirondack Health Information Management Association: Legal Issues in the Use of Electronic Health Records

NYSARC, Inc. and Cerebral Palsy Association of New York State: HIPAA HITECH and the Omnibus Final Rule- The Seven Most Important Things You Need to Know

New York State Health Facilities Association: Investigations 101- Investigating Allegations of Abuse in Skilled Nursing and Assisted Living Facilities

Troy, NY

,

November 14, 2012

New York State Health Facilities Assocation: Current Legal Issues Affecting New York Nursing Homes

Elmhurst, NY

,

October 24, 2012

New York Coalition of Quality Assisted Living Audio Conference: Updates on a Changing Landscape Management of Federal Agency Disbursements

American College of Health Care Administrators: Overpayments and Self-Disclosures- What, When and How of OIG and NYS OMIG Voluntary Self-Disclosures

Callicoon, NY

,

March 18, 2012

New York State Health Facilities Association: Surviving and Thriving under the Patient Protection and Affordable Care Act

Troy, NY

,

November 16, 2011

New York State Center for Assisted Living: Legal Update for Assisted Living

Troy, NY

,

November 15, 2011

Zimmet Health Care Services Group, LLC: The Transformation of the U.S. Health Care System- What Role will Long-Term Care Play?

Atlantic City, NJ

,

August 18, 2011

New York State Association of Homes and Services for the Aging (LeadingAge NY): ALPs- Navigating the Reimbursement Terrain

New York State Health Facilities Association: Health Care Reform

New York State Health Facilities Association: Current Legal Issues

Troy, NY

,

February 17, 2011

New York State Health Facilities Association: Year in Review- Significant Developments Affecting New York Nursing Homes in 2010

Grand Cayman Island

,

January 8, 2011

New York State Association of Homes and Services for the Aging (LeadingAge NY) Audio Conference: Assessing Risk- Getting Ready to Certify the Effectiveness of Your Provider Compliance Program

New York State Health Facilities Association: Troubleshooting an OMIG Audit

Saratoga Springs, NY

,

November 18, 2010

New York State Health Facilities Association: Surrogate Decision Making Committee Program- A Cost-Free Alternative for Obtaining Informed Consent

The Foundation for Quality Care, Inc.: Legal Issues in Nursing Home Administration

Troy, NY

,

February 12, 2010

American Health Lawyers Association: OMIG in New York- On Target or Wide of the Mark

Miami, FL

,

February 10, 2010

New York State Health Facilities Association: Significant Developments Affecting Long-Term Care and Assisted Living

St. Thomas, VI

,

January 11, 2010

New York Coalition for Quality Assisted Living: What Do You Want Me To Do!?! Hot Topics and Emerging Issues for Adult Care and Assisted Living Providers

Atlantic City, NJ

,

December 7, 2009

New York State Health Facilities Association Audio Conference: I Have a Compliance Program...Now What Do I Do Next?

The Foundation for Quality Care, Inc.: Legal Issues in Nursing Home Administration

New York State Health Facilities Association: Legal and Regulatory Update- What are the Payment Police Up to Now?

Cancun, Mexico

,

January 12, 2009

New York Coalition for Quality Assisted Living- Reengineering the Continuum of Care

Verona, NY

,

November 10, 2008

New York Coalition for Quality Assisted Living: The New ALR Regulations- New Opportunities and Challenges for Assisted Living in New York

Elmhurst, NY

,

May 15, 2008

American Health Lawyers Association: Assisted Living Update 2008

New Orleans, LA

,

February 26, 2008

New York State Coalition on Quality Assisted Living: Assisted Living in New York- Where Have We Been and Where Are We Going?

San Juan, PR

,

January 16, 2008

New York State Health Facilities Association: CMS Round-Up

San Juan, PR

,

January 15, 2008

New York State Health Facilities Association District 10: Corporate Compliance and the Focus on Quality in Long-Term Care

Buffalo, NY

,

October 25, 2007

New York State Health Facilities Assocation 58th Convention: Corporate Compliance in the 21st Century

Saratoga, NY

,

June 26, 2007

New York State Health Facilities Assocation: Corporate Compliance- What is It and Why Do We Need It?

St. Thomas, V.I.

,

January 8, 2007

New York Coalition for Quality Assisted Living: Legal Developments Affecting Adult Homes in New York

Elmhurst, NY

,

November 15, 2006

American College of Healthcare Administrators: Legal Challenges Facing Long-Term Care Administrators

Ellenville, NY

,

April 30, 2006

American Health Lawyers Association: The Enforceability of Arbitration Agreements in Long-Term Care

Dallas, TX

,

February 16-17, 2006

The Foundation for Quality Care, Inc.: Legal Issues in Nursing Home Administration

Albany, NY

,

February 9, 2006

Hudson Valley Adult Home Workgroup: What About Our Rights?!? Adult Homes: Legal and Regulatory Strategies

Fishkill, NY

,

June 14, 2005

Empire State Association of Adult Homes Annual Conference: Update on Current Inspection and Litigation Issues in the Adult Home Industry

New York State Health Facilities Association 2nd Annual Social Services Conference: Guardianships and Other Competency Issues- A Practical Approach

New York State Health Facilities Association Mid-Winter Conference: Survey of Important Court Decisions Affecting Long-Term Care During 2004

Cancun, Mexico

,

January 14, 2005

Residential Care Initiatives Seminar: What About Our Rights?!? Legal and Regulatory Strategies

Forest Hills, NY

,

December 9, 2004

Lorman Education Services: State Laws and HIPAA Standards in New York

Albany, NY

,

November 18, 2004

New York State Health Facilities Assocation: An Ounce of Prevention is Worth a Pound of Cure- Corporate Compliance and the Avoidance/Correction of Immediate Jeopardy Citiations in Skilled Nursing Facility Survey Process

East Elmhurst, NY

,

November 3-4, 2004

Residential Care Initiatives Seminar: What About Our Rights?!? Legal and Regulatory Strategies

Great River, NY

,

October 26, 2004

New York State Health Facilities Assocation Annual Conference: The Insurance Crisis Facing Long Term Care Providers

Bolton Landing, NY

,

June 27, 2004

Empire State Association of Adult Homes Annual Conference: Litigation Update- Adult Care Facilities

New York State Health Facilities Assocation 1st Annual Social Services Conference: Decision Making with Advance Directives

Saratoga Springs, NY

,

March 4, 2004
Publications
Home Care Alert

,

May 10, 2018

Health Care Alert

,

December 20, 2017

Home Care Alert

,

December 19, 2017

Home Care Alert

,

December 19, 2017

Home Care Alert

,

December 14, 2017

Home Care Alert

,

December 13, 2017

Home Care Alert

,

November 15, 2017

Home Care Alert

,

November 14, 2017

Home Care Alert

,

November 3, 2017

Home Care Alert

,

August 11, 2017

Health Alert

,

November 3, 2015

Health Alert

,

July 17, 2015

Hodgson Russ Newsletter

,

May 22, 2015

Labor & Employment Alert

,

August 26, 2013

New York State Bar Association Health Law Journal

,

2007

The Use of Pre-Dispute Arbitration Clauses in New York Nursing Home Agreements

Health Law Journal, a publication of the New York State Bar Association

,

2006
Professional Associations
American Health Lawyers Association
New York State Bar Association
Chair, Long-Term Care Committee of the New York State Bar Association Health Law Section