About This Blog
Presented by Hodgson Russ, the Whistleblower Blog is written by a team of lawyers experienced in successfully guiding both whistleblowers and companies accused by whistleblowers of wrongdoing through the False Claims Act process.
Stay Connected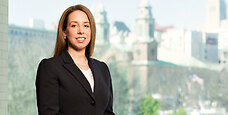 Ariele R. Doolittle
Partner
adoolitt@hodgsonruss.com
518.433.2407
Ariele focuses her practice on state and local tax matters, including civil and criminal tax controversies, with an emphasis on New York State tax litigation. Her …
Showing 1 post by Ariele R. Doolittle.
Chicago lawyer Stephen Diamond has made quite a name for himself in recent years for his perceived abuse of the Illinois False Claims Act ("FCA"). Many believe Diamond is misusing the FCA or is using it for self-serving reasons not consistent with the FCA's intent.