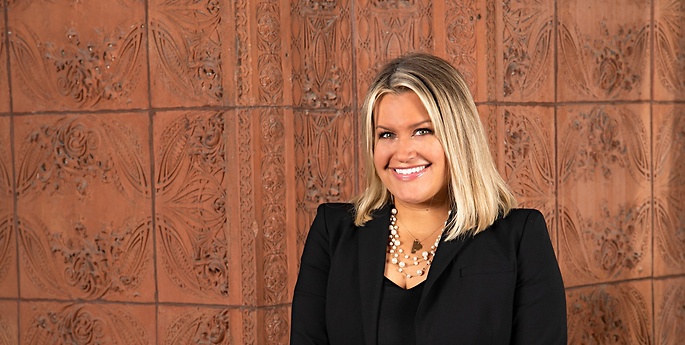 Britta L. McKenna
Partner, International Trusts & Estates Practice Leader
Practices & Industries
Education
Boston College, B.A.
University at Buffalo School of Law, J.D., cum laude
Britta concentrates her practice in all areas of domestic and complex cross-border trust and estate matters, including planning for high-end estates, estate and trust administration, and the preparation of wills, trust agreements, and other estate planning documents. Britta regularly counsels individuals regarding a variety of cross-border issues, including U.S. tax planning for foreign spouses, U.S. beneficiaries of Canadian estates, and Canadians with U.S.-situs assets. She also advises on the U.S. tax implications of Canadian family-owned business estate plans. Britta counsels both individuals and entities regarding U.S. tax compliance, estate planning for U.S. citizens living abroad, tax advice and structuring for foreign nationals acquiring U.S. assets, and estate and trust dispute proceedings.
Britta exclusively practices U.S. law and is admitted to practice in New York.
Honors
Leadership Buffalo, Class of 2019
Buffalo Business First 40 Under Forty honoree, 2015
Listed, Upstate New York Super Lawyers Rising Stars, 2014 and 2015
Buffalo Niagara 360 Spotlight Professional, 2013
Former managing editor, Buffalo Law Review
In the News
Buffalo Business First

,

May 17, 2019

Justia US Law

,

July 17, 2017

Buffalo Business First

,

August 29, 2015

Buffalo Business First

,

March 21, 2014
Press Releases
Press Release

,

August 19, 2015

Press Release

,

August 14, 2014
Publications
Hodgson Russ Trusts & Estates Alert

,

November 11, 2020

Hodgson Russ Trusts & Estates Alert

,

July 21, 2020

Hodgson Russ International Tax Alert

,

April 22, 2020

Hodgson Russ Federal-International Tax Alert

,

April 10, 2020

Hodgson Russ Trusts & Estates Alert

,

April 8, 2020

Hodgson Russ Trusts & Estates Alert

,

March 25, 2020

Hodgson Russ Trusts & Estates Alert

,

January 14, 2020

Hodgson Russ Trusts & Estates Alert

,

January 2, 2020

Hodgson Russ Trusts & Estates Alert

,

December 27, 2019

Hodgson Russ Trusts & Estates Alert

,

November 18, 2019

Hodgson Russ Federal and International Tax Alert

,

September 9, 2019

Canadian Tax Highlights

,

February 2018

Estates and Trusts Alert

,

December 27, 2017

Estate Planning Alert

,

August 18, 2016

Canadian Tax Highlights

,

February 1, 2016

JD Supra

,

January 28, 2014

Lawyers Weekly

,

November 29, 2013

Federal/International Tax Alert

,

January 4, 2013

Broadening New York's Decanting Statute

New York Law Journal

,

September 2011

U.S. Estate Tax: 2011 and 2012

Canadian Tax Highlights

,

January 2011
Presentations & Events
Montreal, QC

,

October 24-26, 2018

Toronto, ON

,

October 17, 2015

Insurance Planning and Cross-Border Issues

Toronto, ON

,

June 12, 2014

STEP Canada Seminar: U.S. Issues in Your Canadian Business Estate Plan

Vancouver, BC

,

November 21, 2013

Identifying Issues in Your Canadian Estate Plan

Calgary, AB

,

May 12 & 13, 2013

U.S. Real Property Owned by a Canadian Decedent

Montreal, QC

,

March 14, 2013

The Six-Minute Estate Lawyer

15th Annual Law Society of Upper Canada Estates and Trusts Summit: U.S. Income & Transfer Tax Implications of a Canadian Freeze Transaction

Toronto, ON

,

November 14 & 15, 2012

Calgary, AB

,

November 13, 2012

U.S. Estate Planning Considerations

New York, NY

,

November 8, 2012

ICE Business Symposium: Estate Planning in a Time of Uncertainty

Amherst, NY

,

October 2012

Toronto, ON

,

May 10, 2012

Planning for U.S. Estate taxes for Canadians With U.S. Real Property

May 9, 2012; July 6, 2011; and November 16, 2011

California Dreamin'

Calgary, AB

,

April 25, 2012

Canada-U.S. Cross-Border Issues

Toronto, ON

,

March 30, 2011

Toronto, ON

,

November 18, 2010

13th Annual Law Society of Upper Canada Estates and Trusts Summit: Cross-Border Estate Planning

Toronto, ON

,

November 17 & 18, 2010
Professional Associations
Estate Analysts of Western New York
Surrogate's Court Practice & Procedure Committee
Surrogate's Court Liaison Committee
New York State Bar Association
Bar Association of Erie County
Ontario Bar Association
Community & Pro Bono
Member, Goodwill Industries of Western New York board of trustees
Member, WNED board of directors
Volunteer, Olmsted Parks Conservancy
Volunteer, Darwin D. Martin House
Former member, CMH Counseling board of directors