New York State Residency
Professionals
Attorneys
Senior Paralegal
Senior Counsel
Paralegals
The New York State Department of Taxation and Finance conducts more residency audits and nonresident income allocation audits than any state in the nation. Hodgson Russ attorneys are at the forefront of many of these audits. In fact, high-ranking Tax Department officials have told us that Hodgson Russ handles more residency cases than any other law firm in the state.
We have a team of 16 attorneys and five paralegals dedicated to handling residency cases. Our team includes two former residency auditors and Bill Comiskey, the former head of tax enforcement at the Tax Department.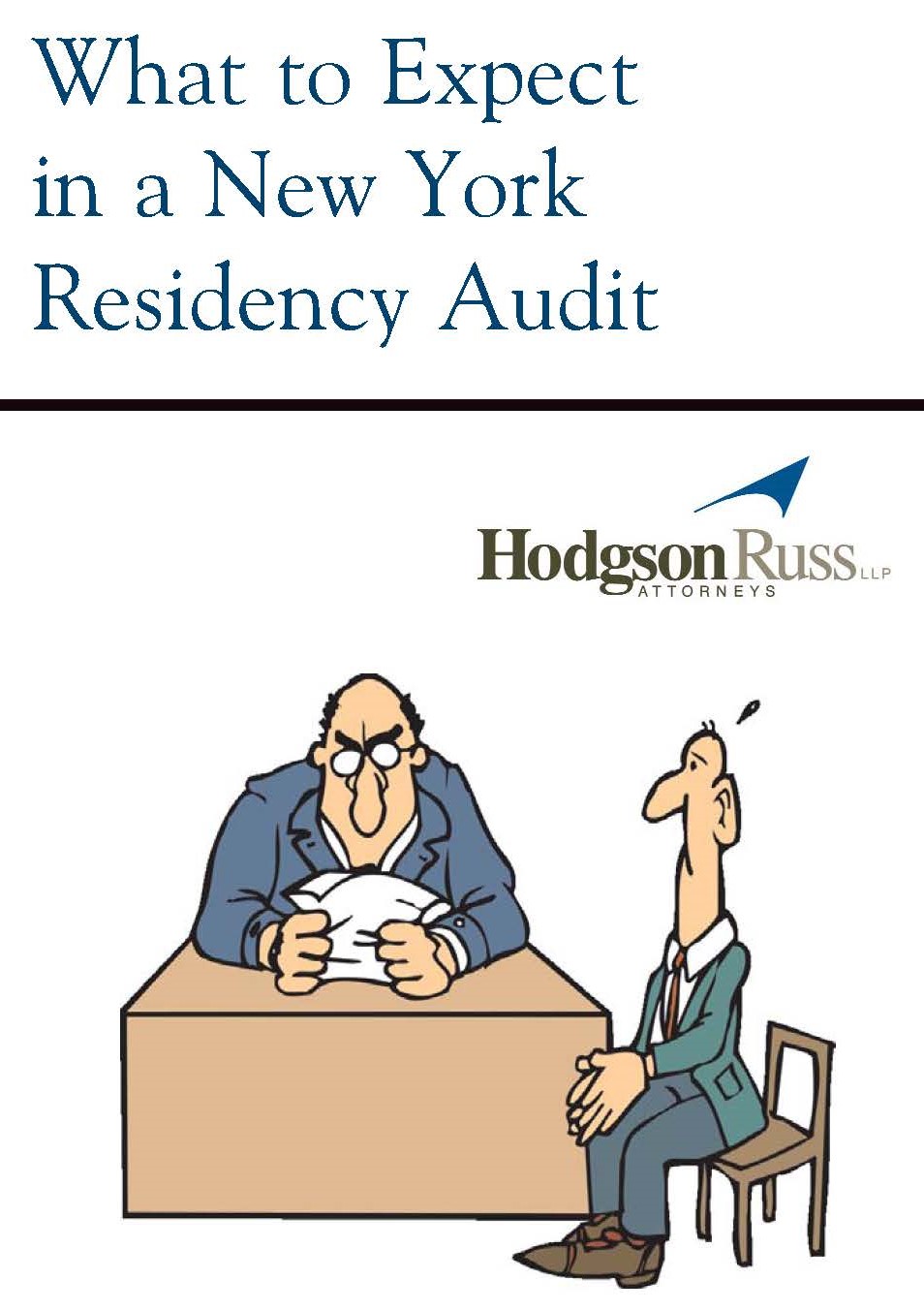 While many practitioners in this area need to read books and articles to understand how these residency cases work, the Hodgson Russ attorneys have written the book—literally—on New York residency audits. Tim Noonan, Paul Comeau, and Mark Klein are co-authors of the 2014 New York Residency and Allocation Audit Handbook, published by CCH. Tim's monthly column in State Tax Notes, "Noonan's Notes," regularly addresses residency topics, and these articles are often circulated among Tax Department auditors by their supervisors. The firm also publishes an easy-to-read, comprehensive handbook, What to Expect in a New York Residency Audit, that many practitioners use as a guidebook for handling residency audits.
Our New York State residency team has handled some of the most controversial and important residency cases over the past few years, including Matter of Gaied v. Tribunal, a 2014 victory in New York's highest court that redefined the standard for taxation under New York's statutory residency test. Many of these cases have received extensive coverage in publications such as Forbes, New York Times, and Wall Street Journal, to name a few.
Our attorneys are also leading technological changes in this area. As special legal advisor to the technology company MONAEO, Tim Noonan and Mark Klein assisted in the creation of a GPS-powered smartphone app and software service to help taxpayers track their time spent in various locations for tax purposes.
We believe you won't find a more experienced team of professionals to handle your residency case. Over the past 25 years, we have handled thousands of residency and income allocation cases. This includes representation of approximately 25 of the billionaires on the 2014 "Forbes Guide to the World's Richest People."
News
Press Release

,

October 21, 2015

Wall Street Journal

,

April 10, 2015

Press Release

,

February 20, 2015

Buffalo Law Journal

,

November 17, 2014

Huffington Post

,

August 11, 2014

Tax Analysts

,

June 30, 2014

OUPblog, a publication of Oxford University Press

,

March 3, 2014

Press Release

,

February 19, 2014

Tax Stringer

,

March 5, 2013

New York Times

,

February 23, 2011
Presentations
New York State Tax Update

Brooklyn, NY

,

January 21, 2016

New York Society of Independent Accountants Seminar: New York Residency/Non-Residency Issues

Queens, NY

,

September 2, 2015

The Harvard Club, 35 W. 44th Street, New York, NY

,

Summer 2015

Brooklyn, NY

,

May 19, 2015
Publications
Tax Stringer

,

October 2, 2015

Tax Stringer

,

August 1, 2015

State & Local Tax Alert

,

June 12, 2015

State Tax Notes

,

June 1, 2015

State & Local Tax Alert

,

April 30, 2015

Tax Stringer

,

December 2014

State Tax Notes

,

October 27, 2014

Hodgson Russ Publication

,

October 2014

Three Common Problems in Handling a New York Residency Audit

Tax Stringer

,

October 2014

State Tax Notes

,

July 21, 2014

State Tax Notes

,

May 19, 2014

Journal of Multistate Taxation and Incentives 

,

May 7, 2014

State & Local Tax Alert

,

January 4, 2013

State Tax Notes

,

April 30, 2012

State Tax Notes

,

April 10, 2012

Trusts & Estates

,

October 1, 2011

State Tax Notes

,

July 18, 2011

State & Local Tax Alert

,

June 23, 2011

The Trusted Professional

,

June 2011

State Tax Notes

,

March 8, 2011

State Tax Notes

,

October 8, 2010

State Tax Notes

,

December 2008

State Tax Notes

,

July 30, 2007