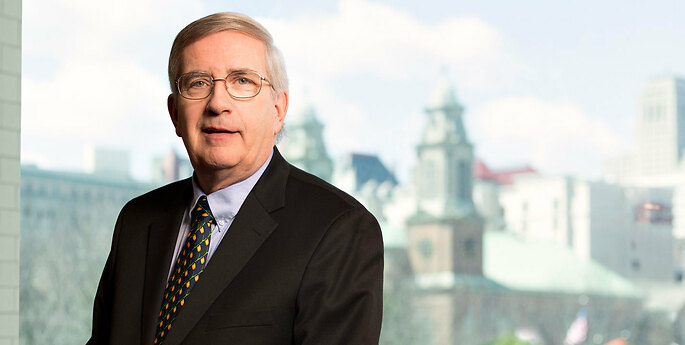 George W. Cregg
Senior Counsel
Practices & Industries
Admissions
New York
U.S. District Court, Northern District of New York
U.S. Supreme Court
Education
University of Notre Dame, B.A.
Cornell University, J.D.
George has concentrated his practice in tax-exempt general obligation and revenue bonds throughout his legal career.

Prior to joining Hodgson Russ, George was a partner with the Syracuse law firms of Melvin and Melvin; Cregg, Storto & Finlay; and Hancock & Estabrook. He also worked at the Albany law firm of Krolick & DeGraff. He authored the legislation creating the Green Island Power Authority and the Albany Municipal Water Financing Authority and has acted as bond counsel on numerous public authority transactions. For years, George was an approved provider of Public Authorities Accountability Act training.
In the News
Press Releases
Hodgson Russ Press Release

,

June 14, 2019
Publications
Hodgson Russ Municipal Alert

,

May 16, 2022

Hodgson Russ Renewable Energy & Municipal Alert

,

May 3, 2022

Hodgson Russ Municipal and Education Alert

,

April 19, 2022

Hodgson Russ Municipal Alert

,

October 29, 2021

Hodgson Russ Land Use & Economic Development Alert

,

October 22, 2021

Hodgson Russ Bond Counsel Alert

,

August 31, 2020

Hodgson Russ Municipal and Education Alert

,

August 7, 2020

Hodgson Russ College & University Alert

,

July 31, 2020

Hodgson Russ Municipal Alert

,

June 22, 2020

Hodgson Russ Public Authority Alert

,

June 9, 2020

Hodgson Russ Municipal Alert

,

May 5, 2020

Hodgson Russ Bond Counsel Alert

,

April 27, 2020

Hodgson Russ Municipal Alert

,

April 14, 2020

Hodgson Russ Municipal Alert

,

April 10, 2020

Hodgson Russ Education, Municipal & Public Finance Alert

,

April 8, 2020

Hodgson Russ Public Authority Alert

,

April 3, 2020

Hodgson Russ Public Finance Alert

,

April 1, 2020

Hodgson Russ Municipal Alert

,

March 30, 2020

Hodgson Russ Municipal Alert

,

March 17, 2020

Hodgson Russ Municipal Alert

,

March 16, 2020

Hodgson Russ Municipal Alert

,

January 6, 2020

Hodgson Russ Municipal and Education Alert

,

October 21, 2019

Hodgson Russ Municipal Law Alert

,

May 22, 2019

Hodgson Russ Public Authority Alert

,

March 18, 2019

Hodgson Russ Public Authority Alert

,

March 14, 2019

Municipal Law Alert

,

February 27, 2019

Municipal Law Alert

,

July 26, 2018

Public Authority Guidebook: A Compendium of Governing Law and Commentary that Every New York Authority Board Member Should Know

Hodgson Russ Publication

,

July 2014

Hodgson Russ Alert

,

February 12, 2014

JD Supra

,

January 29, 2014

Hodgson Russ Alert

,

January 29, 2014

JD Supra

,

January 29, 2014

Municipal Alert

,

May 19, 2006
Presentations & Events
Albany, New York

,

January 16, 2019

Hilton Garden Inn, 30 Clifton Country Road, Clifton Park, NY

,

September 27, 2016

Albany, NY

,

January 18, 2012

New York, NY

,

January 25, 2007
Professional Associations
National Association of Bond Lawyers
New York State Economic Development Council
New York State Bar Association Municipal Law Section Executive Committee