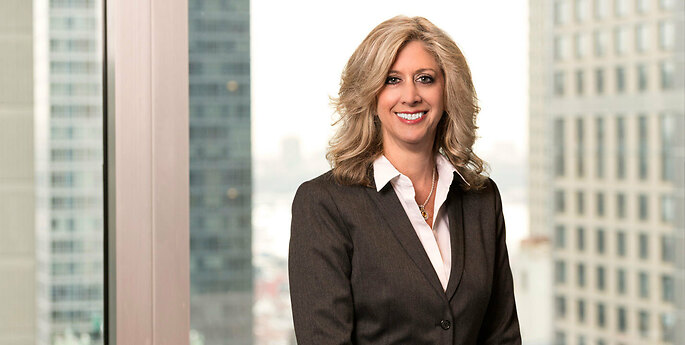 Jacqueline I. Meyer
Partner, Matrimonial Law & Wealth Preservation Practice Leader
Practices & Industries
Admissions
New York
U.S. District Courts for the Southern and Eastern Districts of New York
Education
University of Rochester, B.A.
Georgetown University Law Center, J.D.
As a business litigator, Jacqueline counsels clients in all phases of business disputes and represents them in protecting their legal rights and business interests in federal and state trial and appellate courts. She also assists clients in responding to investigations by and in arbitration proceedings before financial regulatory authorities.
As leader of Hodgson Russ's Matrimonial Law & Wealth Preservation Practice, Jacqueline collaborates internally with attorneys from the Trusts & Estates, Tax, Real Estate & Finance, and Bankruptcy Practices to counsel individuals on a full range of domestic relations issues associated with marriage, divorce, and parenting. These issues include the preservation of assets, protection of inherited and gifted property, spousal and child support, geographic relocation, and interstate and international issues. She also counsels clients respecting prenuptial, postnuptial, property settlement, separation, child custody, and parenting agreements.
In the area of employment law, Jacqueline prepares employment agreements and represents clients in discrimination cases and other employment-related litigation.
Publications
Hodgson Russ Securities/Directors & Officers Litigation Alert

,

December 18, 2020

Hodgson Russ Business Litigation Alert

,

June 23, 2020

Hodgson Russ Business Litigation and Bankruptcy & Restructuring Alert

,

June 22, 2020

Hodgson Russ Securities/Directors & Officers Litigation Alert

,

June 16, 2020

Hodgson Russ Business Litigation Alert

,

May 22, 2020

Hodgson Russ OSHA and Business Litigation Alert

,

May 13, 2020

Hodgson Russ Business Litigation Alert

,

April 22, 2020

Hodgson Russ Business Litigation and Securities Regulation & Corporate Compliance Alert

,

April 22, 2020

Hodgson Russ Business Litigation Alert

,

April 15, 2020

Hodgson Russ Business Litigation Alert

,

April 9, 2020

Corporate & Securities Alert

,

August 3, 2018

Labor and Employment Alert

,

December 26, 2017

Labor and Employment Alert

,

December 19, 2017

Labor and Employment Alert

,

December 12, 2017

Labor & Employment Alert

,

November 14, 2016

Labor & Employment Alert

,

July 20, 2015

Labor & Employment Alert

,

July 17, 2015

Labor & Employment Alert

,

July 15, 2015

Labor & Employment Alert

,

April 26, 2013

Matrimonial & Wealth Preservation Alert

,

March 28, 2013

Labor & Employment Alert

,

November 5, 2012

Labor & Employment Alert

,

October 9, 2012

Labor & Employment Alert

,

August 30, 2012
Presentations & Events
New York, NY

,

September 27, 2012

Buffalo, NY

,

March 29, 2012
Professional Associations
New York City Bar Association
Women's Bar Association of the State of New York Matrimonial and Family Law Committee
Hodgson Russ Committee on Attorney Recruiting, Development & Diversity