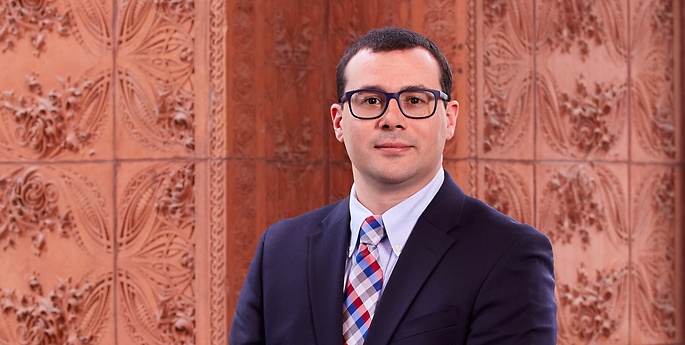 John T. M. DiMaio P
h

.D.

Senior Associate
Practices & Industries
Admissions
New York
U.S. Patent and Trademark Office
Education
Alfred University, A.C.S. Certified B.A., Chemistry, cum laude
University of Rochester, M.S., Chemistry
University of Rochester, Ph.D., Chemistry
University at Buffalo School of Law, J.D., cum laude
John is an attorney in the Intellectual Property & Technology Practice, where he focuses on the preparation and prosecution of patent applications. His areas of focus include organic chemistry, bioorganic chemistry, supramolecular chemistry, peptide chemistry, peptidomimetics, small molecule synthesis, self-assembling systems, hydrogels, pharmaceuticals (including small molecules, biologics, and delivery methods), chemical processes, and analytical methods.
Prior to law school, John did his doctoral work at the University of Rochester. His dissertation focused on synthesis and characterization of small molecules, peptides and bio functional supramolecular compounds. He is an author on several peer-reviewed publications and presented his research at several national conferences.
John graduated from the University at Buffalo School of Law. While there, he was a member of the Buffalo Law Review and Buffalo Intellectual Property Law Journal.
Honors
Listed, Upstate New York Super Lawyers Rising Stars (Intellectual Property) 2023
American Bar Association and the Bureau of National Affairs Award for Excellence in the Study of Intellectual Property Law, 2017
Phi Beta Kappa
University at Buffalo School of Law Merit Scholarship
CALI Award, Introduction to Patent Practice
American Peptide Symposium Travel Award, 2011 and 2013
Moses Passer Memorial Fellowship
Weissberger Memorial Fellowship
W.D. Walters Teaching Award
Corning Section ACS Outstanding Student Award
Former publications editor, Buffalo Law Review
Former editor, Buffalo Intellectual Property Law Journal
Press Releases
Publications
Hodgson Russ Intellectual Property Litigation Alert

,

May 30, 2023

Hodgson Russ Intellectual Property Litigation Alert

,

March 23, 2023

Hodgson Russ Intellectual Property Litigation Alert

,

January 27, 2023

Hodgson Russ Intellectual Property Litigation Alert

,

December 20, 2022

Hodgson Russ Intellectual Property Alert

,

November 28, 2022

Display of functional proteins on supramolecular peptide nanofibrils using a split-protein strategy

Org. & Biomol. Chem. 2017, 15, 5279-5283

,

2017

Modulating Supramolecular Peptide Hydrogel Viscoelasticity Using Biomolecular Recognition

Biomacromolecules, 18, 3591–3599, 2017

,

September 6, 2017

Mechanisms of Tau and Aβ-induced Excitotoxicity

Brain Res. 2015, 1634, 119–131

,

2015

Fluorescence detection of cationic amyloid fibrils in human semen

Bioorg. Med. Chem. Lett. 2013, 23, 5199–5202

,

2013

Coassembly of Enantiomeric Amphipathic Peptides into Amyloid-Inspired Rippled β Sheet Fibrils

J. Am. Chem. Soc. 2012, 134, 5556–5559

,

2012

Seminal plasma accelerates SEVI fibril formation by the PAP[248–286] peptide

J. Biol. Chem. 2012, 287, 11842–11849

,

2012

Enhancement of HIV-1 Infectivity by Simple, Self-Assembling Modular Peptides

Biophys.  J. 2011, 100, 1325–1334

,

2011
Presentations & Events
Rochester, New York

,

October 27, 2019
Professional Associations
American Chemical Society
Community & Pro Bono
Member, Board of Directors: Friends of Reinstein Woods