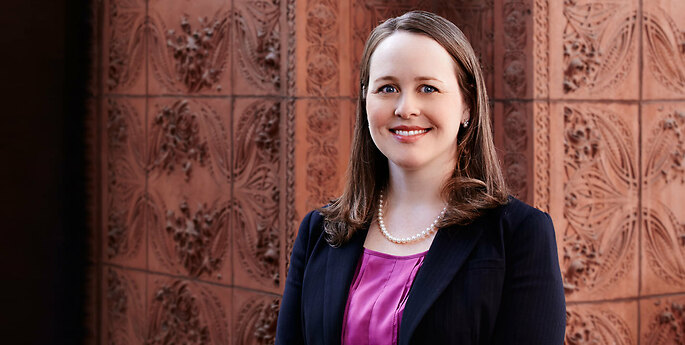 Patricia C. Sandison
Partner
Practices & Industries
Education
Boston University, B.A., cum laude
University at Buffalo School of Law, J.D., cum laude
As a member of the Firm's Tax-Exempt Organizations practice group, Trish focuses her practice on nonprofit law, advising charities and other nonprofit tax-exempt organizations, including private foundations, 'friends of' organizations, community foundations, and institutions of higher education, among others, in matters relating to NYS and IRS legal requirements and best practices for nonprofit governance and operational matters. Trish regularly advises on issues involving charitable programming, fundraising, formation and dissolution of nonprofit organizations, obtaining and maintaining tax-exempt status, intermediate sanctions, donor-advised funds, board governance, joint ventures, mergers and restructuring, as well as general business matters.
Trish exclusively practices U.S. law and is admitted to practice in New York and Massachusetts.
Honors
At University at Buffalo School of Law, Trish was editor-in-chief of the Buffalo Human Rights Law Review.
In the News
Buffalo Business First

,

May 22, 2020

Albany Business Review

,

November 16, 2018

The Street

,

January 7, 2016
Press Releases
Press Release

,

January 8, 2019
Publications
Hodgson Russ Tax-Exempt Organizations Alert

,

December 15, 2021

Hodgson Russ Tax-Exempt Organizations Alert

,

November 10, 2021

Hodgson Russ Tax-Exempt Organizations Alert

,

May 14, 2021

Hodgson Russ Tax-Exempt Organizations Alert

,

May 13, 2021

Hodgson Russ Corporate & Business Alert

,

December 30, 2020

Hodgson Russ Tax-Exempt Organizations Alert

,

November 2, 2020

Hodgson Russ College & University Alert

,

July 31, 2020

Hodgson Russ Corporate Governance & Compliance Alert

,

June 30, 2020

Hodgson Russ Tax-Exempt Organizations Alert

,

April 16, 2020

Hodgson Russ Food & Beverage Alert

,

April 7, 2020

Hodgson Russ Tax-Exempt Organizations Alert

,

April 3, 2020

Hodgson Russ Food & Beverage Practice Alert

,

April 3, 2020

Hodgson Russ Tax-Exempt Organizations Alert

,

March 30, 2020

Hodgson Russ Corporate Alert

,

March 23, 2020

Hodgson Russ Food & Beverage Alert

,

March 16, 2020

Hodgson Russ Tax-Exempt Organizations Alert

,

February 13, 2020

Hodgson Russ Tax-Exempt Organizations Alert

,

June 19, 2019

Agriculture Alert

,

November 6, 2018

Thomson Reuters Practical Law

,

July 13, 2017

Tax-Exempt Organizations Alert

,

December 1, 2016

Client Alert

,

August 30, 2016

Tax-Exempt Organizations Alert

,

July 28, 2016

Tax-Exempt Organizations Alert

,

December 15, 2015

Corporation Law: New York

Practical Law Company

,

April 3, 2015

JD Supra

,

February 24, 2014

Investment Management Alert

,

June 22, 2012

Investment Management Alert

,

July 23, 2010

Investment Management Alert

,

May 6, 2009
Presentations & Events
Trish routinely gives presentations to clients' Boards and management on nonprofit corporate governance and legal updates
Mohonk Mountain House, New Paltz, New York 12561

,

October 10, 2019

Camp Finance 2018

New Paltz, New York

,

October 4-5, 2018

Hodgson Russ, The Guaranty Building, 140 Pearl Street, Buffalo, NY

,

July 11, 2018

Camp Finance 2017

2016 Lumsden McCormick Exempt Conference: Legal Considerations for Tax Exempt Entities  

Buffalo Niagara Marriott, 1340 Millersport Highway, Amherst, NY

,

November 17, 2016

Panelist for Lawley Not-for-Profit Workshop: Managing Financial Challenges

Buffalo, NY

,

June 11, 2015

New York, NY

,

May 15, 2014

Buffalo, NY

,

February 13, 2014
Professional Associations
New York State Bar Association
Capital District Women's Bar Association
Community & Pro Bono
Co-Chair: University at Buffalo Law Alumni, Albany Chapter Steering Committee (2018 to present)
Member, Board of Directors: International Institute of Buffalo ( March, 2011 - February, 2016)
Co-Chair, Board of Directors: International Institute of Buffalo (2014 -2015)
Vice Chair, Board of Directors: International Institute of Buffalo (2013 - 2014)
Advisory Board Member: Buffalo Niagara 360 (2011-2014)
Member, Board of Directors: University at Buffalo School of Law, Graduates of the Last Decade (GOLD) Group (2011 to 2014)
Alumni Mentor: University at Buffalo, New York City Program in Finance and Law (2007 - 2010)
Alumni Mentor: University at Buffalo School of Law, Mentor Program for Law Students