Experience Spotlight: Manufacturing

---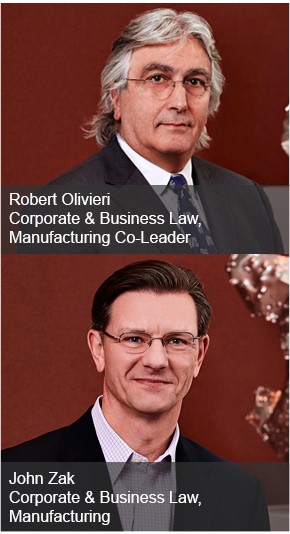 According to the National Association of Manufacturers, for every $1.00 spent in manufacturing, another $1.40 is added to the economy, the highest multiplier effect of any economic sector. Our manufacturing and advanced manufacturing clients rely on us for a multitude of legal services that span from contract review to regulatory compliance to litigation. With offices in two of the world's financial centers, New York City and Toronto, Ontario, our attorneys are adept at navigating the concerns of both emerging start-ups as well as the largest, publically traded manufacturers.
Hodgson Russ's manufacturing clients include market-leading and emerging companies covering a wide spectrum of industries in international markets. From agricultural to aerospace; medical devices and pharmaceuticals to renewable energy; oil and gas to power transmission and conveyor belts, our number one priority is to protect our clients' legal rights and commercial interests. Manufacturing clients find real value in the depth of our experience, the quality of our counselors and the cost-effectiveness of working with a multi-disciplined team of advisors who are adept at both U.S. and international legal issues. We work with companies from all over the world who want to grow their business in the U.S. and abroad.
Recent Manufacturing and Advanced Manufacturing matters handled by Hodgson Russ include:
$1.7 Billion Acquisition
Led by partner, John J. Zak, a team of Hodgson Russ attorneys represented long-time client, Greatbatch Inc. in a $1.7 billion acquisition of Lake Region Medical, a privately held portfolio company of KKR and Bain Capital. We counseled on every aspect of the transaction, performing U.S. and supervising international due diligence; negotiating the merger agreement and related documentation; advising on U.S. competition law matters and related foreign filings; negotiating the bank credit facility and heading the high-yield note offering; and advising on executive compensation and employment aspects of the transaction.
$200 Million Private Placement for Precision Motion Control Products Manufacturer
A Hodgson Russ team led by Robert J. Olivieri helped a global precision motion control products manufacturer raise capital in the private placement of $200 million of corporate high-yield senior subordinated notes to qualified institutional buyers. Due to tight credit markets and revisions to Rule 144, the transaction provided a quick means for our client to raise capital.
Precedent-Setting Internet-Based Personal Jurisdiction Victory
We successfully litigated the Zippo Manufacturing Co. v. Zippo Dot Com, Inc., the seminal case on Internet jurisdiction in the United States. This case has been cited 967 times by federal and state courts and analyzed in hundreds of law review and journal articles.