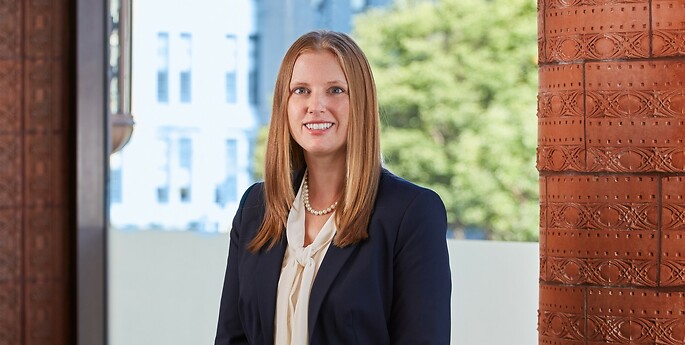 Andrea M. Gervais
Senior Associate
Practices & Industries
Education
Union College, B.S.
Canisius College, M.S.
University at Buffalo School of Law, J.D., summa cum laude
Andrea is a member of the Real Estate and Finance Practice, where she represents clients in various commercial and real estate matters. Her work focuses on banking and finance transactions, public-private partnerships, real estate development, real estate leasing, and large-scale renewable energy projects.
Her experience in commercial real estate includes representing clients in purchase and sale transactions, commercial leasing, industrial development agency projects and financing, as well as representing both borrowers and lenders in commercial real estate financing matters. She also has experience in due diligence for large-scale renewable energy projects, including all aspects of title and survey review and negotiation of site control documentation. Additionally, Andrea has represented a local land conservancy with its conservation initiatives, including conservation easements and purchase transactions.
In the finance area, Andrea represents borrowers and lenders in asset-based, mortgage-based, bond, construction and acquisition transactions. She is also experienced with transfer tax and mortgage tax issues.
Prior to becoming a lawyer, Andrea taught science to middle and high school students in both New York City and Buffalo. She also served as a research assistant in a medical lab in New York City and was the co-author on several national publications.
Honors
Listed, Best Lawyers in America Ones to Watch (Banking and Finance Law, Real Estate Law) 2024

Listed, Upstate New York Super Lawyers Rising Stars, (Real Estate) 2021

Harry A. Rachlin Prize in Real Property Law and Real Estate Transactions, 2016
Advanced legal writing and research fellow, University at Buffalo School of Law
In the News
Buffalo Business First

,

June 25, 2021

Buffalo Business First

,

September 11, 2020
Press Releases
Hodgson Russ Press Release

,

August 20, 2021
Publications
Hodgson Russ Renewable Energy Alert 

,

August 8, 2023

Hodgson Russ Banking & Finance Alert

,

March 27, 2023

Hodgson Russ Banking & Finance Alert 

,

March 13, 2023

Hodgson Russ Renewable Energy Alert 

,

December 14, 2022

Hodgson Russ Renewable Energy Alert

,

September 12, 2022

Hodgson Russ Renewable Energy and Real Estate Alert 

,

June 21, 2022

Hodgson Russ Real Estate Alert

,

June 25, 2020

Hodgson Russ Real Estate Alert

,

June 18, 2020

Hodgson Russ Banking & Finance Alert

,

June 4, 2020

Hodgson Russ Banking & Finance Alert

,

May 26, 2020

Hodgson Russ Banking & Finance Alert

,

May 18, 2020

Hodgson Russ Banking & Finance Alert

,

May 13, 2020

Hodgson Russ Real Estate Alert

,

May 11, 2020

Hodgson Russ Real Estate Alert

,

May 4, 2020

Hodgson Russ Banking & Finance Alert

,

April 24, 2020

Hodgson Russ Banking & Finance Alert

,

April 24, 2020

Hodgson Russ Real Estate Alert

,

April 20, 2020

Hodgson Russ Banking & Finance Alert

,

April 10, 2020

Hodgson Russ Banking & Finance Alert

,

April 8, 2020

Hodgson Russ Real Estate Alert

,

March 31, 2020

Hodgson Russ Banking & Finance Alert

,

March 30, 2020

Hodgson Russ Banking & Finance Alert

,

March 30, 2020

Hodgson Russ Banking & Finance Alert

,

March 24, 2020

Hodgson Russ Real Estate Leasing Alert

,

March 23, 2020

Hodgson Russ Cross-Border Finance Alert

,

January 8, 2020

Buffalo Business First

,

January 2, 2020

Banker Bulletin Alert

,

January 31, 2019

Cross-Border Finance Alert

,

November 13, 2018