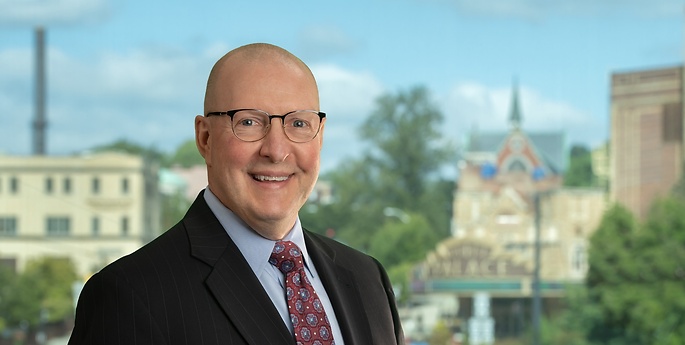 Edward Kowalewski, J
r

.

Partner
Practices & Industries
Admissions
New York
New Jersey
U.S. District Court, Northern District of New York
U.S. District Court, Southern District of New York
U.S. District Court, Eastern District of New York
U.S. District Court, District of New Jersey
Education
University of Scranton, B.S.
Seton Hall University Law School, J.D.
Edward focuses his practice on commercial and contract law, construction law and commercial litigation, litigation, appeals, alternative dispute resolution, commercial collections and commercial real estate development, leasing and financing. Specifically, in the area of construction law, he represents clients in matters related to contract preparation and review, private and public contracting claims, surety payment and performance bond claims and defense, mechanic's liens and contract terminations. Edward's clients include heavy highway, building and mechanical trade contractors, subcontractors, suppliers, developers, and public and private owners.
Edward has appeared before numerous state and federal courts in order to resolve complex commercial disputes which arise in the course of his practice. When applicable, he has represented clients in alternative dispute resolution matters requiring arbitration or mediation.
Prior to joining Hodgson Russ, Edward was a shareholder at the law firm of McNamee Lochner, P.C. Prior to joining McNamee, he was a partner at Fox & Kowalewski, LLP.
In the News
The Saratogian

,

October 13, 2020

Times-Union

,

October 9, 2020

Buffalo Business First

,

September 11, 2020

Albany Business Review

,

June 19, 2020
Press Releases
Hodgson Russ Press Release

,

September 3, 2019
Publications
Hodgson Russ Real Estate Alert

,

June 25, 2020

Hodgson Russ Business Litigation Alert

,

June 23, 2020

Hodgson Russ Business Litigation and Bankruptcy & Restructuring Alert

,

June 22, 2020

Hodgson Russ Real Estate Alert

,

June 18, 2020

Hodgson Russ Public Authority Alert

,

June 9, 2020

Hodgson Russ Business Litigation Alert

,

May 22, 2020

Hodgson Russ Renewable Energy and Construction Alert

,

May 15, 2020

Hodgson Russ OSHA and Business Litigation Alert

,

May 13, 2020

Hodgson Russ Real Estate Alert

,

May 11, 2020

Hodgson Russ Real Estate Alert

,

May 4, 2020

Hodgson Russ Business Litigation Alert

,

April 22, 2020

Hodgson Russ Business Litigation and Securities Regulation & Corporate Compliance Alert

,

April 22, 2020

Hodgson Russ Real Estate Alert

,

April 20, 2020

Hodgson Russ Business Litigation Alert

,

April 15, 2020

Hodgson Russ Business Litigation Alert

,

April 9, 2020

Hodgson Russ Construction Alert

,

April 9, 2020

Hodgson Russ Education, Municipal & Public Finance Alert

,

April 8, 2020

Hodgson Russ Public Authority Alert

,

April 3, 2020

Hodgson Russ Real Estate Alert

,

March 31, 2020

Hodgson Russ Construction Alert

,

March 27, 2020

Hodgson Russ Banking & Finance Alert

,

March 24, 2020

Hodgson Russ Real Estate Leasing Alert

,

March 23, 2020
Presentations & Events
Schenectady, New York

,

February 4, 2020
Professional Associations
New York State Bar Association
Saratoga County Bar Association
New Jersey State Bar Association
Former Member: Committee on Character and Fitness for the Fourth Judicial District, State of New York, Supreme Court Appellate Division, Third Department
Arbitrator, Part 137, Attorney-Client Fee Dispute Resolution Program
Associate Member: Associated General Contractors of New York State
Professional Ski Instructors of America - Level II Certified