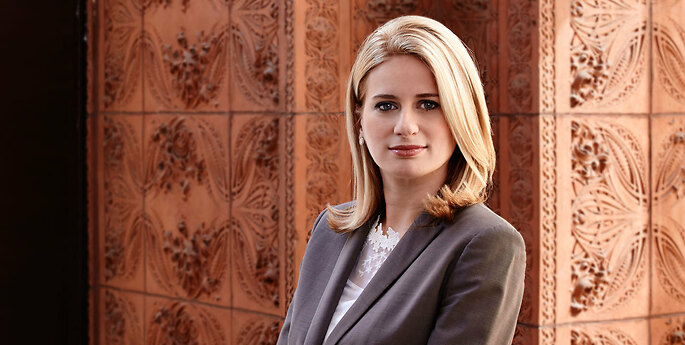 Emina Poricanin
Partner, Home Care Practice Leader
Practices & Industries
Admissions
U.S. District Court for the Western District of New York
U.S. District Court for the Southern District of New York
U.S. District Court for the Eastern District of New York
Clerkships
Appellate Division Fourth Department, U.S. District Court for the Western District of New York
Education
Syracuse University, B.A.
University at Buffalo School of Law, J.D., Magna Cum Laude
Emina counsels public and private employers with respect to labor and employment law. She represents employers in proceedings before the State Division of Human Rights, Equal Employment Opportunity Commission, the National Labor Relations Board, the Public Employment Relations Board, federal and state Departments of Labor, and in federal and state courts. Emina also counsels employers regarding compliance with the Family and Medical Leave Act, the New York Paid Family Leave Law, Americans with Disabilities Act, federal and state wage and hour laws, worker misclassification, discrimination laws, workplace policies and handbooks, discipline and discharge, union avoidance, and unemployment insurance.
Emina leads the Home Care Practice, which is devoted to serving home care agencies across New York.

Prior to joining Hodgson Russ, Emina was an appellate court attorney with the Appellate Division Fourth Judicial Department.
Emina is fluent in Serbo-Croatian.
Honors
Listed, Upstate New York Super Lawyers Rising Stars, 2015 - 2019
Finalist, HHCN Future Leaders Award (Vendors Professional Services), September 2019
Experience
Experience in the Home Care Industry:
Represented Licensed Home Care Services Agencies (LHCSAs) in New York and United States Department of Labor audits.
Represented fiscal intermediaries across New York State in structuring their operations to comply with DOH and OMIG requirements.
Defended LHCSAs in federal and state class action lawsuits alleging violations of wage and hour laws.
Represented LHCSAs in OMIG and New York Department of Labor audits concerning Wage Parity.
Represented the New York State Health Care Providers' Association ("HCP") in live-in litigation before the Second and First Appellate Divisions.
Represented LHCSAs in selling their operations.
Assisted New York City LHCSAs in negotiating contracts for services with CHHAs.
Represented buyers of all types of facilities including adult day care centers.
Assisted fiscal intermediaries in completing Department of Health authorization application.
Represented LHCSAs in a New York Attorney General Medicaid Fraud Unit investigations.
Assisted New York City LHCSAs in establishing a home health aide training program and obtaining the proper licensure from the Department of Health and Department of Education.
Regularly assists LHCSAs in OMIG audits.
Assists in structuring Wage Parity benefits.
Provided counsel and assisted a LHCSA in establishing an employment agency for purposes of providing private duty nursing and CNA services.
Helped negotiate settlements with New York Attorney General Medicaid Fraud Unit.
Regularly provides LHCSAs with compliance advice involving all aspects of operations, including reimbursement, HIPAA, recruitment, repayment of Medicaid money, negotiating contracts with MLTCs, workers' compensation, licensure, and mitigation of liability.
Experience in the School Industry:
Regularly provides assistance to schools with respect to labor relations matters, including interpretation of collective negotiations agreements, negotiation of initial employment agreements, and setting of wages.
Provided counsel regarding termination and counsel of tenured and non-tenured staff.
Advised schools concerning employee leave situations involving the Americans with Disabilities Act and other accommodation laws.
Assisted schools in negotiating the first collective negotiations agreement.
Assisted schools in negotiating collective negotiations agreements for professional and nonprofessional staff.
Represented schools in grievance arbitrations.
Represented school districts in special education proceedings.
Represent school districts in relation to 3020-a proceedings, including investigation of performance related issues or misconduct incidents.
News
Home Health Care News

,

September 30, 2019

Home Health Care News

,

September 26, 2019

Press Release

,

August 12, 2019

Buffalo Business First

,

April 19, 2019

Albany Business Review

,

April 19, 2019

Home Health Care News

,

March 28, 2019

Press Release

,

August 20, 2018

Buffalo Business First

,

April 27, 2018

Buffalo Business First

,

March 21, 2018

Press Release

,

January 2, 2018

Buffalo Business First

,

November 17, 2017

Buffalo Business First

,

September 29, 2017

Press Release

,

September 6, 2017

Buffalo Law Journal & Business First

,

August 29, 2017

Buffalo Law Journal & Business First

,

March 27, 2017

Press Release

,

August 31, 2016

Fine Print Keeps Home Health Care Lawsuits Out of Court

Crain's New York Business

,

July 20, 2016

Press Release

,

August 19, 2015

Press Release

,

December 30, 2014
Presentations
1 Elk Street, Albany, New York 12207

,

December 4, 2019

Buffalo Niagara Marriott, Amherst, NY

,

November 14, 2019

Mohonk Mountain House, New Paltz, New York 12561

,

October 10, 2019

New Paltz, New York

,

September 6, 2019

Saratoga Springs, NY

,

May 9, 2019

New York, New York

,

February 13, 2019

Millennium Hotel Buffalo

,

January 18, 2019

Buffalo Niagara Marriott, Amherst, NY

,

November 15, 2018

Uniondale, New York

,

October 23-24, 2018

September 18, 21, 24 and 27

Hodgson Russ, The Guaranty Building, 140 Pearl Street, Buffalo, NY

,

July 11, 2018

605 Third Avenue, Suite 2300, New York, NY 10158

,

May 23, 2018

New Challenges:  Paid Family Leave, Call-In Pay, and Increases to Minimum Wage

Cooperstown, New York

,

May 9, 2018

Westin Convention Center, Pittsburgh, PA

,

March 1, 2018

New York City

,

January 24, 2018

Millennium Hotel Buffalo, 2040 Walden Ave, Buffalo, NY

,

January 12, 2018

Buffalo Niagara Marriott, Amherst, NY

,

November 2, 2017

Classics V Restaurant, Amherst, NY

,

October 20, 2017

New  York State Healthcare Practice Conference

Albany, New York

,

October 1, 2017

Hodgson Russ NYC

,

September 27, 2017

Hodgson Russ LLP, NYC

,

June 20, 2017

Hodgson Russ, 140 Pearl St, Buffalo, NY

,

April 18, 2017

Understanding the Evolving Compensation Rules

Hodgson Russ LLP, Guaranty Building, Buffalo, NY

,

March 30, 2017

Cheektowaga, New York

,

January 13, 2017

Buffalo Marriott Niagara, 1340 Millersport Highway, Amherst, NY

,

November 3, 2016

New York Council of Nonprofits, Camp Finance:  How to Comply with the Final Overtime Rule

Buffalo Niagara Human Resources Association: A Panel Discussion with the U.S. Department of Labor

Buffalo, NY

,

September 21, 2016

NY Society for Human Resource Management, Annual Conference: Understanding the Ever-Evolving Employee Compensation Rules

Lake Placid, NY

,

September 18, 2016

NYS Home Care Association, Senior and Financial Managers Retreat:  Implications of Employee Wage, Hour, & Overtime Policy Changes

New Paltz, NY

,

September 8, 2016

Association of Chamber of Commerce Executives, Annual Conference: Wage and Hour Update

Savannah, GA

,

August 11, 2016

NY Home Care Association: Wage and Hour Update

Saratoga Springs, NY

,

May 5, 2016

NY Financial Managers Association: Wage and Hour Update

Cooperstown, NY

,

May 4, 2016

NYS Association of Health Care Providers: Wage and Hour Update for Home Care Providers

Hudson Valley HCP: Wage and Hour Update

Belgian Chamber of Commerce: U.S. Employment Law 101

School Client Conference: How to Avoid a Wage and Hour Train Wreck:  Compensation Rules for Schools

Millennium Hotel Buffalo, 2040 Walden Ave, Buffalo, NY

,

January 15, 2016

School Client Conference: Discrimination Update:  The Latest in Discrimination Law and Other New York State Developments Districts Need to Know

Millennium Hotel Buffalo, 2040 Walden Ave, Buffalo, NY

,

January 15, 2016

Millennium Hotel Buffalo, 2040 Walden Ave, Buffalo, NY

,

January 15, 2016

Wage and Hour Issues for Consumer Directed Providers

WNYESC: Search and Seizure in the School Environment

Buffalo, NY

,

November 10, 2015

Buffalo/Niagara Marriott, 1340 Millersport Highway, Amherst, NY

,

November 5, 2015

Labor & Employment Conference: Common Compensation Problems: How NOT to be a Class Action Defendant

Buffalo, NY

,

November 5, 2015

Labor & Employment Conference: Background Checks (Ban-the-Box Ordinances, Bans on Using Credit Checks in Employment) an other Pre-Employment Inquiries

Buffalo, NY

,

November 5, 2015

New York State Society for Human Resource Management Conference: Charting the Way - Understanding the Ever-Evolving Employee Compensation Rules

Verona, NY

,

September 20, 2015

Buffalo Niagara Human Resource Association Annual Legal Update

Buffalo, NY

,

September 16, 2015

BNHRA: Wage and Hour Update

Buffalo, NY

,

September 16, 2015

MASLA: Pregnancy Discrimination

Sandata Webinar: NY Labor Update

Buffalo, NY

,

June 18, 2015

Financial Managers Association Annual Conference: Maintaining Wage and Hour Compliance Amidst the Sea of Change

Cooperstown, NY

,

May 7, 2015

WNY Healthcare Association: Labor and Employment Law Update

Buffalo, NY

,

April 15, 2015

Latest Developments in Pupil Matters

Millennium Hotel Buffalo, 2040 Walden Ave, Buffalo, NY

,

January 18, 2015

Effective Employee Evaluation and Discipline

Millennium Hotel Buffalo, 2040 Walden Ave, Buffalo, NY

,

January 18, 2015

Millennium Hotel Buffalo, 2040 Walden Ave, Buffalo, NY

,

January 16, 2015

Buffalo/Niagara Marriott, 1340 Millersport Highway, Amherst, New York

,

November 6, 2014

In a Haze? Medical Marijuana and E-Cigarettes

Buffalo, NY

,

November 6, 2014

New York State Association of Health Care Providers Annual Management Conference: The Wage and Hour Puzzle - Putting the Pieces Together 

Uniondale, NY

,

October 29, 2014

Buffalo, NY

,

August 6, 2014

New York State Health Facilities Association Audio Conference: Preparing Your Facility for the Employment Claims of Tomorrow - The Latest Trends in Employment Law

Constitutional Law Update for Municipal Employers

Hodgson Russ

,

May 22, 2014

Leading Age New York: How to Avoid a Wage & Hour Train Wreck- Issues, Claims, and Defenses in Compensating Employees

Hodgson Russ LLP Client CLE: Wage and Hour Update- Class Actions Post-Dukes and Comcast & Mandatory Arbitration Agreements

Leading Age of New York: Issues Claims and Defenses in Compensating Employees

Financial Managers Association: How to Avoid a Wage & Hour Train Wreck

New York Health Care Providers Association: HIPAA and Social Media- What all Providers Need to Know

Supervisor Training Seminar: Employment Law Potpourri- Legal Compliance training for Supervisory Employees

Buffalo, NY

,

January 17, 2014

Buffalo Niagara Human Resources Association: Employment Law Developments and Predictions for 2014

New York State Health Facilities Association: Wage and Hour Update- Ensuring Your Facility is in Compliance

Amherst, NY

,

November 7, 2013

New York Health Care Providers Association: Lawsuite- Free Discipline and Termination of Employees

New York Health Care Providers Association: How to Avoid a Wage and Hour Ship Wreck

Buffalo, NY

,

September 26, 2013

Sterling Education Services: Drafting Workplace Handbooks and Agreements that Minimize Claims

Hodgson Russ CLE: Arbitration Agreements and Class Action Waivers- The Latest Developments

Buffalo, NY

,

January 18, 2013

WNY Educational Service Council: Current Issues in School Law

Amherst, NY

,

November 1, 2012

Buffalo, NY

,

October 23, 2012

Lorman Education Services: Social Media in the Workplace

Buffalo, NY

,

September 27, 2012

Buffalo, NY

,

September 19, 2012

Buffalo Niagara Human Resources Association: National Labor Relations Board Legal Update

Buffalo, NY

,

May 17, 2012

Buffalo, NY

,

January 20, 2012

Amherst, NY

,

November 3, 2011
Publications
Healthcare Alert

,

November 6, 2019

Healthcare Alert

,

November 6, 2019

Healthcare Alert

,

November 6, 2019

Municipal Law Alert, Education Law Alert

,

October 21, 2019

Labor & Employment 

,

August 19, 2019

Labor & Employment Alert

,

August 16, 2019

Labor & Employment Alert

,

July 25, 2019

Labor & Employment Alert

,

July 17, 2019

Labor & Employment Alert

,

July 2, 2019

Labor & Employment Alert

,

June 25, 2019

Education Alert

,

June 14, 2019

Home Care Alert

,

May 7, 2019

Home Care Alert

,

May 7, 2019

Home Care Alert

,

May 7, 2019

Home Care Alert

,

May 7, 2019

Home Care Alert

,

May 7, 2019

Home Care Alert

,

May 7, 2019

Cannabis & Hemp Alert

,

April 12, 2019

Home Care Alert

,

April 1, 2019

Home Care Alert

,

March 29, 2019

Home Care Alert

,

March 26, 2019

Home Care Alert

,

March 12, 2019

Home Care Alert

,

March 8, 2019

Labor & Employment Alert

,

March 8, 2019

Labor & Employment Alert

,

February 28, 2019

Home Care Alert

,

February 28, 2019

Home Care Alert

,

February 19, 2019

Home Care Alert

,

February 13, 2019

Home Care Alert

,

January 29, 2019

Health Law Alert

,

January 24, 2019

Home Care Alert

,

January 23, 2019

Home Care Alert

,

January 16, 2019

Labor & Employment Alert

,

January 15, 2019

Home Care Alert

,

January 15, 2019

Home Care Alert

,

January 9, 2019

Labor & Employment Alert

,

December 26, 2018

Home Care Alert

,

December 26, 2018

Labor and Employment Alert

,

December 26, 2018

Labor & Employment Alert

,

December 26, 2018

Labor & Employment Alert

,

December 26, 2018

Labor & Employment Alert

,

December 26, 2018

Labor & Employment Alert

,

December 26, 2018

Home Care Alert

,

December 18, 2018

Home Care Alert

,

December 18, 2018

Home Care Alert

,

December 11, 2018

Home Care Alert

,

November 5, 2018

Home Care Alert

,

October 25, 2018

Home Care Alert

,

October 23, 2018

Home Care Alert

,

October 8, 2018

Home Care Alert

,

October 8, 2018

Labor & Employment Alert

,

October 1, 2018

Home Care Alert

,

September 27, 2018

Home Care Alert

,

September 21, 2018

Labor & Employment Alert

,

August 29, 2018

Home Care Alert

,

August 24, 2018

Labor & Employment Alert

,

August 14, 2018

Home Care Alert

,

August 8, 2018

Home Care Alert

,

August 6, 2018

Home Care Alert

,

July 27, 2018

Home Care Alert

,

July 27, 2018

Labor & Employment Alert

,

July 19, 2018

Home Care Alert

,

July 19, 2018

Home Care Alert

,

July 12, 2018

Home Care Alert

,

June 29, 2018

Home Care Alert

,

May 31, 2018

Home Care Alert

,

May 29, 2018

Home Care Alert

,

May 22, 2018

Labor and Employment Alert

,

May 15, 2018

Home Care Alert

,

May 14, 2018

Home Care Alert

,

May 10, 2018

Labor and Employment Alert

,

April 12, 2018

Home Care Alert

,

April 2, 2018

Home Care Alert

,

March 7, 2018

Labor & Employment and Employment Litigation Alert

,

February 27, 2018

Labor and Employment Alert

,

January 23, 2018

Home Care Alert

,

January 23, 2018

Home Care Alert

,

January 22, 2018

Labor and Employment Alert

,

December 26, 2017

Health Care Alert

,

December 20, 2017

Labor and Employment Alert

,

December 19, 2017

Home Care Alert

,

December 19, 2017

Home Care Alert

,

December 19, 2017

Home Care Alert

,

December 14, 2017

Home Care Alert

,

December 13, 2017

Labor and Employment Alert

,

December 12, 2017

Home Care Alert

,

November 28, 2017

Home Care Alert

,

November 15, 2017

Home Care Alert

,

November 14, 2017

Home Care Alert

,

November 3, 2017

Labor & Employment Alert

,

September 13, 2017

Labor & Employment Alert

,

June 7, 2017

Labor & Employment Alert

,

May 1, 2017

Labor & Employment Alert

,

April 12, 2017

Labor & Employment Alert

,

November 23, 2016

Labor & Employment Alert

,

November 14, 2016

Labor & Employment Alert

,

October 28, 2016

Labor & Employment Alert

,

May 23, 2016

Labor & Employment Alert

,

May 18, 2016

Labor & Employment Alert

,

April 27, 2016

Labor & Employment Alert

,

April 5, 2016

Labor & Employment Alert

,

April 1, 2016

Labor & Employment Alert

,

April 1, 2016

Labor & Employment Alert

,

March 18, 2016

Labor & Employment Alert

,

March 11, 2016

Labor & Employment Alert

,

January 22, 2016

Employers' Advisor Blog Archives

,

December 29, 2015

Labor & Employment Alert

,

December 29, 2015

Wage & Hour Alert

,

December 29, 2015

Labor & Employment Alert

,

December 18, 2015

Wage & Hour Alert

,

December 3, 2015

Labor & Employment Alert

,

November 10, 2015

Labor & Employment Alert

,

November 10, 2015

Labor & Employment Alert

,

November 5, 2015

Wage & Hour Alert

,

September 16, 2015

Labor & Employment Alert

,

August 28, 2015

Labor & Employment Alert

,

July 20, 2015

Labor & Employment Alert

,

July 17, 2015

Labor & Employment Alert

,

July 15, 2015

Labor & Employment Alert

,

July 15, 2015

Labor & Employment Alert

,

July 14, 2015

Employers' Advisor Blog Archives

,

June 29, 2015

Restrictive Covenants and 'Contacts': Whose Client List Is It?

New York Law Journal

,

March 9, 2015

Labor & Employment Alert

,

January 15, 2015

Employers' Advisor Blog Archives

,

January 9, 2015

Labor & Employment Alert

,

January 8, 2015

Lawyers Weekly

,

November 14, 2014

JD Supra

,

January 2, 2014

JD Supra

,

December 27, 2013

JD Supra

,

December 6, 2013

Labor & Employment Alert

,

September 25, 2013

Labor & Employment Alert

,

August 9, 2013

Talk of the Towns

,

April 26, 2013

Labor & Employment Alert

,

April 26, 2013

Health Law Journal

,

November 19, 2012

Labor & Employment Alert

,

October 9, 2012

Labor & Employment Alert

,

August 30, 2012

For the Defense

,

August 14, 2012

Labor & Employment Alert

,

May 18, 2012

Labor & Employment Alert

,

April 18, 2012

The Voice, a publication of the DRI

,

March 16, 2012

Labor & Employment Alert

,

March 15, 2012

Labor & Employment Alert

,

February 17, 2012

Labor & Employment Alert

,

December 30, 2011

Labor & Employment Alert

,

September 20, 2011

Labor & Employment Alert

,

September 17, 2010

Effects of 'Trupia' in Applying Assumption of Risk Doctrine

New York Law Journal

,

June 3, 2010
Professional Associations
New York State Human Resources Association
Buffalo Niagara Human Resources Association
New York State Association of Health Care Providers
New York Home Care Association
Community & Pro Bono
Community Music School, Board of Trustees
International Institute of Buffalo Board of Directors