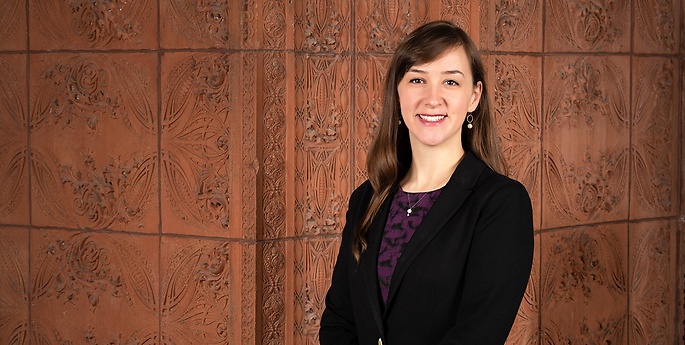 Jennifer Schamberger
Associate
Practices & Industries
Admissions
New York
U.S. District Court, Western District of New York
U.S. District Court, Northern District of New York
Education
Northwestern University, B.A.
University of Maryland School of Law, J.D.
Jenny concentrates her practice in environmental and energy law. She represents companies as well as municipalities, providing advice and advocacy on regulatory compliance, environmental due diligence, renewable energy development, land use and zoning. Jenny has provided legal advice on matters involving the development, approval and defense of large scale wind and solar projects; the resolution of local code and zoning issues for Article 10 energy projects; the analysis of environmental property assessments for transactional clients and collaborations with municipalities to update local codes to reflect changing laws and technologies.
Prior to joining Hodgson Russ, Jenny represented clients across New York State in environmental matters such as negotiation of consent orders with the New York State Department of Environmental Conservation; compliance analysis and advice and Clean Water Act litigation. Jenny also has experience with corporate and commercial litigation.
While in law school, Jenny worked for a municipal law department in its land use and zoning practice group, helped draft materials related to federal suspension and debarment and traveled to Spain to present research on hydroelectric dam development.
Honors
NYS Bar Association certificate with Honorific Designation of Empire State Counsel, 2018
University of Maryland School of Law Litigation and Advocacy Award, 2016
University of Maryland Leadership Scholar, 2013-2016
Fedder Environmental Fellow, 2014-2015
IUCN Academy of Environmental Law Colloquium Presenter, 2014
Press Releases
Press Release

,

December 18, 2018
Publications
Hodgson Russ Renewable Energy Alert

,

September 22, 2020

Hodgson Russ Renewable Energy Alert

,

September 17, 2020

Hodgson Russ Renewable Energy Alert

,

September 10, 2020

Hodgson Russ Environmental and Renewable Energy Alert

,

August 20, 2020

Hodgson Russ Environmental Alert

,

August 12, 2020

Hodgson Russ Municipal and Education Alert

,

August 7, 2020

Hodgson Russ Renewable Energy Alert

,

August 6, 2020

Hodgson Russ Environmental Alert

,

August 6, 2020

Hodgson Russ Renewable Energy Alert

,

July 28, 2020

Hodgson Russ Environmental Alert

,

July 28, 2020

Hodgson Russ Renewable Energy Alert

,

July 24, 2020

Hodgson Russ Renewable Energy Alert

,

July 20, 2020

Hodgson Russ Environmental Alert

,

July 1, 2020

Hodgson Russ Brownfield Redevelopment Alert

,

June 29, 2020

Hodgson Russ Business Litigation Alert

,

June 23, 2020

Hodgson Russ Business Litigation and Bankruptcy & Restructuring Alert

,

June 22, 2020

Hodgson Russ Municipal Alert

,

June 22, 2020

Hodgson Russ Renewable Energy Alert

,

June 19, 2020

Hodgson Russ Renewable Energy Alert

,

June 12, 2020

Hodgson Russ Renewable Energy Alert

,

June 9, 2020

Hodgson Russ Renewable Energy Alert

,

June 3, 2020

Hodgson Russ Renewable Energy Alert

,

June 2, 2020

Hodgson Russ Renewable Energy Alert

,

May 26, 2020

Hodgson Russ Business Litigation Alert

,

May 22, 2020

Hodgson Russ Renewable Energy Alert

,

May 20, 2020

Hodgson Russ Renewable Energy and Construction Alert

,

May 15, 2020

Hodgson Russ Renewable Energy Alert

,

May 15, 2020

Hodgson Russ OSHA and Business Litigation Alert

,

May 13, 2020

Hodgson Russ Renewable Energy Alert

,

May 6, 2020

Hodgson Russ Municipal Alert

,

May 5, 2020

Hodgson Russ Renewable Energy Alert

,

April 27, 2020

Hodgson Russ Environmental Alert

,

April 27, 2020

Hodgson Russ Renewable Energy Alert

,

April 23, 2020

Hodgson Russ Business Litigation Alert

,

April 22, 2020

Hodgson Russ Renewable Energy Alert

,

April 21, 2020

Hodgson Russ Renewable Energy Alert

,

April 20, 2020

Hodgson Russ Renewable Energy Alert

,

April 16, 2020

Hodgson Russ Business Litigation Alert

,

April 15, 2020

Hodgson Russ Municipal Alert

,

April 14, 2020

Hodgson Russ Environmental Alert

,

April 14, 2020

Hodgson Russ Municipal Alert

,

April 10, 2020

Hodgson Russ Business Litigation Alert

,

April 9, 2020

Hodgson Russ Renewable Energy Alert

,

April 9, 2020

Hodgson Russ Education, Municipal & Public Finance Alert

,

April 8, 2020

Hodgson Russ Environmental Alert

,

April 6, 2020

Hodgson Russ Renewable Energy Alert

,

April 3, 2020

Hodgson Russ Renewable Energy Alert

,

April 2, 2020

Hodgson Russ Public Finance Alert

,

April 1, 2020

Hodgson Russ Renewable Energy Alert

,

April 1, 2020

Hodgson Russ Environmental and Brownfield Redevelopment Alert

,

April 1, 2020

Hodgson Russ Municipal Alert

,

March 30, 2020

Hodgson Russ Renewable Energy Alert

,

March 30, 2020

Hodgson Russ Environmental Alert

,

March 27, 2020

Hodgson Russ Environmental Alert

,

March 26, 2020

Hodgson Russ Municipal Alert

,

March 17, 2020

Hodgson Russ Municipal Alert

,

March 16, 2020

Hodgson Russ Renewable Energy Alert

,

February 26, 2020

Hodgson Russ Renewable Energy Alert

,

February 24, 2020

Hodgson Russ Renewable Energy Alert

,

February 10, 2020

Hodgson Russ Renewable Energy Alert

,

February 4, 2020

Hodgson Russ Renewable Energy Alert

,

January 30, 2020

Hodgson Russ Renewable Energy and Municipal Alert

,

January 29, 2020

Hodgson Russ Renewable Energy Alert

,

January 22, 2020

Hodgson Russ Environmental and Renewable Energy Alert

,

January 21, 2020

Hodgson Russ Municipal Alert

,

January 6, 2020

Hodgson Russ Renewable Energy Alert

,

January 6, 2020

Hodgson Russ Renewable Energy and Muncipal Law Alert

,

January 6, 2020

Hodgson Russ Renewable Energy Alert

,

December 19, 2019

Hodgson Russ Renewable Energy and Muncipal Law Alert

,

December 16, 2019

Hodgson Russ Renewable Energy Alert

,

December 12, 2019

Petition is first move towards New York's aggressive goal of 6,000 Megawatts of solar by 2025

Hodgson Russ Renewable Energy Alert

,

December 4, 2019

Hodgson Russ Renewable Energy Alert

,

December 2, 2019

Hodgson Russ Environmental Alert

,

November 27, 2019

Hodgson Russ Environmental, Municipal, and Public Finance Alert

,

November 12, 2019

Hodgson Russ Renewable Energy Alert

,

November 6, 2019

Hodgson Russ Renewable Energy Alert

,

November 1, 2019

Hodgson Russ Renewable Energy Alert

,

October 31, 2019

Hodgson Russ Municipal and Education Alert

,

October 21, 2019

Hodgson Russ Renewable Energy Alert

,

October 18, 2019

Hodgson Russ Renewable Energy and Environmental Alert

,

October 8, 2019

Hodgson Russ Renewable Energy Alert

,

October 7, 2019

Hodgson Russ Brownfield Redevelopment and Renewable Energy Alert

,

June 18, 2019

Hodgson Russ Municipal Law Alert

,

May 22, 2019

Hodgson Russ Environmental Alert

,

May 7, 2019

Hodgson Russ Renewable Energy Alert

,

May 6, 2019

Hodgson Russ Environmental Alert

,

April 22, 2019

Hodgson Russ Environmental Alert

,

April 18, 2019

Municipal Law Alert

,

February 27, 2019

Renewable Energy Alert

,

February 13, 2019

Increased Regulatory Requirements and Water Infrastructure Investment Likely in 2019

Environmental Alert

,

December 21, 2018
Presentations & Events
Millennium Hotel, 2040 Walden Avenue, Cheektowaga, NY

,

June 13, 2019

Corning, New York

,

April 4, 2019
Professional Associations
Bar Association of Erie County
New York State Bar Association
American Bar Association
Community & Pro Bono
Secretary, Nardin Alumni Buffalo Chapter
Member, Northwestern Alumni Admissions Council
Member, Board of Directors: Rising Champions for Justice