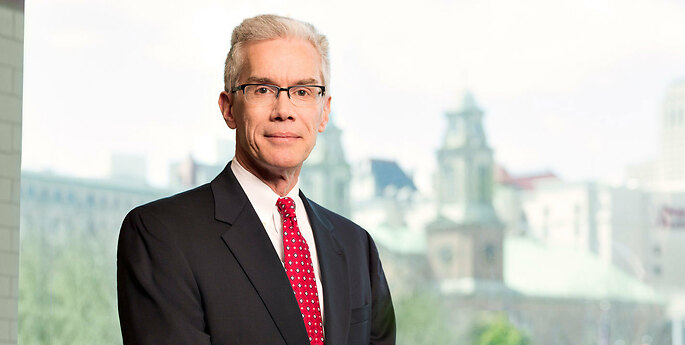 A. Joseph Scott III
Partner; Real Estate & Finance Practice Area Leader; Bond Counsel Practice Co-Leader
Practices & Industries
Admissions
New York
U.S. District Court, Northern District of New York
Education
Hamilton College, B.A., with honors
Boston University School of Law, J.D.
Joe has practiced exclusively in the areas of industrial development agency finance, public authority finance, and municipal and school district finance since graduating from law school in 1983.
Joe has acted as issuer's counsel, bond counsel, and underwriter's counsel on a variety of industrial development agency and public authority projects. Examples of industrial development agency projects handled by Joe include commercial, solid waste, manufacturing, co-generation, nonprofit, and recreational projects. Examples of public authority projects handled by Joe include housing projects, electrical distribution, hydro-electric, parking, water and sewer systems, airport, and residential mortgage projects.
In connection with municipal and school district finance, Joe has acted as bond counsel and underwriter's counsel.
Over the past five years, Joe has been involved in the development and structuring of a number of capital projects with emphasis on creating a regional approach to the financing structure and on connecting public and private entities (i.e., private/public partnerships) to provide a regional public/private solution. Each situation has required an understanding of benefits and limitations of public finance under New York State law and the federal tax law, together with an awareness of what the private sector and private capital markets can provide.
Examples of techniques that Joe has used to address these situations include the creation of local development corporations, adoption of local laws or special legislation, preparation of inter-municipal cooperation agreements, and use of industrial development agencies.
Projects that have benefited from these techniques include industrial parks, incubator buildings, infrastructure projects, and a variety of large manufacturing and distribution facilities.
Honors
Listed, Best Lawyers in America (Public Finance Law) 2005 - 2024
Experience
The following representative matters demonstrate capital projects handled by Joe and his fellow Hodgson Russ attorneys. Each matter presented financing challenges that required innovative and creative legal strategies.
In the News
Albany Business Review

,

October 18, 2019

The Street

,

January 7, 2016
Press Releases
Hodgson Russ Press Release

,

August 19, 2022

Hodgson Russ Press Release

,

August 19, 2021

Hodgson Russ Press Release

,

August 20, 2020

Hodgson Russ Press Release

,

August 20, 2019

Press Release

,

August 15, 2018

Press Release

,

August 15, 2017

Hodgson Russ Press Release

,

August 18, 2016

Press Release

,

August 17, 2015
Publications
Hodgson Russ Education Alert 

,

July 21, 2023

Hodgson Russ Education Alert

,

April 18, 2023

Hodgson Russ Municipal Alert

,

November 28, 2022

Hodgson Russ Education Alert

,

October 18, 2022

Hodgson Russ Education Alert 

,

June 24, 2022

Hodgson Russ Municipal Alert

,

May 16, 2022

Hodgson Russ Renewable Energy & Municipal Alert

,

May 3, 2022

Hodgson Russ Municipal and Education Alert

,

April 19, 2022

Hodgson Russ Municipal Alert

,

October 29, 2021

Hodgson Russ Land Use & Economic Development Alert

,

October 22, 2021

Hodgson Russ Education Alert

,

September 2, 2021

Hodgson Russ Education Alert

,

August 6, 2021

Hodgson Russ Education and Media & First Amendment Alert

,

June 23, 2021

Hodgson Russ Education Alert

,

March 8, 2021

Hodgson Russ Education Alert

,

February 22, 2021

Hodgson Russ Education Alert

,

February 17, 2021

Hodgson Russ Education Alert 

,

December 1, 2020

Hodgson Russ Bond Counsel Alert

,

August 31, 2020

Tax Notes State

,

August 17, 2020

Hodgson Russ Municipal and Education Alert

,

August 7, 2020

Hodgson Russ College & University Alert

,

July 31, 2020

Hodgson Russ Municipal Alert

,

June 22, 2020

Hodgson Russ Public Authority Alert

,

June 9, 2020

Hodgson Russ Education Alert

,

June 8, 2020

Hodgson Russ Education Alert

,

June 5, 2020

Hodgson Russ Education Alert

,

May 13, 2020

Hodgson Russ Municipal Alert

,

May 5, 2020

Hodgson Russ Education Alert

,

May 2, 2020

Hodgson Russ Bond Counsel Alert

,

April 27, 2020

Hodgson Russ Municipal Alert

,

April 14, 2020

Hodgson Russ Municipal Alert

,

April 10, 2020

Hodgson Russ Education, Municipal & Public Finance Alert

,

April 8, 2020

Hodgson Russ Public Authority Alert

,

April 3, 2020

Hodgson Russ Public Finance Alert

,

April 1, 2020

Hodgson Russ Education Alert

,

March 31, 2020

Hodgson Russ Education Alert

,

March 30, 2020

Hodgson Russ Municipal Alert

,

March 30, 2020

Hodgson Russ Municipal Alert

,

March 17, 2020

Hodgson Russ Municipal Alert

,

March 16, 2020

Hodgson Russ Municipal Alert

,

January 6, 2020

Hodgson Russ Municipal and Education Alert

,

October 21, 2019

Hodgson Russ Education Alert

,

June 14, 2019

Hodgson Russ Municipal Law Alert

,

May 22, 2019

Hodgson Russ Public Authority Alert

,

March 18, 2019

Hodgson Russ Public Authority Alert

,

March 14, 2019

Municipal Law Alert

,

February 27, 2019

Bond Counsel Alert

,

February 22, 2019

Municipal Law Alert

,

July 26, 2018

Hodgson Russ Alert

,

February 12, 2014

JD Supra

,

January 29, 2014

Hodgson Russ Alert

,

January 29, 2014

JD Supra

,

January 29, 2014

Talk of the Towns, a publication of the Association of Towns of the State of New York

,

September/October 2008

Municipal Alert

,

May 19, 2006

An Introduction to Industrial Development Agencies in New York State

Prepared for a seminar on IDA finance presented by the Ulster County Industrial Development Agency

,

May 20, 2003
Presentations & Events
Lake George, New York

,

August 11, 2023

Melville Marriott, Long Island, New York

,

November 14, 2019

Batavia, New York

,

September 10, 2019

Albany, NY

,

March 1, 2019

Hodgson Russ, 140 Pearl St, Buffalo, NY 14202

,

April 24, 2018

Preparing for IRS and SEC Scrutiny: Procedures and Training

Hilton Garden Inn, 30 Clifton Country Road, Clifton Park, NY

,

September 27, 2016

Municipal Law Seminar: IRS and Securities

Clifton Park, NY

,

June 9, 2015

Saratoga Springs, NY

,

May 7, 2015
Professional Associations
National Association of Bond Lawyers
New York State Economic Development Council
New York State Bar Association Municipal Law and Tax Sections
Co-chair, New York State Bar Association Municipal Law Section Legislation Committee
New York State Bar Association Municipal Law Section Executive Committee
New York State Government Finance Officers Association
New York State Association of School Business Officials
Panelist, Annual Bond Attorneys Workshop, sponsored by the National Association of Bond Lawyers
Community & Pro Bono
Co-chair, Parks & Trails New York board of directors
Local Planning Committee (LPC) for the City of Albany Downtown Revitalization Initiative (DRI)