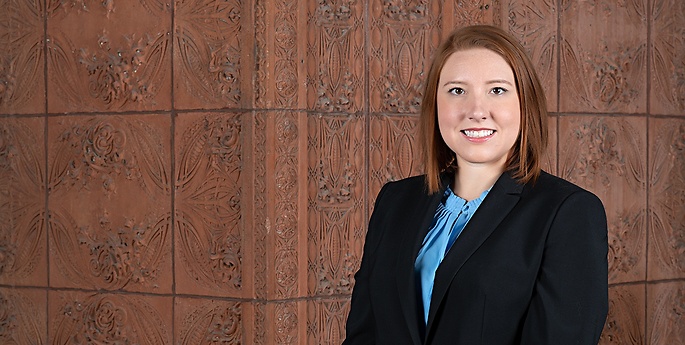 Lindsay K. Munschauer
Associate
Practices & Industries
Education
University of St. Andrews (Scotland), M.A., Honours
University at Buffalo School of Law, J.D., Cum Laude
Lindsay is a member of the Real Estate and Finance Practice, where she represents clients in various commercial and real estate matters, including banking and finance, public-private partnerships, real estate development and real estate leasing.
Before joining Hodgson Russ, Lindsay was employed as a law clerk in a Buffalo law firm.
Prior to her legal career, Lindsay worked as a television news producer for media outlets in Buffalo.
Honors
Executive Publications Editor: Buffalo Law Review
In the News
Buffalo Business First

,

September 11, 2020
Press Releases
Hodgson Russ Press Release

,

January 17, 2020
Publications
Hodgson Russ Real Estate Alert

,

June 25, 2020

Hodgson Russ Real Estate Alert

,

June 18, 2020

Hodgson Russ Banking & Finance Alert

,

June 4, 2020

Hodgson Russ Banking & Finance Alert

,

May 26, 2020

Hodgson Russ Banking & Finance Alert

,

May 18, 2020

Hodgson Russ Banking & Finance Alert

,

May 13, 2020

Hodgson Russ Real Estate Alert

,

May 11, 2020

Hodgson Russ Real Estate Alert

,

May 4, 2020

Hodgson Russ Banking & Finance Alert

,

April 24, 2020

Hodgson Russ Banking & Finance Alert

,

April 24, 2020

Hodgson Russ Real Estate Alert

,

April 20, 2020

Hodgson Russ Banking & Finance Alert

,

April 10, 2020

Hodgson Russ Banking & Finance Alert

,

April 8, 2020

Hodgson Russ Real Estate Alert

,

March 31, 2020

Hodgson Russ Banking & Finance Alert

,

March 30, 2020

Hodgson Russ Banking & Finance Alert

,

March 30, 2020

Hodgson Russ Banking & Finance Alert

,

March 24, 2020

Hodgson Russ Real Estate Leasing Alert

,

March 23, 2020
Professional Associations
Bar Association of Erie County