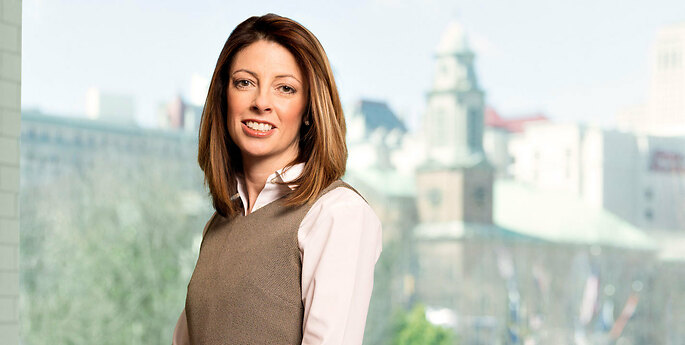 Michelle Merola
Partner, Associate General Counsel, Financial Institution Subpoena Compliance Practice Leader, Cybersecurity & Privacy Practice Leader
Practices & Industries
Admissions
New York
District of Columbia
U.S. Court of Appeals, District of Columbia
U.S. District Court, District of Columbia
U.S. District Court, Northern District of New York
U.S. District Court, Western District of New York
Clerkships
Judge Truman Morrison III, Superior Court of the District of Columbia, 1997-1998
Education
Pennsylvania State University, B.A.
American University, Washington College of Law, J.D., magna cum laude
Michelle relies on her litigation experience to counsel clients on regulatory and compliance matters, including the development and implementation of compliance programs, the oversight of internal investigations and audits, and the analysis and preparation of self-disclosures to a variety of state and federal agencies.
She has extensive experience litigating civil and criminal matters in a variety of federal jurisdictions as well as New York State. A significant portion of her practice is dedicated to defending corporations and individuals in government investigations, audits, and administrative proceedings related to tax, environmental, fraud, and health care matters. Michelle also regularly challenges agency determinations in New York State courts through Article 78 proceedings.
In recent years, her practice has also included cybersecurity and data privacy counseling under an array of international, federal, and state laws, including HIPAA, the New York State Department of Financial Services' Cybersecurity Regulation, the New York Shield Act, the California Consumer Privacy Act, and the EU's General Data Protection Regulation. Michelle regularly collaborates with management teams, IT staff, and forensic experts to analyze the scope of a data breach and provide notification to affected individuals and required government agencies. She also works with clients and consultants to develop robust data security programs, policies, and compliance practices.
Michelle serves as one of the firm's assistant general counsel/loss prevention partners. She also chairs the Firm's Technology Strategy Committee and sits on the Security Committee.
Prior to joining the firm, Michelle served as an Assistant United States Attorney for the District of Columbia, where she oversaw and directed fraud investigations involving a variety of government agencies, including the Federal Bureau of Investigation, the Department of Treasury, the Secret Service, the Department of Transportation, and the District of Columbia Tax and Revenue Office. She also successfully litigated numerous criminal jury trials in the local courts. Prior to that, Michelle was an associate at a D.C. law firm, where she gained experience in complex commercial and technology disputes.
Honors
Listed, Best Lawyers in America (Litigation and Controversy - Tax) 2023 - 2024
Mussey Prize for student with highest scholastic average in final year of law school
Department of Justice Special Achievement Award
Presentations & Events
Hodgson Russ LLP, The Guaranty Building, 140 Pearl Street, Buffalo NY 14202

,

June 6, 2023

Buffalo Niagara Marriott, 1340 Millersport Hwy, Amherst, NY 14221

,

May 6, 2022

The Harvard Club NYC 35 W. 44th Street, New York, NY

,

October 30, 2019

Albany, New York

,

November 19, 2018

Buffalo Niagara Marriott, Amherst, NY

,

November 15, 2018

The Westin Fort Lauderdale, 400 Corporate Drive, Ft. Lauderdale, FL 33334

,

May 17, 2018

The Harvard Club of New York, New York, NY

,

November 9, 2017

Desmond Hotel and Conference Center, Albany, NY

,

October 25, 2017

The Harvard Club, 35 West 44th Street, New York, NY 10036

,

November 2, 2016

Hilton Garden Inn, 30 Clifton Country Road, Clifton Park, NY

,

September 27, 2016

Harvard Club, 35 W. 44th Street, New York, NY

,

June 29, 2016

Desmond Hotel & Conference Center, 660 Albany Shaker Road, Albany, NY

,

May 11, 2016

The Century House, 997 New Loudon Road, Latham, NY 12110

,

May 5, 2015

Updates on the False Claims Act and Other Bases for Liability for Financial Institutions

Buffalo, NY

,

August 11, 2010

New Jersey Hospital Association Seminar: New Jersey Office of Medicaid Inspector General (OMIG) - Lessons from Other Jurisdictions

Healthcare Financial Management Association, Western New York Chapter's Fourth Annual Spring Institute: A Focus on Compliance 

Buffalo, NY

,

March 1, 2010

Uniondale, NY

,

January 27, 2010

Webinar: New Jersey Office of Medicaid Inspector General (OMIG) - Lessons from Other Jurisdictions

Buffalo, NY

,

July 29, 2009

New York, NY

,

March 5, 2009

New York, NY

,

January 28, 2008
Professional Associations
District of Columbia Bar Association
New York State Bar Association
Bar Association of Erie County
Community & Pro Bono
Secretary, Board of Directors: The Melanie Foundation
Secretary, Board of Directors: The Saratoga Lake Association
Commissioner: The Saratoga Recreation Commission