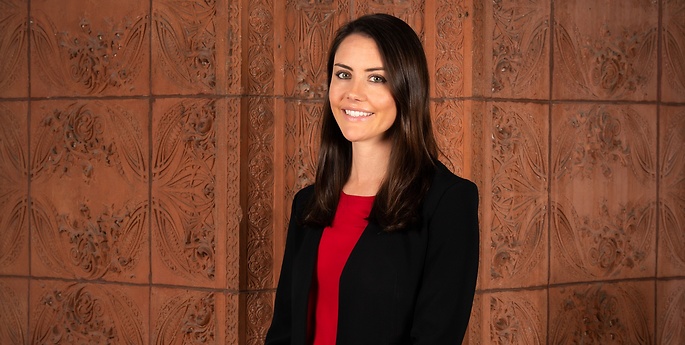 Practices & Industries
Education
University of Richmond in Virginia, B.A., Magna Cum Laude
University of San Francisco School of Law, J.D., Cum Laude
Mila regularly advises clients on issues involving environmental law, renewable energy, sustainable development, land use law, municipal law, and real estate development. Her experience includes drafting commercial agreements relating to the purchase and supply of power, electric interconnection, and other energy-related transactions. Mila works on all aspects of renewable development from project inception through successful litigation.
Mila also helps clients in the food and beverage industry navigate USDA and FTC compliance.
Before joining Hodgson Russ, Mila practiced Energy Regulatory Law with a firm in San Francisco. While in California, she represented and advised clients on energy regulatory matters and proceedings before state and federal agencies, including the California Public Utilities Commission, the California Air Resources Board, the California Energy Commission, and the Federal Energy Regulatory Commission. With a particular focus on public utility regulation, Mila advised utilities, lenders, and developers regarding the regulatory and environmental challenges associated with the development and acquisition of utility-scale renewable energy projects including electric vehicle infrastructure, energy storage and solar photovoltaic.
While in law school Mila worked as a judicial extern for Chief Justice Cantil-Sakauye of the California Supreme Court.
Mila is admitted to practice in California and New York.
Honors
USF Law Review, Senior Editor
Chief Justice Cantil-Sakauye, California Supreme Court, Judicial Extern
Publication: The Coastal Zone Management Act's Capacity to Spearhead Climate Adaptation, West-Northwest Journal of Environmental Law and Policy
News
Press Release

,

December 18, 2018
Presentations
New York City

,

October 29, 2019

Understanding New York State Tax Issues of 2019

The Harvard Club 35 W. 44th Street, New York, NY

,

June 12 - August 7, 2019

Hodgson Russ 605 3rd Avenue New York, NY 10158

,

June 25, 2019

Princeton University Club, New York

,

March 18, 2019

Saratoga Springs, New York

,

November 13-14, 2018
Publications
Hodgson Russ Renewable Energy Alert

,

January 22, 2020

Hodgson Russ Environmental and Renewable Energy Alert

,

January 21, 2020

Hodgson Russ Renewable Energy Alert

,

January 6, 2020

Renewable Energy Alert, Muncipal Law Alert

,

January 6, 2020

Renewable Energy Alert

,

December 19, 2019

Renewable Energy Alert, Muncipal Law Alert

,

December 16, 2019

Cannabis & Hemp Alert

,

December 16, 2019

Renewable Energy Alert

,

December 12, 2019

Petition is first move towards New York's aggressive goal of 6,000 Megawatts of solar by 2025

Renewable Energy Alert

,

December 4, 2019

Renewable Energy Alert

,

December 2, 2019

Environmental Alert

,

November 27, 2019

Environmental Alert, Municipal Alert, Public Finance Alert

,

November 12, 2019

Renewable Energy Alert

,

November 6, 2019

Interim guidance adds some certainty to an evolving industry, including relief from strict criminal limits

Cannabis & Hemp Alert

,

November 4, 2019

Renewable Energy Alert

,

November 1, 2019

Renewable Energy Alert

,

October 31, 2019

Renewable Energy Alert

,

October 18, 2019

Renewable Energy Alert, Environmental Law Alert

,

October 8, 2019

Renewable Energy Law Alert

,

October 7, 2019

Cannabis & Hemp Alert

,

October 4, 2019

Cannabis & Hemp Alert

,

August 23, 2019

Cannabis & Hemp Alert

,

July 10, 2019

Cannabis & Hemp Alert

,

July 2, 2019

Brownfield Redevelopment Alert & Renewable Energy Alert

,

June 18, 2019

Cannabis & Hemp Alert

,

May 30, 2019

Environmental Law Alert

,

May 7, 2019

Renewable Energy Alert

,

May 6, 2019

Cannabis & Hemp Alert

,

May 2, 2019

Environmental Law Alert

,

April 22, 2019

Environmental Law Alert

,

April 18, 2019

Cannabis & Hemp Alert

,

April 12, 2019

Renewable Energy Alert

,

February 13, 2019

Increased Regulatory Requirements and Water Infrastructure Investment Likely in 2019

Environmental Alert

,

December 21, 2018

Renewable Energy Alert

,

November 20, 2018

Agriculture Alert

,

November 6, 2018
Professional Associations
Environmental Law-California Lawyers Association
Community & Pro Bono
New York Energy Week Board of Directors