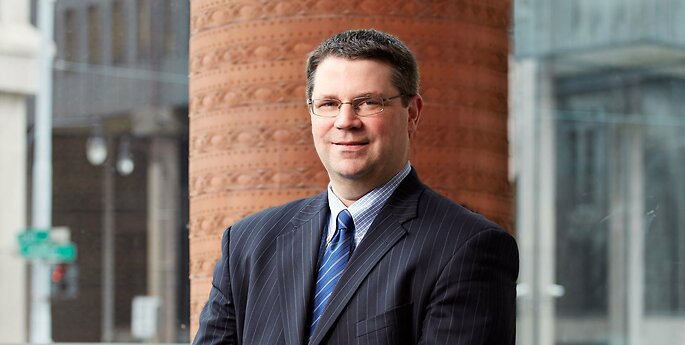 Timothy W. Hoover
Partner
Areas of Practice
Industry Groups
Admissions
New York
Ohio
U.S. Supreme Court
U.S. Courts of Appeal for the Second and Sixth Circuits
U.S. District Courts for the Northern, Western and Southern Districts of New York
U.S. District Courts for the Northern and Southern Districts of Ohio
U.S. District Court for the District of Vermont
U.S. Tax Court
Education
B.A. with high honor, Michigan State University, 1994
J.D., Order of the Coif, Vanderbilt University, 1997
Tim is a white collar defense attorney with extensive trial, appellate, and grand jury experience in federal and state courts. He represents corporate and individual clients in white-collar criminal cases, complex fraud cases, tax cases, environmental cases, and joint defense matters at the federal, state, and local levels. Tim is experienced in helping clients obtain exoneration, avoid charges, receive immunity, and in negotiating other favorable resolutions. He is equally experienced in the courtroom, where he has won acquittals in jury trials and outright dismissals in charged federal and state criminal cases. Deeply versed in all aspects of federal criminal practice, he also has extensive experience leading internal investigations.
Tim is an accomplished appellate advocate as well. He regularly appears in federal and state appellate courts, having argued 40 appellate matters. He has presented argument in 33 cases before the United States Court of Appeals for the Second Circuit. He recently won a unanimous decision from the New York Court of Appeals, New York's highest court that reversed his client's conviction and resulted in dismissal of the indictment.
In addition, Tim handles federal administrative investigations and suspension and debarment matters across a broad spectrum of federal agencies, including the Department of Homeland Security, Department of Labor, Environmental Protection Agency, and the Internal Revenue Service.
He likewise represents clients in state and local investigations and administrative matters involving the Office of the New York State Attorney General, Office of the New York State Comptroller, New York State Department of Environmental Conservation, New York State Department of Financial Services, and New York State Department of Taxation and Finance, among other agencies. He has significant criminal tax investigation and representation experience.
Tim has extensive experience handling False Claims Act investigations and matters on behalf of defendants in a diverse range of industries. His False Claims Act practice includes Medicare and Medicaid, pharmaceutical, and health care matters; government grants; defense contracting; tax; federal securities law; and procurement. His past representations have provided him with a thorough understanding of the factors relevant to both successfully prosecute and defend False Claims Act matters.
In addition, Tim litigates various other civil, constitutional, Surrogate's Court, and commercial matters, including having represented a family who lost a loved one in the tragic crash of Continental Connection Flight 3407 in Clarence Center, New York, and litigating a constitutional challenge to the 2008 Amendments to New York State's Wicks Law. He is experienced in class action and collective action matters, as well as original proceedings and petitions in New York state courts.
Tim is regularly called upon by federal courts to provide pro bono representation to litigants in trial and appellate matters.
Prior to joining Hodgson Russ in 2015, Tim was a partner at a large Buffalo law firm, where he co-chaired and led its white-collar defense practice team from 2008 to 2015. He previously served for seven years as an assistant federal public defender in Buffalo. He began his career as a litigation associate at Vorys, Sater, Seymour and Pease LLP in Columbus, Ohio.
Honors
Listed, Best Lawyers in America (Commercial Litigation, Criminal Defense: White-Collar), 2018, 2019
Listed, Buffalo Business First/Buffalo Law Journal Legal Elite Top 10, 2015
Listed, Buffalo Business First/Buffalo Law Journal Legal Elite of WNY, 2013-2016
Listed, Upstate New York Super Lawyers, 2012 - 2018
Listed, Buffalo Business First/Buffalo Law Journal Who's Who in Law, 2009, 2011, 2012
Order of the Coif
Phi Beta Kappa
News
New York Law Journal

,

December 10, 2018

Press Release

,

August 20, 2018

Press Release

,

August 15, 2018

The Green Tie, NAEM's blog for EHS and Sustainability leaders

,

August 10, 2018

The Buffalo News

,

May 24, 2018

Press Release

,

September 6, 2017

Press Release

,

August 15, 2017

Buffalo Business First

,

November 29, 2016

Press Release

,

August 31, 2016

Buffalo Business First

,

March 18, 2016
Presentations
NYSACDL CLE Seminar: Thinking Differently and Creatively in Defending a Federal Case

New York Law School

,

April 28, 2017

Hodgson Russ, 140 Pearl St, Buffalo, NY

,

January 26, 2017

Hodgson Russ LLP, The Guaranty Building, Buffalo, NY

,

November 16, 2016

The Harvard Club, 35 West 44th Street, New York, NY 10036

,

November 2, 2016

Harvard Club, 35 W. 44th Street, New York, NY

,

June 29, 2016

Hilton Albany, 40 Lodge St., Albany, NY

,

June 28, 2016

Cheektowaga, NY

,

May 17, 2016

Desmond Hotel & Conference Center, 660 Albany Shaker Road, Albany, NY

,

May 11, 2016

Buffalo, NY

,

March 10, 2016

SUNY Buffalo School of Law Seminar: "Access to Justice in Buffalo and Beyond - How Pro Bono Scholars andOther Volunteers Transform Lives"
Publications
Home Care Alert

,

December 26, 2018

OSHA Alert

,

December 20, 2018

Home Care Alert

,

November 5, 2018

Home Care Alert

,

October 25, 2018

Home Care Alert

,

October 23, 2018

Home Care Alert

,

October 8, 2018

Home Care Alert

,

October 8, 2018

Home Care Alert

,

September 27, 2018

Home Care Alert

,

September 21, 2018

Home Care Alert

,

August 24, 2018

Home Care Alert

,

July 27, 2018

Home Care Alert

,

July 27, 2018

Home Care Alert

,

July 19, 2018

Home Care Alert

,

May 10, 2018

Home Care Alert

,

April 2, 2018

Home Care Alert

,

March 7, 2018

Home Care Alert

,

January 23, 2018

Home Care Alert

,

January 22, 2018

Health Care Alert

,

December 20, 2017

Home Care Alert

,

December 19, 2017

Home Care Alert

,

December 19, 2017

Home Care Alert

,

December 14, 2017

Home Care Alert

,

December 13, 2017

New York Law Journal

,

April 25, 2016

"White Collar Corner: What to Do When Litigating an OSHA Citation"

The Daily Record

,

February 2012

"White Collar Corner: Surprise OSHA inspections: Prepare for the Unexpected"

The Daily Record

,

December 2011

"Expert Witness Evaluation: Strategic Uses of Online Information"

The Corporate Counselor®

,

November 2011
Professional Associations
American Bar Association
Bar Association of Erie County (BAEC)
Federal Bar Council
New York State Association of Criminal Defense Lawyers, Vice President
Member, New York State Unified Court System, Criminal Courts, Electronic Filing Advisory Committee
Member, U.S. District Court for the Western District of New York Local Rules Committee
Chair, BAEC Federal Practice Committee, 2009-2013
Member, BAEC Judiciary Committee, 2010
Past Member, New York State Bar Association (NYSBA) Criminal Justice Section, executive committee
Past Member, NYSBA Committee on Courts of Appellate Jurisdiction
Past Member, NYSBA Special Committee to Ensure Quality of Mandated Representation
Past Member, NYSBA Special Committee on Immigration Representation
Community & Pro Bono
Member, Pro Bono Panel of the U.S. Court of Appeals for the Second Circuit
Participating attorney, Appellate Pro Bono Program, Monroe County Public Defender's Office
Sisters Hospital Foundation board of directors (2011-2017)
New York State CLE board, member (2013-2016)
Neighborhood Legal Services, board of directors (2008-2015), President of board (2013-2015)
WNED, trustee (2009-2015), Secretary of board of trustees (2014-2015)
Ambassador recruitment co-chair, Buffalo Dining Out for Life benefit for AIDS Community Services of WNY, 2009-2010
Co-chair, Buffalo Dining Out for Life benefit for AIDS Community Services of WNY, 2007